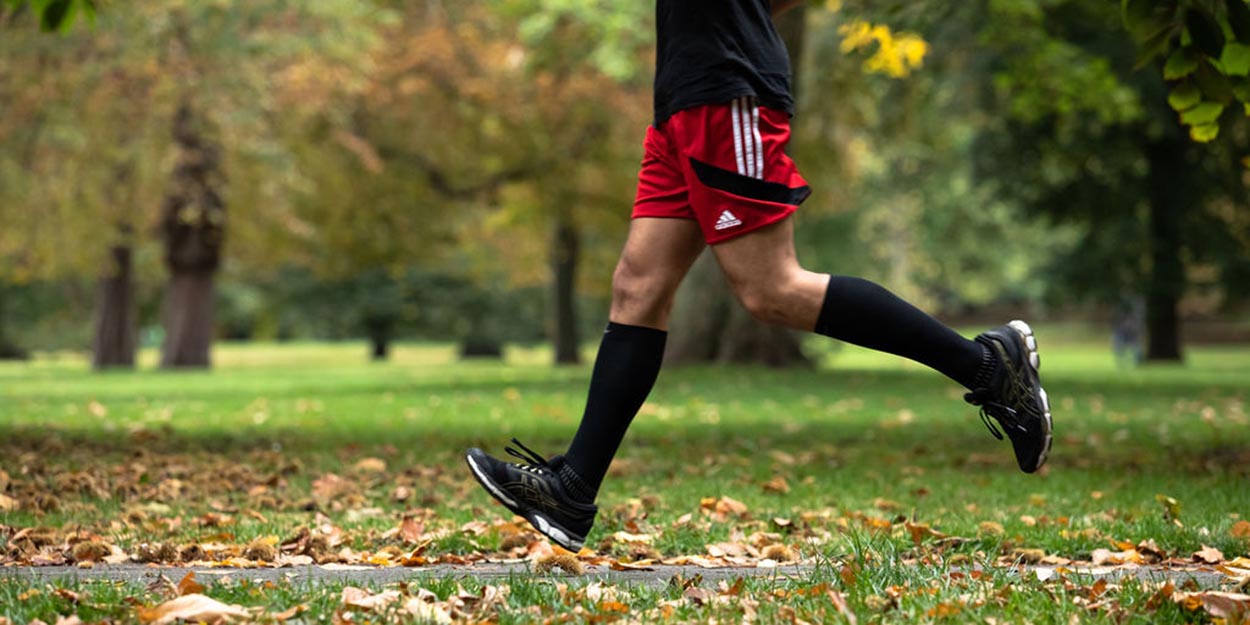 How Compression Socks Can Benefit Your Health, Performance and Recovery
Compression socks are becoming increasingly popular among individuals of all ages and lifestyles, and they are starting to make their way into tennis too.
Graduated compression socks provide a range of health benefits, including improved circulation, reduced swelling and inflammation, helping to increase endurance and performance whilst improving recovery time post exercise.
Compression socks work by applying gentle pressure to the legs, which helps to promote blood flow, circulating oxygen to the muscles around the body.
Sport compression socks are your ideal fitness companion no matter how advanced you are in the fitness world to keep you supported and comfortable whilst pushing yourselves to the limit.
Recovery Benefits of Compression Socks
Compression socks are a great tool for tennis players when it comes to recovery after a match. During a match, your legs are under constant stress, which can cause swelling, inflammation, and fatigue. This is where compression socks come in.
Compression socks work by applying pressure to the muscles in your legs, which helps to improve blood flow and reduce swelling. This increased blood flow also brings more oxygen and nutrients to your muscles, which can speed up the recovery process. They also help to provide support and stability to the ankle and foot, reducing the risk of injury during quick lateral movements on the court. After a match, wearing compression socks can help to reduce muscle soreness and stiffness, allowing you to get back on the court sooner.
Compression socks are a simple and effective way for tennis players to speed up their recovery after a match and prevent injury. So, if you're serious about your tennis game, be sure to add a pair of compression socks to your recovery routine. Your legs will thank you for it!
Fitlegs Sport & Recovery compression socks have a graduated compression profile that promotes blood flow to help with increasing endurance, performance and recovery during exercise.
There are significant benefits to be had when compression socks are worn post-exercise, including the reduction in muscle soreness or DOMS after an event and a shortening of the recovery time needed to get you back on the court.
Fitlegs compression socks ranges
The Fitlegs ranges we believe will help optimise your game and performance are:
Fitlegs Sport range (£19.99):
Padded foot and heel area for maximum comfort and protection

Light & breathable material for ventilation while exercising

95% Polyamide, 5% Elastane

Comfortable top band to help prevent skin irritation

Ergonomic fit for Left and Right foot

Compression that increases blood flow and oxygen to the muscles, helping to achieve optimum performance levels.
Fitlegs recovery range (£19.99):
Bamboo Material for ultimate comfort & support

Graduated compression Increases blood flow to muscles

50% Bamboo, 44% Polyamide, 6% Elastane

Aids the recovery of muscles, reduces DOMS after exercise

Helps to prevent aches & pains in your legs

Gets you back to working out again faster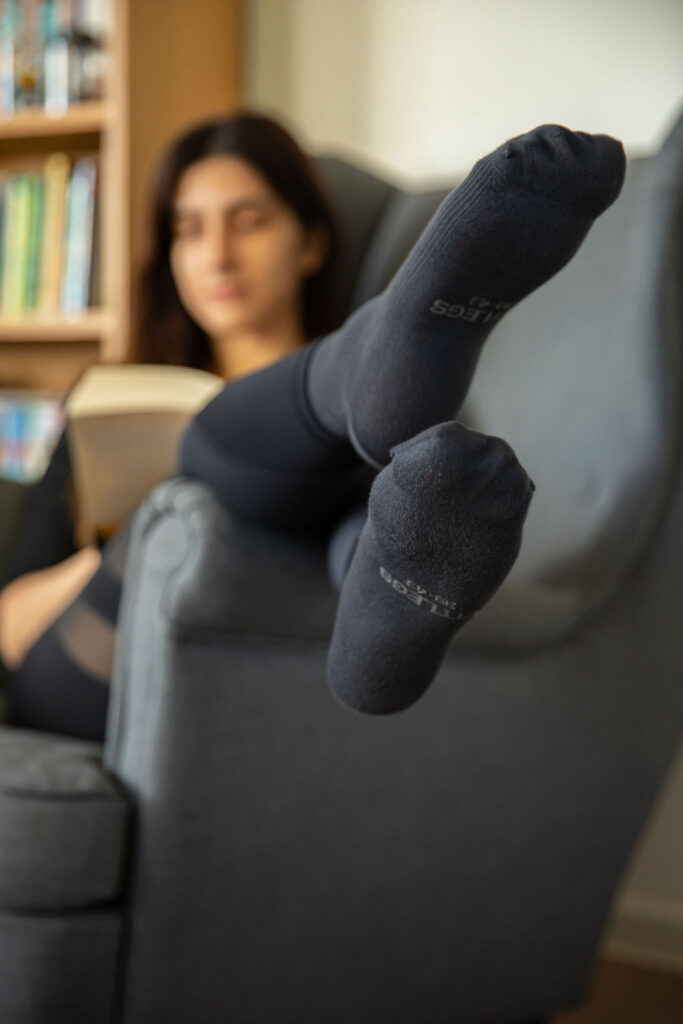 Why you should buy Fitlegs compression socks
Fitlegs are an industry leader in compression socks and their Sport and Recovery range are ideal for reducing muscle fatigue.
That will help tennis players, and sports participants in general, reduce soreness and cut recovery time to a minimum leaving you free to stay fresh and focused on your game.
Clinical Evidence
[i]  Pavin LN, Leicht AS, Gimenes SV, et al. Can compression stockings reduce the degree of soccer match-induced fatigue in females? Res Sports Med. 2019;27(3):351–364. doi:10.1080/15438627.2018.1527335
[ii] Ali A, Caine MP, Snow BG. Graduated compression stockings: physiological and perceptual responses during and after exercise. J Sports Sci. 2007;25(4):413–419. doi:10.1080/02640410600718376
[iii] Kemmler W, von Stengel S, Kockritz C, Mayhew J, Wassermann A, Zapf J. Effect of compression stockings on running performance in men runners. J Strength Cond Res. 2009;23(1):101–105. doi:10.1519/JSC.0b013e31818eaef3
Fitlegs Background/Company History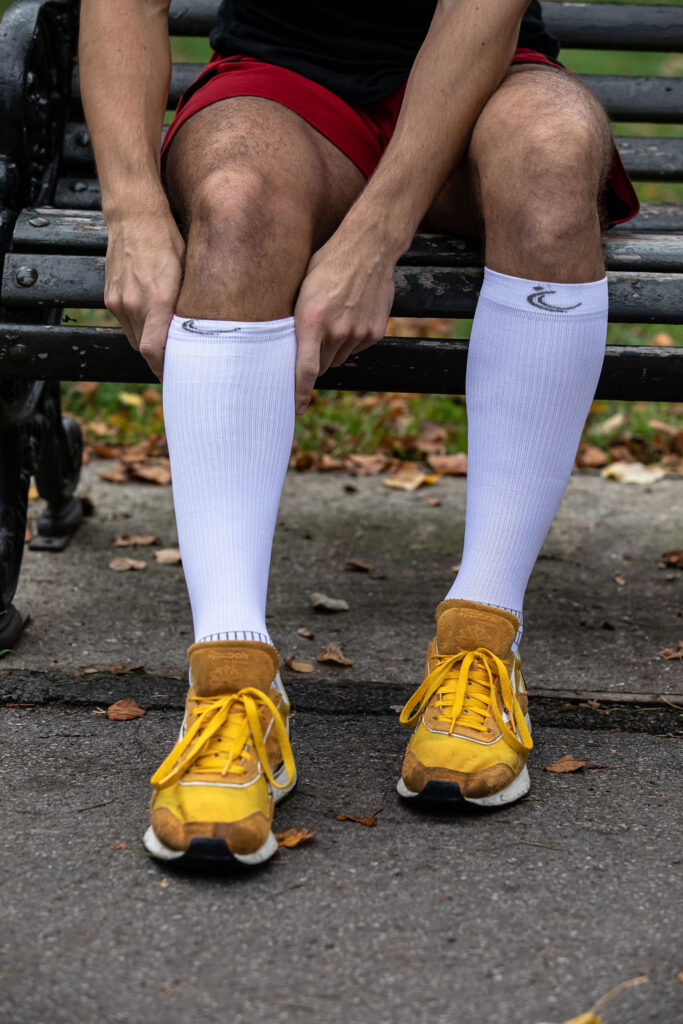 Fitlegs are are an industry-leading brand who have built a brand on customer service and intelligent product development. Customers have always been the top priority at Fitlegs, meaning you can be assured you will get full value for money.
The company grew from parent company G&N who, for more than decade, have delivered medical grade compression products to patients and hospitals in the UK as a key NHS supplier.
Those expertise have now been expanded to develop a range of everyday compression socks, with thousands within the UK now enjoying the health benefits that improve quality of life.
The Fitlegs Sports and Recovery ranges have now been developed to help athletes and sportspeople to improve recovery and performance levels.
Fitlegs compression socks Testimonials & Reviews
All customer reviews can be found on Fitlegs Trustpilot