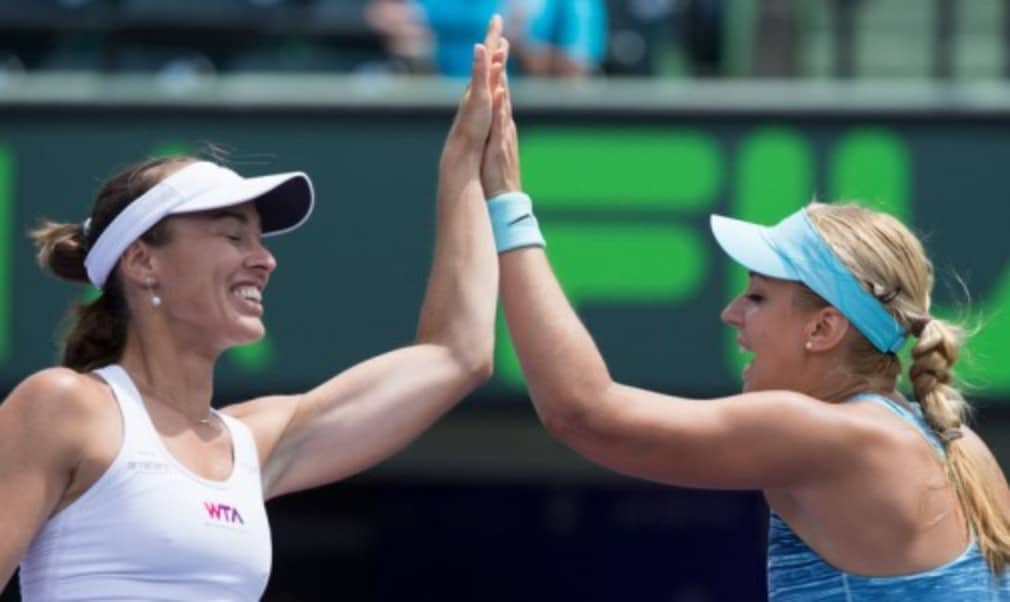 Hingis tastes victory in Miami
Originally published on 01/04/14
In only their second tournament together, Hingis and Lisicki defeated No.2 seeds Ekaterina Makarova and Elena Vesnina 4-6 6-4 10-5 in the final at Crandon Park.
It is Hingis' 38th WTA doubles title, and the first since returning to the doubles tour last summer. The 33-year-old played five events with Daniela Hantuchova in 2013 before joining forces with Lisicki, who she has been coaching since the start of the year, at Indian Wells.
It was Hingis' first trophy since winning the doubles title in Qatar with Maria Kirilenko in 2007, and her third doubles crown in Miami, where she also won the singles titles in 1997 and 2000.
"Two weeks ago if you asked me, it probably would be a completely different answer from today," said Hingis when asked if she planned to continue playing. "Last week, I was not sure if I want to put myself out there like this and lose first, second round. Now, after this victory, definitely things change. I would be very happy to continue to play some more doubles."
"I always wanted to play with Martina, obviously," said Lisicki. "We talked about it at Wimbledon last year, and finally we did it here in the States. I think we're just happy and really enjoying it."
Former world No.1 Hingis, who won the calendar-year doubles Slam in 1998, won five Grand Slam singles titles and nine doubles majors during her career that began back in 1994, two weeks after her 14th birthday.