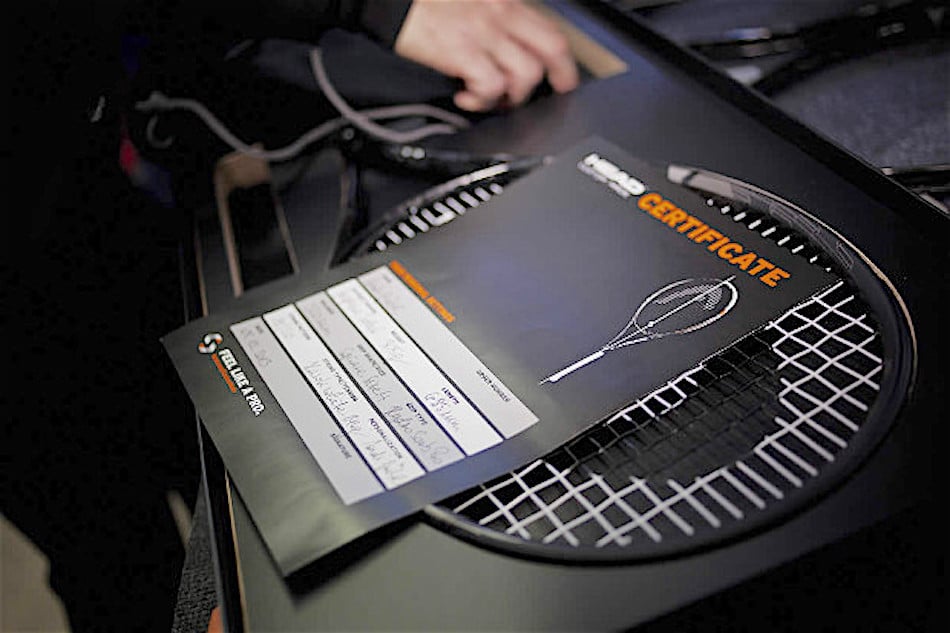 Head launches Custom Made
Originally published on: 12/12/13 00:00
Words: Michael Beattie
The tennis season may be over, but when it comes to rackets the arms race for 2014 is already well underway. Prince's spin-friendly ESP range is now on the shelves with the promise of boosting your topspin without changing your swing. Babolat have expanded their performance range with the hotly-anticipated Pure Strike line, Jo Wilfried Tsonga's new weapon of choice. And Wilson are updating the classic Six.One BLX line with their new Parallel Drilling engineering to maximise the sweet spot.
Head are also in the process of refreshing their existing ranges since they introduced Graphene, the super-strong lightweight form of carbon already used in Novak Djokovic's Graphene Speed. Andy Murray launched his updated Graphene Radical shortly before the ATP World Tour Finals, while a new Prestige line is set to arrive in the new year. But at the Head HQ in Austria, the current excitement surrounds an entirely new project – one that offers recreational players the Grand Slam treatment when it comes to their rackets.
Head unveiled Custom Made in snowy Austria in early December, a bespoke racket service that bridges the gap between the re-engineered frames used by their top sponsored pros and the off-the-rack rackets available to those of us a little further down the pecking order. The online service allows anyone with the inclination – and the money – to design a racket precisely to their liking and, six weeks later, receive a frame built at Head's Kennelbach HQ and tailored by the same team that has provided Grand Slam-winning sticks for the likes of Andre Agassi, Marat Safin, Thomas Muster and Maria Sharapova, not to mention Murray and Djokovic.
Starting with the Speed range as its base model – there are plans to expand the range to include the Prestige and Radical lines in the future – players are invited to tweak the existing specifications of the Tour, MP and S frames to their liking, or even start from scratch and enter their own specifications. Everything from the length, weight, balance, string pattern and grip shape can be altered, with additional touches such as the type of grip, the strings and tensions and even the colour of your frame – tuxedo black or the standard Speed styling – also on offer. As a final flourish, you can add a 25-character name or message to the inside of the throat.
It is four years since the inception of the project – coinciding, not entirely by chance, with the launch of the Speed back in 2009. That it has taken until now to launch Custom Made speaks volumes about the challenge Head has taken on. Modifying frames for a handful of professional players, often face-to-face and with instant, precise feedback, presents its own challenges; rolling out a web-only service for players of all abilities – and, crucially, knowledge bases – has been a mammoth undertaking.
"There was a lot of work to be done in terms of developing the algorithms," explains Ralph Schwenger, director of research and development for Head's racket division. "You have different parameters now, and those parameters influence each other. You have to be careful that a consumer doesn't select something and then later on there's a conflict – you only want to offer them what is both possible and what is good in terms of playability.
"The pros most often are not looking for something new – they already have their specifications. Also, most don't need the guidance, and those that do have their coach beside them. For normal consumers we want to make it as easy and simple as possible, so that he knows 'if I follow this, I get the specific racket for me.'"
To their credit, the process couldn't be simpler. Try it yourself – visit custommade.head.com and build your own dream frame. Rather than being bombarded with science and overwhelmed by choice, Head have delivered a clean, user-friendly console that walks you through the experience, with handy pointers along the way. Toy with the balance and the animation shows you when the racket is head-light, head-heavy or even; when it comes to selecting your grip shape, size and material, you'll find Tomas Berdych on hand with a nugget of advice. If certain combinations are not possible, the system will offer to amend related features to preserve the selection currently on screen.
Once you've set your specs, chosen your grip and strings and added a little lettering, you're all set – from logging in to confirming your order, the process can be completed in just 15 minutes. From there, the order goes to the Head factory in Kennelbach, where the frame is built and honed by R&D engineer Manfred Emberger and his team, who will deliver a frame within 0.04oz and 0.04in of the desired specifications. Six weeks later, your racket will arrive in a presentation box, complete with a certificate detailing the specs and signed off by the engineer who put the finishing touches to your racket.
Be warned – there is no turning back once the order is placed – the frames cost £320 plus shipping (£300 unstrung), which is roughly twice the cost of a standard Head Speed MP, all of which makes it even more important that Joe Public knows what he wants from a frame. And with play-testing out of the question, players are advised to do their homework, ask for advice and think hard about what they want before sitting down at the computer.
"The system already has some very good explanations of what changes can be made, and how the performance of the racket will change as a result," says Ottmar Barbian, vice president and manager of Head's racket sport division. "As a club player, without a lot of knowledge about the impact of weight, balance or string patterns for example, I would always recommend starting with the regular product. If you start from zero, you have to have some knowledge. But if you start with the MP and add a little weight, say, that's the way to start with these rackets."
So who is Custom Made aimed at? Barbian believes there are two key groups – the performance players, looking for racket specs not readily available among those performance frames on the market, and the prestige players, those looking for a special-edition frame built just for them, or who receive a gift voucher for the service. Whatever the background, Head promises to deliver a racket that has received the tour-standard treatment.
"Players are finicky – amateur or professional, it doesn't matter," said Bob Brett, invited to Austria to unveil the Custom Made service at Head HQ. "Among the top players on the men's tour, without a doubt, there's a lot [of customised rackets]. I think most of the players in the top 100 are having their rackets customised whereas a few years ago the manufacturers weren't doing it for everybody. Now you'll find players in the juniors with rackets that are customised.
"There's nothing better than a racket that feels comfortable in your hand," Brett added. "At 30-40, you have to have confidence in yourself, you racket, everything. So all those things come together."
Now get the WORLD'S BEST TENNIS MAGAZINE here