Head Extreme Tour review
Spin is a must have for many amateur and professional players these days as they all know that you can hit the ball harder but with more control when you apply topspin or slice. Head have told us this new Head Extreme Tour is fully focussed on aiding decent players to hit hard but with plenty of spin. We decided to review it to see if the racket backs up their weighty claims.
The technology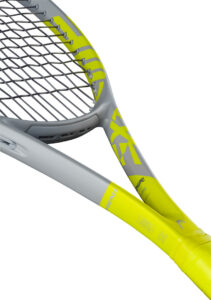 Head introduced Graphene in 2013 and the material now forms the core component of most of their tennis rackets. Graphene 360 forms an integral element within the Head Extreme whereby the frame incorporates Graphene at all the major impact points including the shaft and the head. Graphene aids the "mass distribution" (hitting the ball) therefore allowing "greater manoeuvrability and more power".
Spiralfiber technology is new for this iteration of the Extreme and means there are "twisted fibers placed on the shoulder area of the racket which accompany the frame in it's deformation and provide greater flex and a clean impact feeling".
The new Tour version of the Extreme that we are testing has a smaller head size than other models as it's designed for an advanced player who don't need so much help with hitting the sweet spot and can benefit from the quicker speed of a smaller head size.
But would all the manufacturer's talk convert into performance when used in the rigorous conditions of a Tennishead play test?
---
BUY THE HEAD EXTREME TOUR WITH OUR EXCLUSIVE DISCOUNT
We've teamed up with AllThingsTennis.co.uk so you can buy the new Head Extreme Tour now for just £144 (R.R.P. £175) thanks to an exclusive 5% discount + free premium string upgrade
---
Watch as our experts try out the Head Extreme Tour
The play test
Our testing session took place on the recently repainted indoor hard courts of our local club. The new paint job had significantly slowed down the courts which coincidentally provided a perfect surface to test a racket which claims to help generate controlled spin.
So what would our three expert play testers think and would they be tempted to throw their current racket into the bin and move to a Head Extreme Tour?
Our Tennishead play testers for the Head Extreme Tour review:
Sue: A 'baseline grinder' who's been playing for 30 years and usually hits with a Mantis 300.
Liam: An 'energetic all-court player' who's been playing tennis for 10 years and uses the Yonex EZONE 98.
Austin: Who 'likes to win the point at the net', has been playing for 15 years and who's current racket is the Babolat Pure Drive.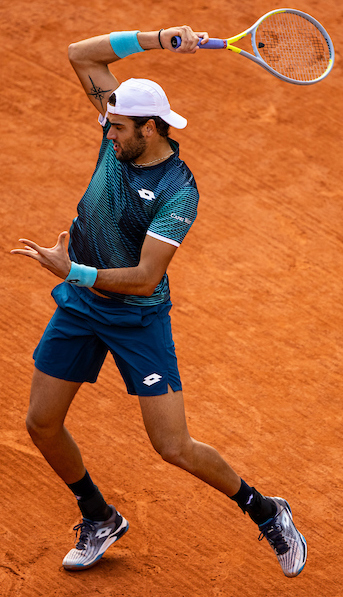 Liam was the first to try out the Head Extreme Tour from the back of the court and his initial feedback was that "I thought the ball was coming off the racket great with loads of spin and not too much power. It felt great." Sue felt the racket was "quite nice to hit with but I did feel a little vibration in my arm and I struggled to get depth on the ball. I don't know if that was my shots or the racket causing that. However, when I was on the run the racket didn't feel heavy so it's easy to manoeuvre". Austin said it was "really nice from the baseline. It felt like I'd been playing with it for years. I felt I had lots of power but the racket helped me add spin which made it easy to control the ball. So yeah I really enjoyed it from the baseline. Even when I was under pressure I found it really easy to control the ball and get spin. I could also create lots of slice on the ball which was nice".
Once up at the net to try out volleys and smashes Liam said "As this is a spin focussed racket I did find it really easy to cut my volleys and it felt solid. And when hitting smashes it was really easy to get power and felt easy on my shoulder." Austin found this racket "wasn't quite as nice at the net as it was at the baseline" for him. "The racket had a lot of power which I found a little hard to control and creating spin on the volley was hard as compared with being at the baseline. On my smashes it was extremely powerful and I could hit my spots easily". Sue found this racket was "really nice' when she hit volleys, and smashes were "ok but nothing that I would say was outstanding".
Austin was the first to serve with this racket and he found that "I was easily able to create a lot of pace on my flat serve and a lot of topspin on my kick serve". Sue found the Head Extreme Tour "really comfortable on serve with the racket moving through the air smoothly and I didn't get the same vibration on serve as I had done on groundstrokes". Liam found that "as this racket is only 305g then it wasn't too heavy and was easy on the shoulder and I could generate a lot of power. The ball was coming off really big".
Did the technology in the Head Extreme Tour help you generate increased spin and power to suit your style of play?
Sue our baseline grinder pointed at that she "likes to hit with spin but I didn't feel this racket gave me masses of spin but maybe it was and that's why the ball went shorter. For me personally it didn't feel 100% comfortable on my arm but there isn't anything specific that would be against this racket". Liam is an all court player and he thought this racket would suit his style of play because "when I was on the run and under pressure the spin and control I got from this racket was great. I felt it had a great balance between control and spin enabling me to hit any shot from anywhere on the court." Austin likes to win the point from the net and he found he could "create a lot of power and with that the spin came really easily which I didn't have to try to hard to generate, especially on my kick serve".
Do you like the design style of this racket?
Austin thinks this is a "really, really nice looking, sleek racket with the grey and yellow complimenting each other well and it would stand out to me from the shelf". Sue "didn't like the colours so much but I really like the matching dumby (vibration dampener)". Liam felt this design was "definitely better than the all yellow previous model".
Finally, we asked our testers if $235/£175 is a fair price for the Head Extreme Tour?
Liam – "In today's market that compares well with all the other rackets and this is definitely the one to choose if you want a spin focussed racket".
Sue – "It's a fair price for a quality racket, just not for me personally".
Austin – "I think that's a really fair price for a really nice racket and I'd definitely pay that myself".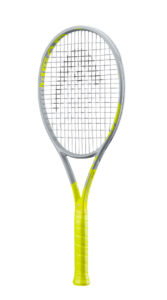 The specifications
For a detailed explanation of racket measurement criteria have a read of our guide.
Head Extreme Tour
R.R.P. = $235/£175 (Buy now for £144 here)
Head size = 98 sq in
Weight = 305g
String pattern = 16/19
In conclusion
Overall our independent testers felt that the Head Extreme Tour is a good racket if controlled spin is what you are after. The general feedback was that the racket does help generate spin on all shots and the solid feel most players also crave was there as well in this 305g frame. Our baseline grinder, the most defensive of our testers, did notice a small amount of vibration but only on groundstrokes, but that didn't stop her from recommending this racket.
Often spin focussed rackets don't perform as well at the net or on serve but the latest version of the Head Extreme Tour ticks that box handsomely which gave our testers real confidence that they could go for all their shots at full power but not lose control of the ball.
So overall we'd say this is worth a try as long as your technique is developed enough for a spin focussed game.
Buy this racket
As always, we've teamed up with tennis specialists AlThingsTennis.co.uk to offer you the ideal route to purchase this racket. They give you advice as well as provide a free premium restring and an exclusive 5% Tennishead discount when using coupon code: TENNISHEAD5. That means you can purchase the Head Extreme Tour for £144 instead of the listed price of £175. What a deal!