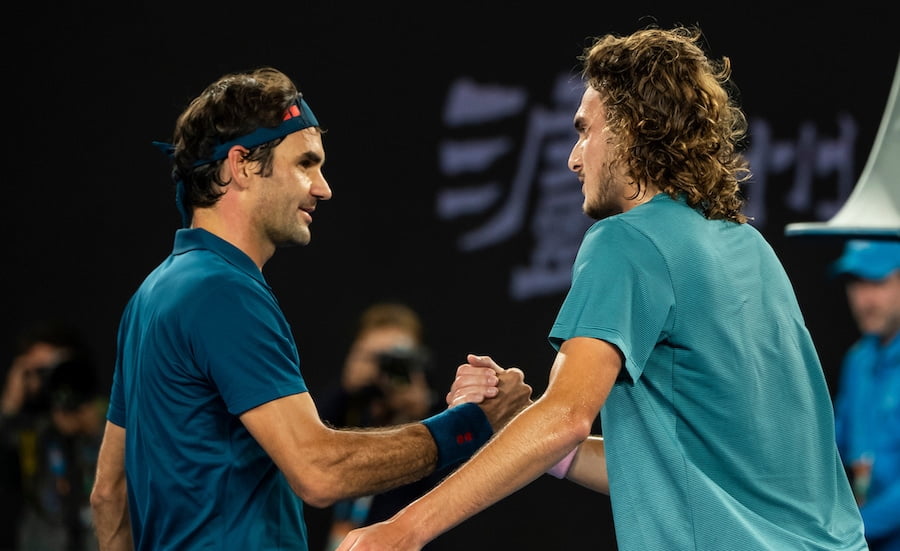 'He has a chance' – Mats Wilander names the youngster he expects to reach Roger Federer level
Mats Wilander believes Dominic Thiem will never reach the same level as Roger Federer, Novak Djokovic, or Rafael Nadal, but thinks Stefanos Tsitsipas might.
Federer, Djokovic, and Nadal, along with Andy Murray, have dominated tennis for well over a decade, but a new batch of young stars are finally started to emerge on the ATP Tour.
They are led by Tsitsipas, Thiem, and Daniil Medvedev, but there is only one of them that Eurosport tennis expert and former Grand Slam winner Wilander believes has what it takes to hit the highs of the current big three.
"I don't imagine Thiem reaching the same level [as the big three], I don't imagine Medvedev reaching the same level," Wilander says.
"I do imagine that Stefanos Tsitsipas has a very good chance of reaching very high because the psychology of Tsitsipas is very strong – sometimes not the best but it's very strong.
"He cares and when you care as much as he does that gives you a chance to be a multiple Grand Slam winner so I think Tsitsipas has a chance.
"I don't know about Dominic Thiem being consistent enough mentally to reach the top of the game.
"I think he can win a Grand Slam for sure or two but I don't see Dominic Thiem winning five or six Grand Slams but I see Tsitsipas winning five or six Grand Slams
Below Tsitsipas, Medvedev, and Thiem, there is another group of young players just starting to mature, and Wilander sees some serious potential in one of them.
"I see Auger-Alliasime winning five or six [Grand Slams]," he added. "I think he has a chance because he is professional enough and consistent.
"Maybe Denis Shapovalov, the way he has played lately, but it is not easy to have the same mindset as Roger, Rafa and Novak and Andy Murray."
All courts and all matches from the Australian Open are live and exclusive on Eurosport and Eurosport Player.
Keep up to date with all the action at our tennis news section. Win amazing tennis prizes by entering our competitions. Learn more about your favourite players including Roger Federer, Rafa Nadal and Novak Djokovic. Check out the latest kit in our tennis gear reviews. Receive regular updates with our legendary newsletter or read in depth features with stunning photography in tennishead magazine. Can't visit the tournaments you love? Check out our guide on how to watch tennis on TV. Don't miss a thing with our Live Scores service. Follow tennishead on social media at Facebook, Twitter, Instagram & YouTube