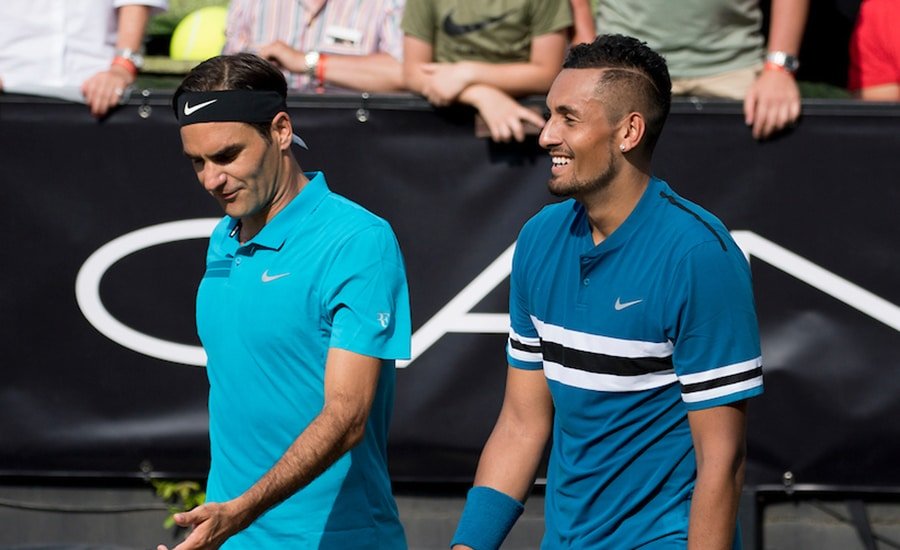 'He can beat anyone… if he wants to' – Roger Federer urges Nick Krygios to sort his head out
Roger Federer has hailed Nick Kyrgios, but has urged him to do more to make the most of his talent.
Kyrgios has more of a reputation for 'antics' than he does his talent, which is some going considering how richly talented a tennis player he is.
He is currently on probation under the threat of a lengthy ban should he lose his temper on-court again following ugly scenes at the Cincinnati Open last season – in which he abused an umpire and smashed two rackets.
Federer, though, says that Kyrgios' talent is absolutely beyond question, and the only person stopping him being a genuine force on the ATP Tour is himself.
"Nick doesn't need to improve a whole lot in his game, he knows he can beat everybody," Federer said.
"With Nick we know it's elsewhere – it's his mind – how much can he do, does he want to do?"
What perhaps helps Kyrgios a little is that he is no longer Australia's top player, meaning perhaps less pressure and spotlight is on him.
That mantle now belongs to Alex De Minaur, and he is a player Federer is expecting to see a lot more of moving forward.
"Last year was a breakthrough season for Alex, winning three events, and it showed that in the bigger stages he was ready to play," Federer said.
"Home pressure isn't an issue for him so I think we'll see much more from Alex."
Keep up to date with all the action at our tennis news section. Win amazing tennis prizes by entering our competitions. Learn more about your favourite players including Roger Federer, Rafa Nadal and Novak Djokovic. Check out the latest kit in our tennis gear reviews. Receive regular updates with our legendary newsletter or read in depth features with stunning photography in tennishead magazine. Can't visit the tournaments you love? Check out our guide on how to watch tennis on TV. Don't miss a thing with our Live Scores service. Follow tennishead on social media at Facebook, Twitter, Instagram & YouTube