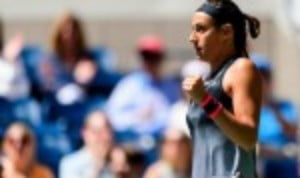 Garcia victorious in Beijing
Originally published on 08/10/17 00:00
The attack-minded Frenchwoman has embarked on an 11-match winning run and she is the first player to achieve the Wuhan-Beijing double. Her recent success will also see her reach a career-high ranking of No.9 on Monday.
Garcia's latest triumph has enabled her to overtake Johanna Konta in the race to Singapore and she is in pole position to seal the final spot at the WTA's flagship event.
The 23-year-old, who will take on Maria Sharapova in the first round of the Tianjin Open next week, currently holds a sizeable 185-point advantage over the British No.1 and she is the overwhelming favourite to complete the line-up in Singapore.
After her victory in Beijing, Garcia said: "I did not expect that I would have two trophies to go back to France with when I arrived in China. Two tournaments in a row is big and kind of difficult to believe for now, but these two weeks in China have been a pleasure."
Halep, who will be officially confirmed as the 25th player in WTA history to reach No.1 on Monday, was magnanimous in defeat. "I tried my best, but Caroline played really well," said the Romanian. "She did an amazing job – two weeks in a row – so congratulations to her.
"I cannot be said that I lost this match because this week has been great for me. Tomorrow I will be No.1 in the world and my dream came true. I just want to enjoy the moment."