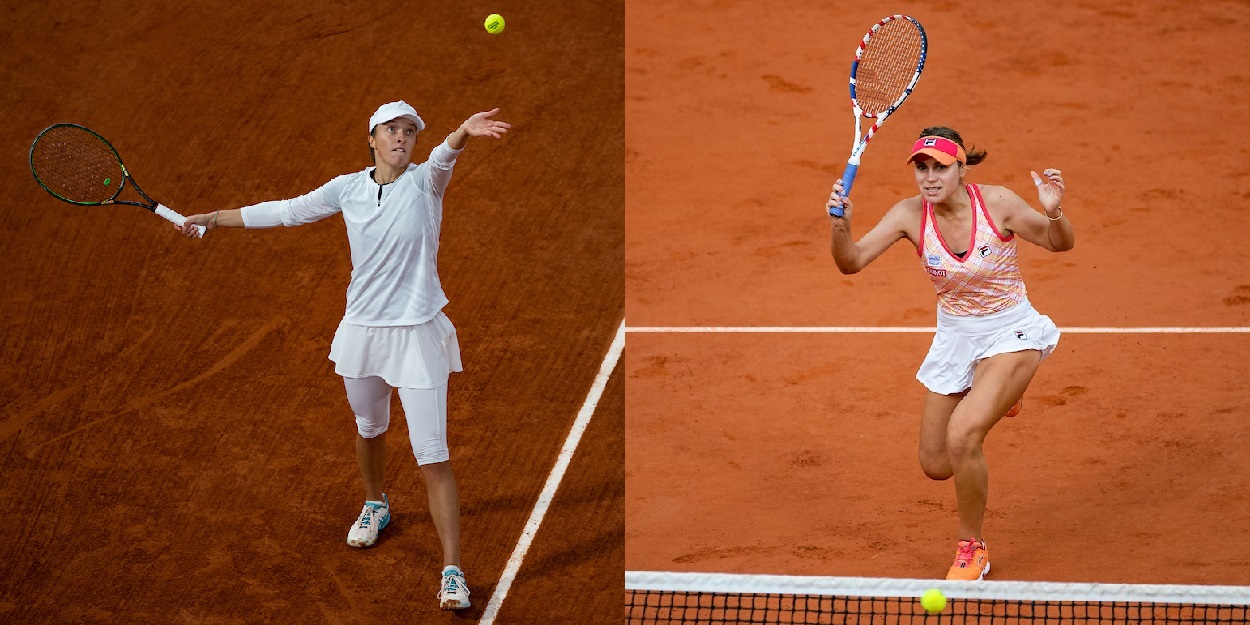 French Open women's singles final preview: Swiatek v Kenin
On Saturday afternoon, Paris will play host to the youngest Grand Slam final since the 2008 Australian Open when a pair of 20-year-olds, Maria Sharapova and Ana Ivanovic, faced off for the title. On Court Philippe-Chatrier, it will be 19-year-old Iga Swiatek, who has made it past the fourth-round at a slam for the first time, taking on 21-year-old Sofia Kenin, the reigning Australian Open champion.
Swiatek, a former Wimbledon Girls' champion, had been touted as a future star, but few predicted that her ascent would come so soon and with such force. Ranked just 54th in the world, the young Pole has dominated each of her six opponents this fortnight, losing no more than five games in any given match.
Kenin, meanwhile, already proved her star credentials by winning at Melbourne Park earlier in the year, but since the restart the American has struggled to find her form. She lost convincingly, 6-3 6-3, to Elise Mertens in the fourth-round of the US Open, and in Rome she was steam-rollered by Victoria Azarenka, 6-0 6-0. Following that defeat it was hard to imagine her making a deep run at Roland-Garros, but here we are. An unexpected yet worthy final has emerged from the wreckage of a draw that saw many of the favourites fall very early on.
Iga Swiatek v Sofia Kenin (4)
***
Iga Swiatek's route to the final:
R128: d. Vondrousova (15), 6-1 6-2
R64: d. Hsieh, 6-1 6-4
R32: d. Bouchard, 6-3 6-2
R16: d. Halep (1), 6-1 6-2
QF: d. Trevisan (Q), 6-3 6-1
SF: d. Podoroska (Q), 6-2 6-1
Having faced qualifiers in the last two rounds, one may think that Swiatek has been handed an easy ride, and that may be so, but anyone who can knock out the top seed, and bookmakers' favourite, 6-1 6-2, deserves all the luck they get. In the fourth-round last year, Swiatek lost to Simona Halep 6-1 6-0. On that occasion, the teen did not win a single service game and never won more than two-points consecutively. Eighteen months later she arrived the same foe at the same stage and turned the table completely. Halep could not find a single breakpoint opportunity and won only 52% of points behind her first serve, largely down to some huge hitting from Swiatek.
After such a big win it would have been understandable for Swiatek to have a bit of a let-down in the next round, which she did, For about two games. After that she went on a tear and has not let up since. She was in complete control all the way through against Podoroska and right now she will be feeling that she has the game to take on al challengers.
***
Sofia Kenin's route to the final:
R128: d. Samsonova, 6-4 3-6 6-3
R64: d. Bogdan, 3-6 6-3 6-2
R32: d. Bara, 6-2 6-0
R16: d. Ferro, 2-6 6-2 6-1
QF: d. Collins, 6-4 4-6 6-0
SF: d. Kvitova (7), 6-4 7-5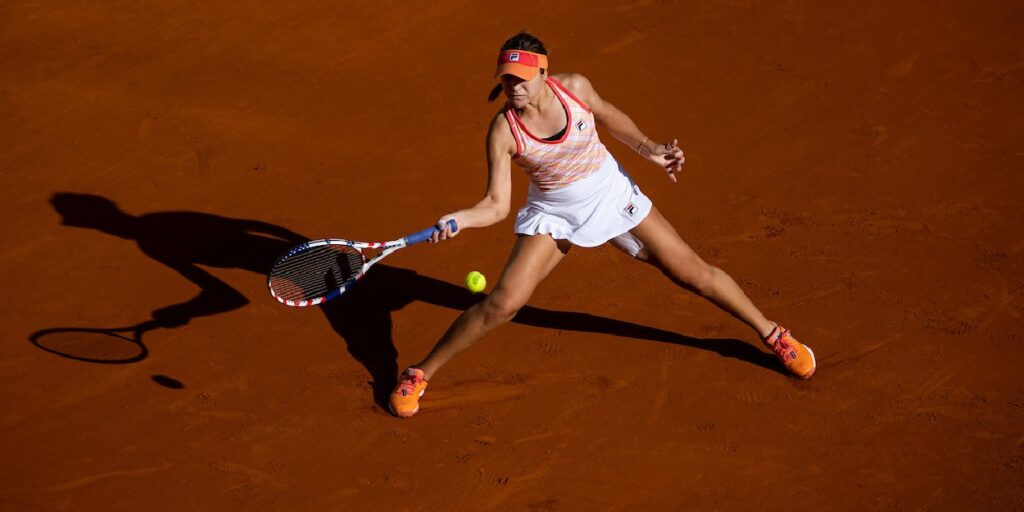 As noted above, Kenin's last match prior to the French Open was a 6-0 6-0 defeat in Rome at the hands of Victoria Azarenka. The Belarussian was playing well and had just reached the final at the US Open, but all the same it looked to be a worrying defeat; the world No 6 shouldn't be getting double-bagel'd by anyone.
True to form, she began with up-and-down three setters against Samsonova and Bogdan, before laying down a first real signal of intent by beating Irina Bara, 6-2 6-0. She then fell a set behind against home hope Fiona Ferro, but showed great mental resilience to fight back against both her opponent and a vociferous French crowd.
Danille Collins then pushed Kenin to a fourth deciding set of the tournament but the American raced through that to love and then put in her best performance of the tournament against two-time Grand Slam champion Petra Kvitova. She produced her best first serve percentage of the fortnight at 70%, and played brilliantly in the big moments, converting 4/5 break point opportunities and saving 10/12 on her own serve. She moves on to play in the second major final of both her career and this season.
***
Swiatek and Kenin have never played on the WTA Tour but they did meet once before at junior level; in the girls' singles at Roland-Garros, of all places. That was back in 2016 and on that occasion Swiatek came out on top, winning 6-4 7-5. That result is unlikely to have too much bearing on Saturday's match-up as both of their games will have developed considerably since then, but it could give the younger woman a slight mental advantage.
Having not dropped a single set, and with the loss of just 23 games, Swiatek has certainly had the more impressive run through to the final, but Kenin may be peaking at just the right time. She impressed against seventh seed Kvitova in the last round, whereas Swiatek, dominant as she has been, has faced two players ranked outside of the world's top 100 and could foreseeably be caught out by the jump in level that Kenin is capable of producing. If, however, Swiatek can find the form that saw her cruise past Halep then the match is on her racquet. Doing so in the fourth-round, however, is very different to doing so in the championship match.
Swiatek, at the time of writing, is also still in the doubles draw, and will play her semi-final match on Friday afternoon. Whether this proves to be a blessing or a curse with regards to her preparations remains to be seen, but winning matches, be they singles or doubles, can only boost one's confidence, and having a distraction from thinking about Saturday's big occasion could be exactly what she needs.
Kenin has played in, and won, a Grand Slam final before. In Australia she lost the opening set of the final to Garbine Muguruza and still fought back to beat the two-time major winner 4-6 6-2 6-2. That was after beating the world No 1 and home favourite Ashleigh Barty in the semi-finals. Kenin is one of the toughest fighters on tour and will be undeterred if Swiatek comes out all guns blazing and hitting a barrage of winners, as has been her wont thus far. The fourth seed will not give up and will be ready to take advantage when the nerves creep in…
If the nerves creep in…
Prediction: Swiatek in 2