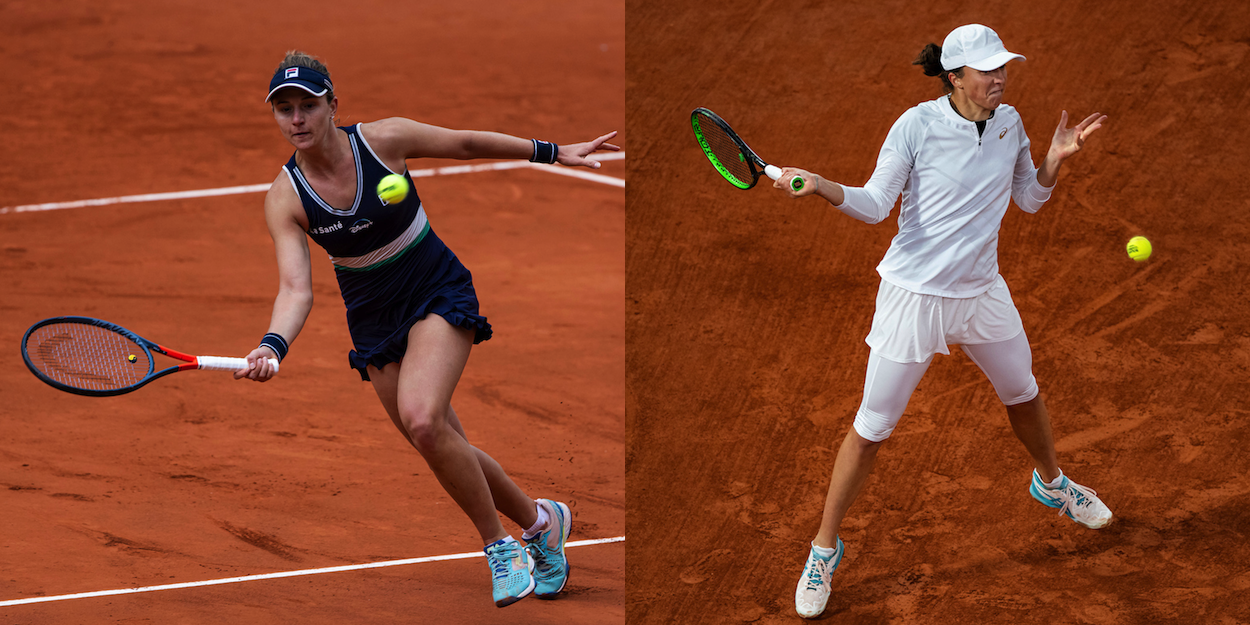 French Open semi-final preview: Podoroska v Swiatek
Anyone who placed just a £5 bet on at the start of the fortnight on the semi-final from the top half of the women's draw being Nadia Podoroska v Iga Swiatek must be very rich right now indeed. The world No 131 takes on the world No 54 in what is to say the least, an unlikely match-up for this stage of a Grand Slam tournament.
Among the favourites from this side of the draw were Serena Williams, Victoria Azarenka, Elina Svitolina and the top seed, Simona Halep. But all have fallen by the way side and instead we have an intriguing encounter between the first woman to reach the Roland-Garros semi-finals as a qualifier, Nadia Podoroska, and the rising star, 2018 Wimbledon Girls' singles champion, Iga Swiatek.
Nadia Podoroska (Q) v Iga Swiatek
***
Nadia Podoroska's route to the semi-finals:
Q1: d. Frech, 6-2 6-2
Q2: d. Cristian, 6-0 6-4
Q3: d. Wang (20), 6-2 6-4
R128: d. Minnen, 6-2 6-1
R64: d. Putintseva (23), 6-3 1-6 6-2
R32: d. Schmiedlova, 6-3 6-2
R16: d. Krejcikova, 2-6 6-2 6-3
QF: d. Svitolina (3), 6-2 6-4
Podoroska, 23-years-old and ranked No 131, is playing in just her second ever Grand Slam main draw. Previously, she lost in the first round of the 2016 US Open to Annika Beck, but having waited four years to return to one of tennis' grandest stages she is really making this opportunity count.
The Argentine has never made it into the world's top 100 but she has had good success on the ITF circuit, winning 14 titles including three in 2020. Most recently, she won the Open de Saint-Malo on clay just last month.
Capitalising on that good form, she raced through the qualifying tournament at Roland-Garros and she has scarcely looked back since. Even going a set down to Barbora Krejcikova in the fourth round didn't seem to faze her and then a quarter-final match against Elina Svitolina (then the highest seed left standing) on Chatrier proved to be equally undaunting for the big stage debutante.
***
Iga Swiatek's route to the semi-finals:
R128: d. Vondrousova (15), 6-1 6-2
R64: d. Hsieh, 6-1 6-4
R32: d. Bouchard, 6-3 6-2
R16: d. Halep (1), 6-1 6-2
QF: d. Trevisan (Q), 6-3 6-1
Swiatek has raced through the early stages of the tournament, losing no more than five games in a match. She began her run by dispatching last year's runner-up, Marketa Vondrousova, and backed that up with convincing wins over Hsieh Su-wei and a resurgent Eugenie Bouchard.
The highlight of her run, however, was a 68-minute demolition of the top seed and former champion, Simona Halep. The Romanian came into Roland-Garros on the back of title runs in Prague and Rome and was hotly tipped to pick up a third Grand Slam this year in Paris. Swiatek had other ideas and blew Halep off court, hitting 30 winners and creating 14 break point opportunities.
***
Perhaps unsurprisingly, Podoroska and Swiatek have not played each other before. Swiatek, at No 54, is by far the higher ranked of the two and that, along with her hugely impressive win over top seed Halep, has to make her the favourite.
However, having come through qualifying and having won in Saint-Malo last month, Podoroska is on a confidence bolstering win streak, and she holds a hugely impressive 25-3 record on clay for the year so far. The majority of those wins came at ITF level, but the mental impact of all that success can only be positive. Her win against Svitolina proved that she can perform against high-ranked opposition too, but backing up a win over top seed has proven to be a tough task for many a player in the past. Swiatek has already passed that test with her win over Martina Trevisan.
Podoroska has impressed over the past fortnight but Swiatek's performances have astonished. Halep did not even play badly in their fourth-round match but the young Pole dominated from start to finish with an overwhelming flurry of winners. If she can replicate that sort of level again then she will beat Podoroska and anyone else who dares to stand in her way.
Prediction: Swiatek in 2