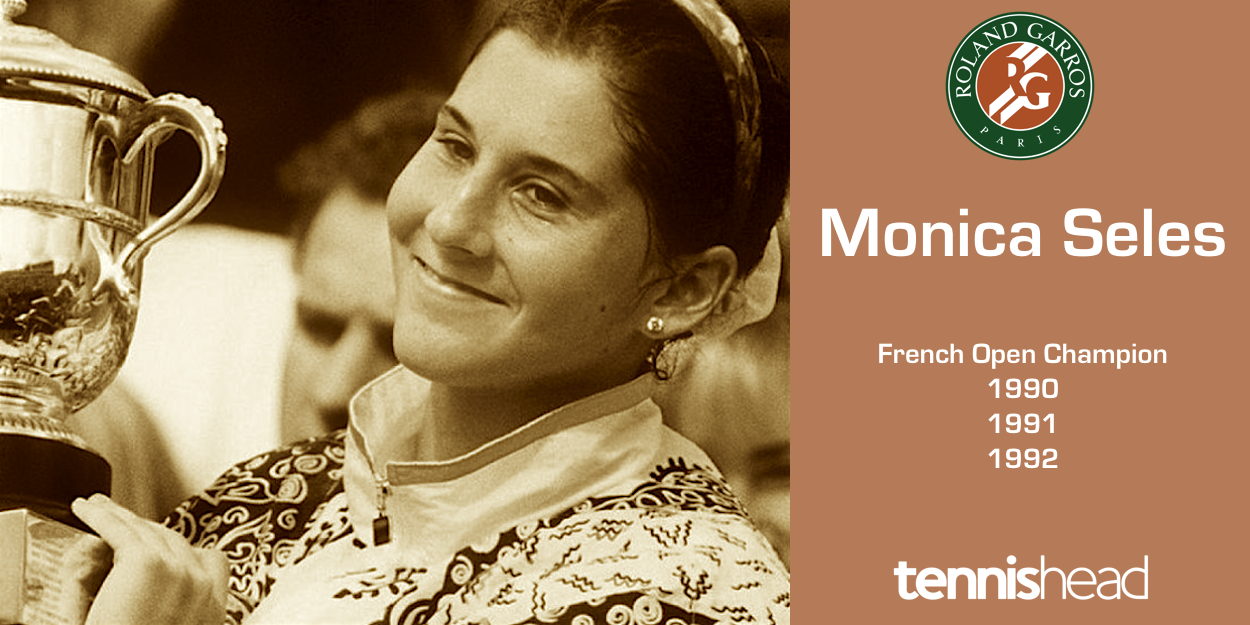 Roland Garros Royalty: Monica Seles, three-time French Open champion
The rise of Monica Seles in women's tennis during the early 1990s was incredible and it blazed a trail directly through the French Open. 
It was at Roland Garros where Seles proved her Grand Slam pedigree, where she showed she could defend a title, and where she showed she could hold off a challenge to her newly-established dominance.
There is little doubt, then, that the Yugoslavian star has earned her place among the Roland Garros royalty.
Setting the record
Many consider Coco Gauff to be the brightest young star in the women's game, but no one expects her to win a Grand Slam. Seles was different, though.
In fact she was so different and so special, that she won a Grand Slam when she was even younger than Gauff is today.
The young Yugoslav was just 16-and-a-half years old when she arrived in Paris for the 1990 French Open. However, if you are thinking that made her a real outsider you perhaps need to think again.
The truth is that Seles had already impressed by then to the point of being the second seed to win the title.
She literally couldn't have got off to a better start in the tournament either, as she beat Katia Piccolini 6-0, 6-0 in the first round. That wasn't, t be fair, a taste of things to come.
Seles was made to scrap for her progression in the next two rounds. Canadian Helen Kelesi was able to take a set form her, but Seles was able to compose herself and carve out a 4-6, 6-4, 6-4 win. Soviet ace Leila Meskhi was up next, and again the teenager had to battle her way though, requiring a pair of tiebreaks.
She ran into her first seed in the form of Laura Arraya in round four, but Seles once again was able to show her quality and she was rarely troubled in a 6-4, 6-0 win.
World number one and the women who would fatefully become her greatest rival, Steffi Graf, was looming large by the time Seles took to court for the quarterfinals.
First, though, she would have to beat the sixth-seed, Manuela Maleeva-Fragniere, and the occasion looked like it was getting to her when she dropped the opening set. Seles refused to be denied, though, and took it in three.
Remarkably, Seles played someone even younger than she was in the semi-finals. Jennifer Capriati, who was just 13-years-old and a future multiple-major winner was impressing almost as much as Seles, but she was no match and the Yugoslav came out on top with a routine 6-2, 6-2 win to set up a final date with Graf.
Graf had already won nine majors by this stage, including two French Open titles, and she was a strong favourite to win another.
When Graf created four set points in the first-set tiebreaker, it looked like only a matter of time before she broke Seles' resistance. Astonishingly, though, it was Seles who won the tiebreaker 8-6 before going on to win the title in straight sets.
It was he first ever Grand Slam title and she was the youngest French Open champion in history, although that record would be broken by Martina Hingis seven years later.
Successful defence
By the time Seles arrived in Paris to defend her French Open title, not only had she added a second major to her trophy cabinet at the Australian Open, but also replaced Graf as world number one.
She had started to dominate the women's game, although few were ready to write off Graf just yet, and a repeat of the 1990 final was anticipated. That never actually happened, though, with Graf eliminated in the semi-finals.
This time, Seles showed her growing powers by cruising through the opening rounds. In fact, in the first three rounds she dropped just eight games collectively against Radomira Zrubakova, Mariaa de Swardt, and Karine Quentrec.
Anna-Maria Ceccini put up a little more resistance in round four and took a set from Seles, but she never looked like actually beating her.
Seles then faced a really tough path to the final, starting with a clash against seventh seed (and future Wimbledon champion) Conchita Martinez. She made short work of it, though, winning 6-0, 7-5. It meant that in four of Seles first five matches at the 1991 French Open, she had dished out a bagel.
Reigning US Open champion Gabriella Sabatini was next up in the semi-finals, but again she was no match and was easily overcome in straight sets.
That left Arantxa Sanchez Vicario as the last woman standing between Seles and a second straight Roland Garros title, and she was certainly a formidable foe.
The Spaniard had won the tournament two years ago and would win it again in 1994. She had also dominated Graf in the semi-finals, so a close encounter was expected.
In the end, though, even she could not resist Seles' remarkable surge, and the Yugoslavian won 6-3, 6-4 to underline her new dominance of the women's game.
Completing the hattrick
To win one French Open title is hard enough. To win two is rare. Winning three makes you Roland Garros royalty. But to win three back-to-back and all before your 19th birthday is downright outrageous.
That is the feat that Seles completed in 1992, though, and she did it the hard way again by beating the best the women's game had to offer.
Her early-tournament form followed the same pattern of her previous campaigns, as she powered passed poor opposition with barely dropping a set.
Catherine Mothes-Jobkei, Karin Kschwendt, Lori McNeil, and Akiko Kijimuta were unable to put up meaningful resistance, although the latter did take a set from Seles.
Capriati awaited in the quarter-finals, and she was a very different prospect to the one Seles had faced two years earlier. By now, Capriati was number five in the world and expected to do well in Paris.
The result was the exact same as it was two years ago, though, 6-2, 6-2 and Seles advancing.
Another familiar foe was across the net in the semi-finals too in the shape of Sabatini, just as she had been the previous year at the same stage of the tournament.
This one was considerably closer, with the Argentinian looking like she might just edge it for much of the match, but Seles came through it 6-3, 4-6, 6-4 to set up a final date with Graf.
Since losing to Seles in 1990, Graf had been very much displaced as the dominant player in the women's game by the Yugoslavian. It was only really Wimbledon where she had remained in charge, but a fine win over Sanchez Vicario in the semis had given her renewed hope of regaining her Roland Garros crown too.
After dropping the opening set 2-6, Graf but up a real fight too, forcing a decider and ultimately setting the stage for one of the best women's French Open finals of all time.
Twelve games of tennis couldn't separate them in the decider, but Seles eventually edged it to score a memorable 6-2, 3-6, 10-8 win.
It was her second win over Graf in three Grand Slam finals and she didn't get the chance to go for a fourth successive French Open crown.
Just a month or so before the 1993 tournament, and after beating Graf again in Australia, she was the victim of a knife attack from a Graf fan in Hamburg.