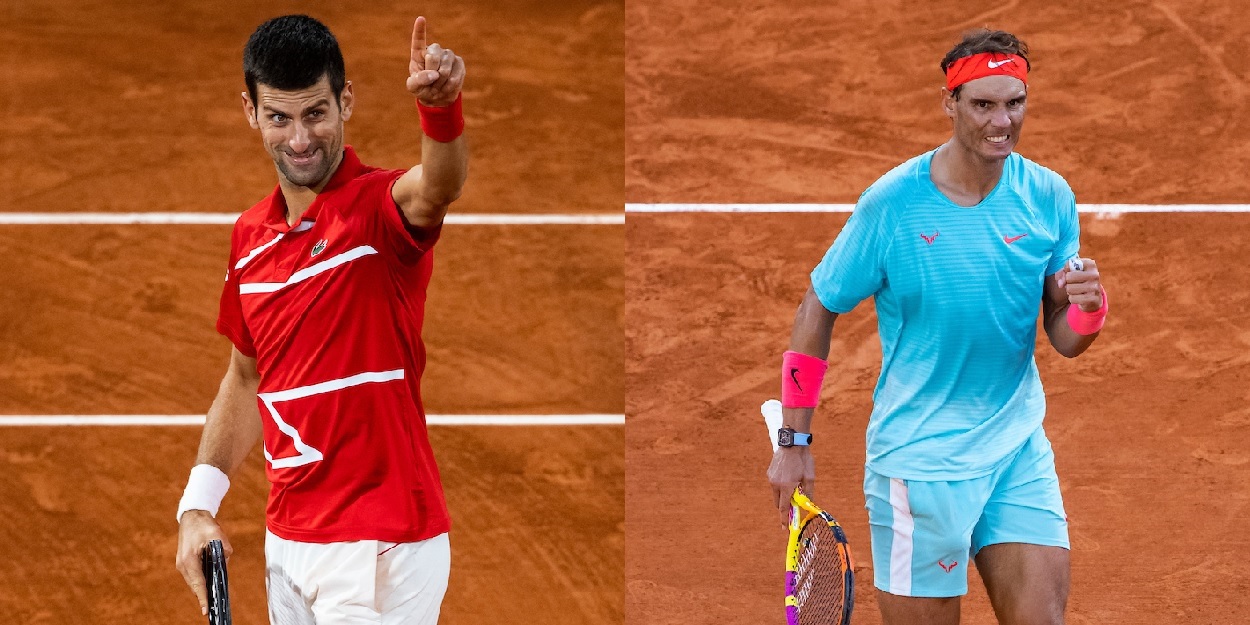 French Open men's singles final preview: Djokovic v Nadal
On Sunday afternoon, the top two players in the world will meet for their 56th on-court encounter, and their ninth in a Grand Slam final. History is on the line as Rafael Nadal aims to match Roger Federer's record twenty Grand Slam titles, and Novak Djokovic guns for an 18th, as well as the opportunity to become the first man in the Open Era to win each major title at least twice.
With what is at stake, there is an argument that this match is the most important of each man's career. Both are all-time greats but when it comes down to the question of who is the greatest then the result of this final could play a crucial role. For fans too, this could be a historic moment as there surely cannot be too many more of these major finals to come between members of the Big 3? True, we have been saying that for a number of years now, but with Dominic Thiem winning the US Open, Alexander Zverev and Daniil Medvedev reaching recent Grand Slam finals, and Stefanos Tsitsipas winning the ATP Finals, it really does feel like this iteration of the 'Next Gen' are for real and the days that the legends have left to dominate are numbered.
So, let's savour this spectacle one more time.
Novak Djokovic (1) v Rafael Nadal (2)
***
Novak Djokovic's route to the final:
R128: d. Ymer, 6-0 6-2 6-3
R64: d. Berankis, 6-1 6-2 6-2
R32: d. Galan, 6-0 6-3 6-2
R16: d. Khachanov (15), 6-4 6-3 6-3
QF: d. Carreno Busta (17), 4-6 6-2 6-3 6-4
SF: d. Tsitsipas (5), 6-3 6-2 5-7 4-6 6-1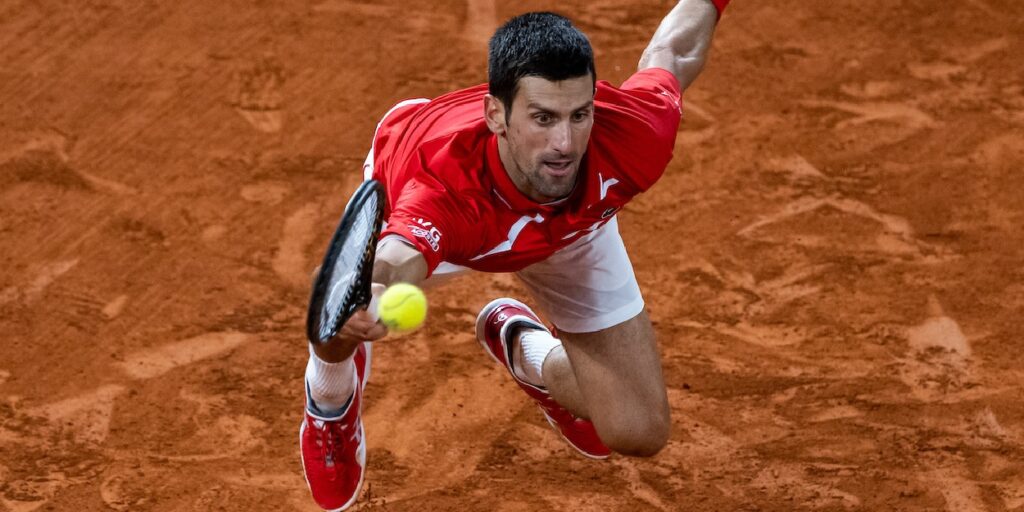 Through the first week of the tournament, Djokovic faced no real resistance in his pursuit for a second French open title. He won his first three matches with a loss of just five games in each. Karen Khachanov provided the first real test in round four, but even he was beaten in routine fashion.
Pablo Carreno Busta, against whom Djokovic received his default at the US Open, looked like he might be on course to earn an upset victory in the quarters when he took the first set. Novak had a lot of tape on his neck and certainly did not seem to be at his best, but he found his form from somewhere and won convincingly in the end.
In the semi-finals, it was Stefanos Tsitsipas, looking to reach a first Grand Slam final, on the other side of the net. The first two sets felt close but the Greek frequently found himself tightening up on the big points, wasting a couple in the opening game, and finding himself 0 for 10 towards the end of the third. Djokovic served for the match at 5-4 in the third and even held match point but Tsitsipas finally found his range, hitting the ball deep and forcing his opponent to run. He stole the third 7-5 and then kept the pressure up in the fourth, taking that 6-4 to force a decider.
It was nothing short of a miracle that Tsitsipas won the fourth as he was constantly under pressure on serve, staving off countless break points, whilst Djokovic breezed through the majority of his service games. There was a sense that Tsitsipas could only cheat death so many times, and early in the fifth Djokovic got the breakthrough and never looked back. The 5th seed struggled to keep up physically as the match drew to a close and the 2016 champion booked his place in a fifth French Open final.
***
Rafael Nadal's route to the final:
R128: d. Gerasimov, 6-4 6-4 6-2
R64: d. McDonald, 6-1 6-0 6-3
R32: d. Travaglia, 6-1 6-4 6-0
R16: d. Korda, 6-1 6-1 6-2
QF: d. Sinner, 7-6(4) 6-4 6-1
SF: d. Schwartzman (12), 6-3 6-3 7-6(0)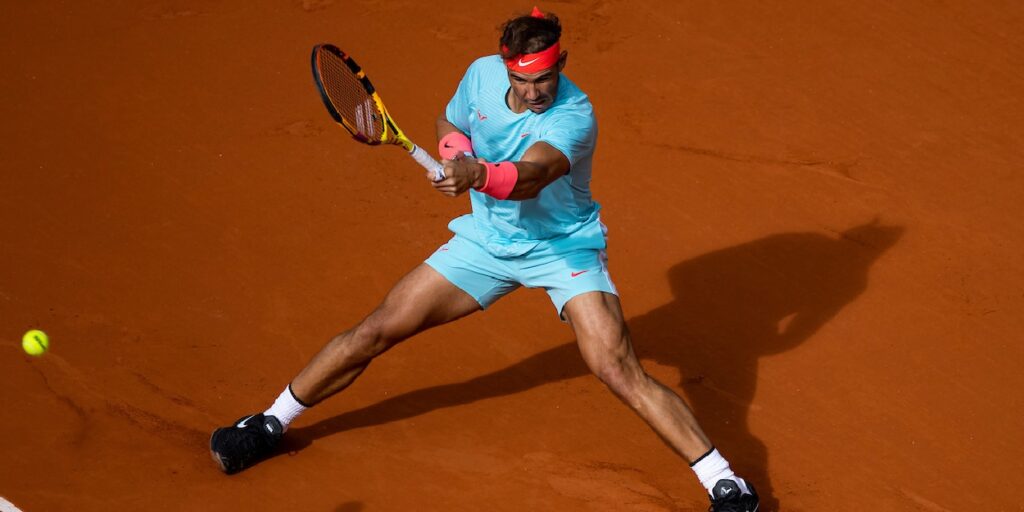 Nadal, much like Djokovic, had an easy ride through the first week. In the fourth-round, 20-year-old Sebastian Korda was unable to provide a tougher challenge for his idol, but he did at least get a signed shirt after his his schooling on the court.
The Next Gen Finals champion, Jannik Sinner, was expected to provide more of a threat to Nadal, especially when their quarter-final match didn't begin until late, late in the evening thanks to a packed schedule on Philippe-Chatrier, which included a five hour epic between Dominic Thiem and Diego Schwartzman. Initially, the match was indeed close but after losing a first set tie-breaker the young Italian slowly faded away and Nadal asserted his dominance, in spite of rarely hitting his top gear.
After he beat Nadal in Rome, and showed great fight to fend off third seed Dominic Thiem in the quarters, there was reason to believe that Schwartzman could be a danger in the semi-finals. He put in a spirited performance but Nadal was just that little bit better throughout, apart from a minor scare towards the end of the third. He is now through to the final at Roland-Garros for a thirteenth time. This is the most times that any man has reached the final of any single Grand Slam tournament, bettering Roger Federer's Wimbledon record of twelve.
***
Djokovic and Nadal will be meeting on Sunday for a record 56th time. The world No 1 leads the head-to-head 29-26 and has won 14 of their last 18 meetings, dating back to the Beijing final in 2013. Nadal has won their last three clay court matches, but Djokovic won the last time they played in Paris, all the way back in 2015 when he won in the quarter-finals, 7-5 6-3 6-1.
That defeat was only Nadal's second at Roland-Garros and it remains his most recent. The 12-time champion has a 99-2 record at the French Open and will be looking for his one-hundredth win on Sunday afternoon. Unsurprisingly, Nadal holds the record for most wins at the French but in second place is Djokovic on 74. The Serb will be hoping to lift the Coupe des Mousquetaires for just the second time, and if he does so then he will become the first man in the Open Era to have won each of the four slams multiple times. Federer also only has one French Open title (2009), and Nadal has only triumphed once in Australia (2010).
There has been much talk about how the playing conditions will affect the outcome of this match. Most agree that the heavier balls and the colder weather are detrimental to Nadal's game as it will neutralise his heavy topspin and high bounce that have troubled Djokovic in the past. Whether the changes hurt Nadal enough to make Djokovic the favourite is a slightly more contentious issue.
What perhaps does make Djokovic the favourite is the fact that if one chooses to discount his US Open default, the world No 1 is still unbeaten in 2020 and that run includes victories over notable opponents such as Federer, Thiem, Tsitsipas (x2), Schwartzman (x2) and… Nadal. The Serbian has never been shy to admit that breaking records is a huge motivation for him and on Sunday he could break many: the first man to beat Nadal twice at Roland-Garros, the first man to beat Nadal in a Roland-Garros final, the first man to win each major title twice, and, if he hasn't already, he would all but guarantee that he will take Federer's record for most weeks at No1. Not to mention he would only trail the record for most Grand Slam titles by two.
A highly motivated, physically fit Djokovic is near impossible to beat, even for Nadal on Chatrier. And for a Nadal who has not won a tournament since February and who has not beaten an opponent ranked in the top 10 since last November's ATP Finals, it likely will be impossible.
Prediction: Djokovic in 4