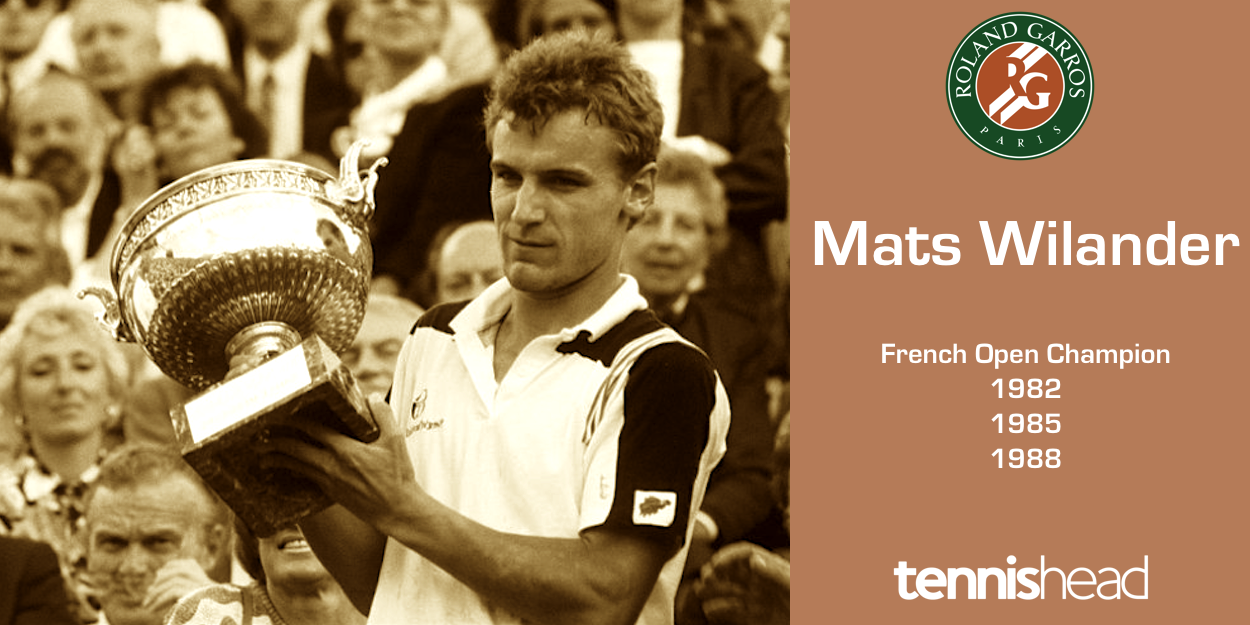 Roland Garros Royalty: Mats Wilander, three-time French Open champion
Alongside Bjorn Borg, Mats Wilander heralded a new era of Swedish success with seven Grand Slam titles and phenomenal performances at the French Open. 
The Swede dominated during the 1980's, winning three Australian Open titles, three French Opens and a US Open title in 1988, though failed to ever pass the quarter-final barrier at Wimbledon.
Wilander started his career as a more compact version of his compatriot Borg. He possessed the same two-handed backhand,  consistency and subtle yet dangerous killer instinct. Wilander was dubbed the king of the percentage plays.
Though Wilander didn't just want to be the next Borg. He wanted success on the hard courts in Australia and the US – which Borg's game failed to suit.
With that in mind, Wilander changed his game style mid-way through his career – something very few champions dared to do. The Swede beefed up his serve, added a one-handed slice backhand to his armoury, and approached the net with regularity.
Not only did this help Wilander win titles across the pond, he also added a third French Open title.
Wins 1982 French Open title as a 17-year-old
A year earlier, Wilander lifted the 1981 junior French Open title and 12 months on, the Swede graduated faster than any other player in history.
Before the tournament, Wilander began to soar up the rankings from 69 to 18 ahead of Roland Garros – though few would have predicted him to lift the title a fortnight later.
The 17-year-old breezed through his opening three rounds before a crunch fourth-rounder against second seed and last year's runner up Ivan Lendl, who went on to become a three-time French Open champion himself.
In a topsy-turvy affair, Lendl put one step in the quarter-final with a two sets to one lead, though the gutsy Swede was not to be underestimated.
Wilander battled back in the fourth before sealing the victory in five sets to book his quarter-final spot. Wilander's name began to reverberate around Roland Garros.
The Swede soon faced American star and fifth seed Vitas Gerulaitis and prevailed fairly comfortably in four sets. Swedish fans were starting to believe.
In the semi-final Wilander faced clay court specialist and back-to-back semi-finalist José Luis Clerc, who despite taking the third set 6-1, failed to stop the Swede from marching into the final. The same setting, but a very different stage to 12 months before.
Wilander's match against Clerc wasn't remembered for the Swede's brilliance or his ability to have the measure of Clerc, it was for his admirable sportsmanship.
After blowing a 5-1 lead in the fourth, the teenager reached match point with Clerc serving at 5-6, 30-40. Seconds later, a Clerc forehand was called long, though Wilander didn't see it that way.
Wilander had no desire to close out a vital match by gaining an unfair advantage. Instead of approaching the net to shake hands with Clerc, he approached the chair umpire, Jacques Dorfman.
"I told him, I can't win like this," said Wilander. "The ball was good. We should play two balls."
At 17, while certainly driven to win, Wilander wanted to set an example. The Swede won the replayed point by virtue of a short Clerc backhand and sailed into the final.
"In all my experience," said Dorfman, "I have never known a gesture of sportsmanship like that on a match point."
Wilander met another formidable clay court talent in Guillermo Vilas, who had already 'been there and done it' with a 1977 French Open title to his name.
In the opening set, Wilander looked like a fish out of water and was downed 6-1 by his more experienced opponent, who seemingly had the measure of the 17-year-old.
Though not for the first time, Wilander refused to be beaten. His mental strength was remarkably tough and his game incredibly consistent.
He took a crucial second set 8-6 on the tiebreak before racing home, taking the next two sets 6-0 and 6-4 in a 4 hour 42 minute marathon, where one point lasted 90 shots.
"Wilander's mind is a weapon," said Vilas after the contest.
Second French Open title in 1985
After reaching the final in '83 and the semi-final in '84, Wilander's consistency finally paid dividends in 85 as the Swede racked up a second title in Paris.
Rather than being unseeded as he was three years before, the 20-year-old came into the event as the fourth seed, though there was no real expectation that the Swede would overcome the likes of McEnroe, Lendl or Connors.
The Swede raced through his opening four encounters including a straight-sets demolition of 1985 Wimbledon champion Boris Becker.
Next up, the Swede faced home favourite Henri Leconte in a bruising four-setter. Once again, Wilander found a way with his mind-numbing consistency.
The 20-year-old then faced his toughest possible test. Across the net stood World No 1 John McEnroe, who already had seven Grand Slams in his cabinet.
However, Wilander, a vastly experienced head on young shoulders, exploited his vulnerabilities on the clay to breeze through 6-1 7-5 7-5 and set up yet another meeting with Lendl.
In almost identical fashion to the 1982 final, Wilander started slowly and quickly found himself a set down to the second seed, who conceded just six games to Jimmy Connors in his previous round.
With Lendl expected to defend his title, Wilander was there to spoil the party. The Swede took the next three sets comprehensively 6-4 6-2 6-2. Wilander's 1982 French Open heroics were not a one off. He had proved himself again.
Third and final Roland Garros title in 1988 
Although his third seeding was the highest he had for a French Open title winning campaign, Wilander's third and final Roland Garros title was arguably his most challenging.
Despite taking care of his opening two opponents, Wilander was facing a similar campaign to 1986, when he exited at the third round stage.
Yugoslavian Slobodan Živojinovic had the measure of Wilander and took a two sets to one lead. Though once again, Wilander wasn't to be denied, prevailing in the decider.
The Swede then went onto face clay court specialist Emilio Sanchez in the quarter-finals, with the Spaniard somehow denying Yannick Noah in the previous round.
Once again, Wilander found himself trailing by a set, though came through in four as he so often did.
Not only did Wilander book his place in yet another semi-final in Paris, but he also had compatriot Jonas Svensson to thank after he ousted World No 1 and tournament favourite Ivan Lendl.
Wilander was now the highest remaining seed and favourite for a third French Open title.
18-year-old Andre Agassi proved a tough test in the semi-final and forced a decider, though Wilander made an emphatic statement on the dirt with a 6-0 final set.
In the final, Wilander met Leconte, who he had successfully dispatched on the way to his title three years earlier. Despite having the home crowd in his corner, Leconte was a level below the Swede who prevailed 7-5 6-2 6-1.
After winning French Open titles in three year intervals in 1982 and 1985, it was inevitable really.