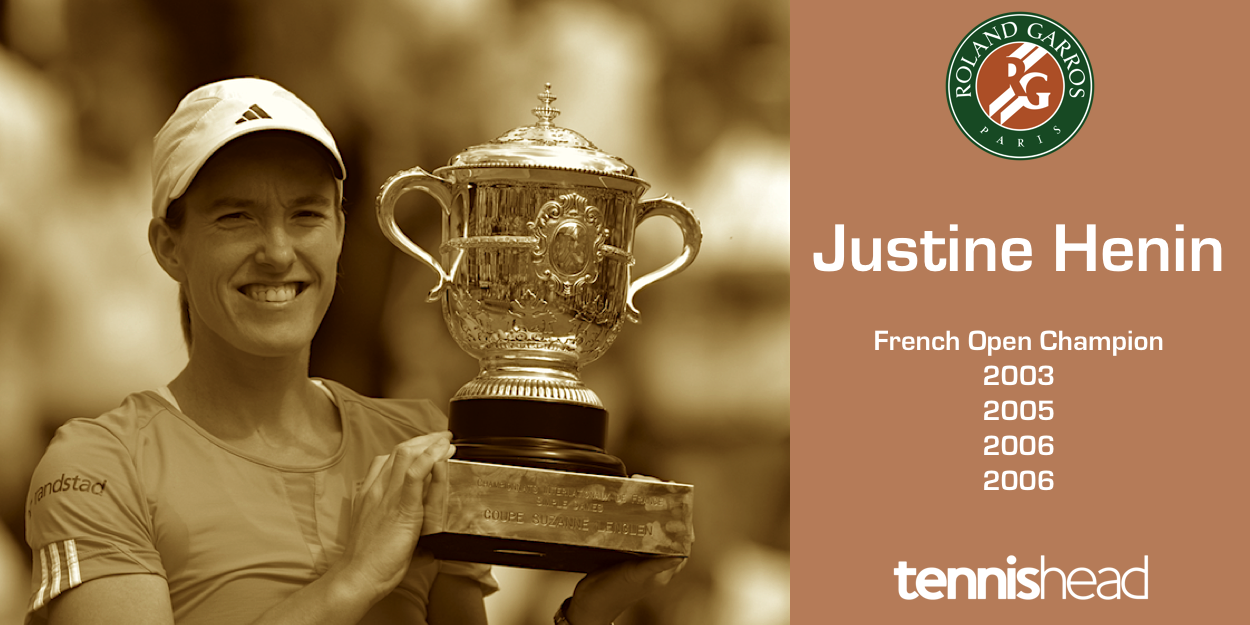 Roland Garros Royalty: Justine Henin, four-time French Open champion
Widely considered to be an all-time tennis great, Justine Henin is best known for her achievements at the French Open – where she won four of her seven Grand Slam titles.
The Belgian won 43 career singles titles, including two US Opens, an Australian Open, two WTA Tour Finals, and a gold medal at the 2004 Olympics. She was renowned for having one of the best single-handed topspin backhands the game has ever seen.
As well as having spent 117 weeks ranked as world No. 1, Henin holds multiple French Open records – making her an undeniable choice for our 'Tennishead Roland Garros Royalty' roster.
Wins maiden French Open title in 2003 
After reaching the second round as a qualifier in her first Roland Garros appearance in 1999, Henin made the semi-finals at the 2001 edition – losing to compatriot and rival Kim Clijsters. She then suffered a shock opening round exit in 2002, before arriving at the 2003 French Open as the fourth seed.
The Belgian advanced to the fourth round with ease by beating Patricia Wartusch, Jelena Kostanic and Dally Randriantefy in straight sets, before overcoming 19th seed Patty Schnyder in three sets. Henin then defeated eighth seed Chanda Rubin 6-3, 6-2 in the quarter-finals to set up a now infamous last four clash with Serena Williams.
With Williams serving at 4-2, 30-0 in the decider, controversy arose when the fourth seed did not acknowledge holding her hand up as the American missed a first serve. Henin ultimately edged the world No. 1 – who had won the previous four majors – 6-2, 4-6, 7-5 in a fine last four battle.
The Belgian then met her countrywoman – the second-seeded Clijsters – in the championship match. Henin – who turned 21 six days before the final – prevailed comfortably 6-0, 6-4 to become the first Belgian to win a Grand Slam title in singles.
In an interview with Chris Evert for the WTA, Henin said: "It was amazing, in 1992 I was 10 years old and I had the chance to watch (the French Open final between) Steffi (Graf) and Monica (Seles). I was a big fan of Steffi.
"I was watching that match with my Mum and I said to her: 'Hey Mum, one day I will be on this court and I will win the tournament.' So when I won my first Roland Garros 11 years later, it was something very special because the dream came true."
Battles to claim second Roland Garros crown in 2005
Having been stunned as the top seed by Tathiana Garbin in the second round of the 2004 French Open, Henin missed time through injury ahead of the 2005 tournament. There, seeded 10th, she had to fight to survive in the early rounds – starting with beating former finalist Conchita Martinez 6-4 in the third set.
The Belgian then saw off Virginia Ruano Pascual in straight sets in the second round, before coming from a set down to defeat Anabel Medina Garrigues. In the fourth round, Henin made a great escape against future champion Svetlana Kuznetsova in a three-hour-15-minute epic. She saved two match points, and recovered from 3-5 down in the third set to prevail 7-6 (8-6), 4-6, 7-5 against the sixth-seeded Russian.
After three tough early battles, Henin's path got easier – firstly with an impressive 6-4, 6-2 triumph over second seed Maria Sharapova in the quarter-finals. The 10th seed then cruised past seventh seed Nadia Petrova 6-2, 6-3 to set up a clash with 2000 champion Mary Pierce in the final.
Seeded 21st, Pierce was a surprise finalist, but dropped just one set en route to the final – and beat Elena Likhovtseva 6-1, 6-1, in the last four. Henin, though, demolished the Frenchwoman 6-1, 6-1 with a stunning display to secure her second Roland Garros crown.
Defends title in style in 2006
The Belgian resumed the dominance she displayed from the last eight onward in 2005 at the following year's French Open. Seeded fifth, she lost only 19 games in the first four rounds – beating Maret Ani, Anastasiya Yakimova and Garbin in her first three matches. Henin then saw off 10th seed and 2004 champion Anastasiya Myskina 6-1, 6-4.
In the quarter-finals, the defending champion defeated 13th seed Anna-Lena Gronefeld 7-5, 6-2 to set up a latest installment in her rivalry with Clijsters – the second seed. As in 2004, Henin proved too strong for her compatriot as she won 6-3, 6-2 to reach her third Roland Garros final.
In the championship match, the Belgian met eighth seed Kuznetsova in a rematch of their classic fourth round encounter the previous year. Henin got the better of the Russian once again – triumphing 6-4, 6-4 to defend her French Open title and clinch her third Roland Garros trophy. She won the event  by losing no more than five games in a set, dropping just 39 games overall.
Wins third consecutive French Open in 2007
Henin arrived at the 2007 French Open as the world No. 1 and extended her stranglehold on the tournament. She sailed past Elina Vesnina, Tamira Paszek, Mara Santangelo and Sybille Bammer in straight sets in her opening four matches.
The Belgian then overcame eighth seed Serena Williams 6-4, 6-3 in the quarter-finals to progress to a last four contest with Serbia's Jelena Jankovic. Henin dismantled the fourth seed – a future world No. 1 – 6-2 6-2 to make it to her fourth Roland Garros title match.
In the final, the top seed met Ana Ivanovic – another Serbian, who would win the tournament in 2008. The seventh seed was no match for Henin in 2007, though, as the Belgian crushed her 6-1, 6-2 to win her third straight French Open title, and fourth in total. She lost just 38 games in the event – one fewer than in 2006.
Henin became the only female player besides Monica Seles to win three consecutive Roland Garros crowns – a joint-record that still stands. The 2006 and 2007 triumphs also made her the only woman to win two French Open titles without losing a set.
During a comeback, Henin made one more appearance in Paris – reaching the fourth round in 2010. There, she extended her run of consecutive sets won at Roland Garros to a tournament record of 40. The great Belgian retired with a sublime French Open ratio of 38 wins to five losses (88%) and she remains the woman with the most Roland Garros titles this century.