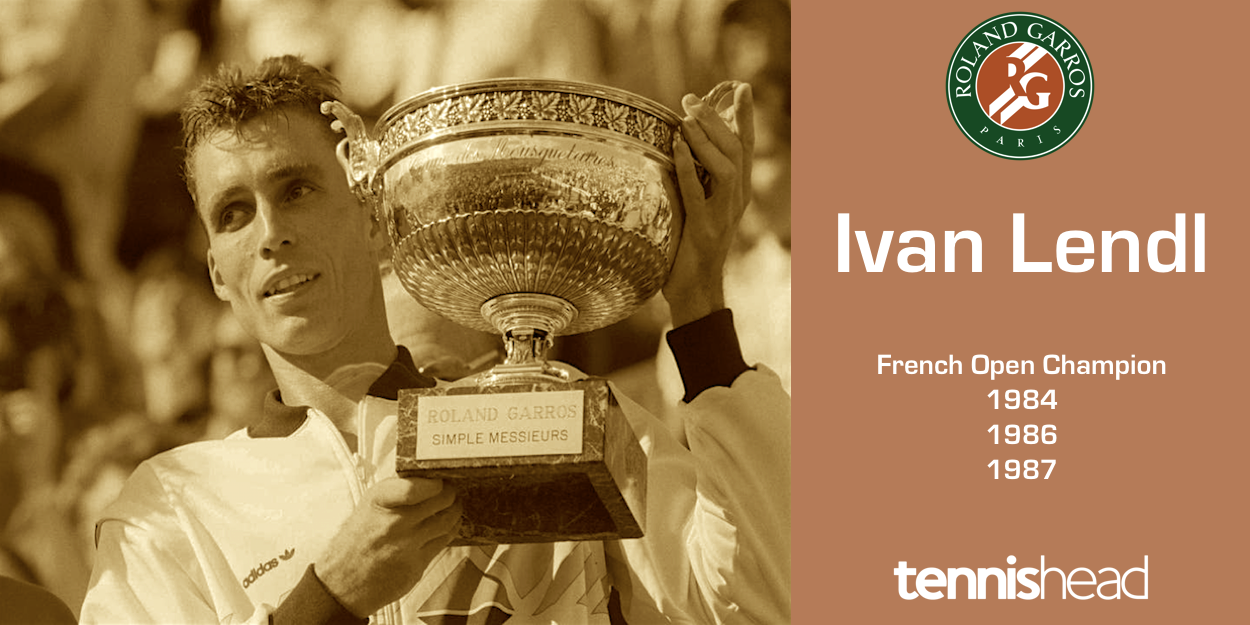 Roland Garros Royalty: Ivan Lendl, three-time French Open champion
While many who win the French Open are clay specialists, that assertion could certainly not be made of the indomitable Ivan Lendl.
The Czech-American star won eight Grand Slam titles in his career, and three of them came on the clay of Roland Garros.
Whilst he was not a clay specialist, the red-dirt game certainly suited his steely mentality, making him a relentless winner in Paris.
What else would we expect from a man who famously said: "my mission is not for personal satisfaction, it's not to try to make anyone happy. My mission is to win."
Victory from the jaws of defeat
Although Lendl was always destined to win majors and it came as little surprise when he did, how he did it was certainly special.
He went into the 1984 French Open as the second seed despite not yet having a major to his name but with a fine reputation as a quality claycourt player.
The first player he found in his path was American Matt Mitchell, but he was easily beaten in straight sets.
Lendl was even more dominant in round two, where Bolivian Mario Martinez was thrashed 6-1, 6-0, 6-1.
Those first two rounds were certainly a powerful statement from the Czech star, who had dropped just seven games in six sets.
Australian Paul McNamee put up more resistance in the third round, taking 10 games off Lendl, although in truth he was just as powerless to prevent his advance.
Round four was when he ran into his first seed in the form of Anders Jarryd, who had seriously impressed himself. It was he who had knocked out fellow-Swede and future Grand Slam legend Stefan Edberg.
However, even he was no match for Lendl in this form, who was in the mood for yet another bagel and straight sets win.
He dropped his first set tin the quarter-final to Ecuadorian seventh-seed Andres Gomes, but even that came in a tiebreak. That set up a mouth-watering semi-final against the 1982 champion Mats Wilander, with many predicting a tight encounter.
Lendl, though, had other ideas, and he routed the Swedish ace in straight sets, setting the stage for one of the greatest Grand Slam finals of all time.
Top seed John McEnroe was at the peak of his powers having already won five majors in his career. He would also go on to win both Wimbledon and the US Open in 1984, but Lendl steadfastly refused to be denied.
The American won the first two sets at a canter, and he was also 4-2 ahead in the fourth set.
However, Lendl established his Roland Garros legend by roaring back to not only save the fourth set, but also take a first Grand Slam title and against a veritable legend of the game.
Roland Garros expects
Winning without pressure is one thing. Doing it whilst carrying the weight of expectation on your shoulders is another.
By the time the 1986 French Open had come around, there was little doubt that Lendl was the man most expected to win the title.
He was top seed, world number one, and had won the US Open a year before to prove he could win majors on multiple surfaces.
In reality, the rest of the field made it easier for him than he probably expected, but a major is still a major.
Boris Becker, who notoriously struggled on clay, was the only other player in the top seven seeds to reach the quarterfinals.
Sixth seed Joakim Nystrom lost in round one, Edberg in round two, Wilander in round three, and Yannick Noah in round four.
Indeed, ninth-seed Andres Gomez, who Lendl beat in 1984 too, was the highest seeded player Lendl had to play along the way to the title.
The Ecuadorian was the only player to take a set from him too, again via a tiebreaker, and the joy from even that was short-lived given Lendl bageled him twice to close out the match.
Michael Westphal, Jakob Hlasek, Christian Miniussi, and Damir Keretic provided minimal resistance to Lendl in the opening rounds before Gomez, and Johan Kriek and Mikael Pernfors were similarly ineffective in the semi-final and final respectively.
Still, Lendl had proven he could win from the front, and that counts for plenty.
Successful defence
If Lendl proved in 1986 that he could win as a favourite, a year later he showed he could defend a French Open title.
This time there were no shortcuts either with him having to beat three of the top ten seeds before retaining his trophy.
Ronald Agenor was his first-round opponent this time, although there was no repeat of the routs we had seen in the earlier rounds of Lendl's other championship years.
The Haitian won 11 games in the first two sets despite losing them both, and he then remarkably bageled Lendl in round three. "That was a dog fight," Lendl said. "It was a real struggle."
Next up was American Jonathan Canter, who also managed to take a set form the champion.
Order was restored in round three, where Frenchman Thierry Tulasne was easily beaten in straight sets, but Lendl got a real scare in his next match.
Swedish ace Joakim Nystrom got himself to within one set of ending Lendl's title defence, but the Czech showed his champion's mettle by winning 12 of the last 14 games of the match to move into yet another French open quarter-final against Gomez.
True to form, Gomez took a set from Lendl but lost the match. Compatriot Miloslav Macir awaited in the semi's, although he proved little competition.
All that then stood between Lendl and a third title was Wilander, who by now was a four-time Grand Slam winner, and the final absolutely delivered in terms of quality.
The first set turned out to be crucial, with both players fighting hard to establish an advantage. That contest was eventually won by Lendl, and Wilander quickly lost the second too.
Wilander, who is Roland Garros royalty himself, would not be beaten that easily, though, and he came roaring back to take the third set to give himself a chance.
The fourth set produced some outrageously competitive high-quality tennis, and no man was willing to give an inch. Eventually, a tiebreak decided it, and Lendl won it to retain his crown and firmly establish himself as Roland Garros royalty.