Fernando Verdasco publicly shames Sergi Bruguera as he's dropped from Spanish Davis Cup team
Fernando Verdasco was ready to commit his all to his beloved country of Spain one last time in the Davis Cup finals until he found out he wasn't picked for the team
Fernando Verdasco has gone on record to broadcast his disappointment with two time French Open champion Sergi Bruguera after the Spanish Davis Cup captain refused to name Verdasco in the team to contest the new look Davis Cup finals in Madrid late5r this month
In an emotional message on Twitter Verdasco explained how disappointed he is that Bruguera didn't feel he could count on him.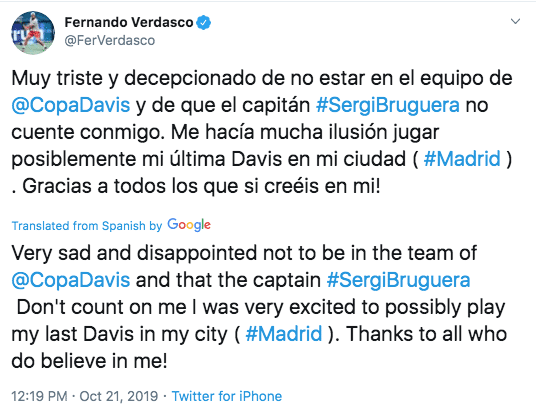 Bruguera has named Rafa Nadal, Roberto Bautista Agut, Pablo Carreno Busta, Feliciano Lopez & Marcel Granollers as his 5 man team. Verdasco is currently ranked No.40 in the world, 19 places higher than Feliciano Lopez who has been named in the team.
Verdasco has previously helped Spain to win the Davis Cup 3 times in 208, 2009 and 2011.
Rafa Nadal will lead the Spanish team in a new look Davis Cup taking place over a week at the famous Caja Majica stadium in Madrid. The new look event has been launched and funded by a consortium including Spanish football star Gerard Pique. His company now has a long term contract with the ITF to promote and manage the 110 year olde competition.
Some players have voiced concerns over the restructuring of the event to it's new format especially as the ATP only recently introduced the ATP Cup. This means that a team event is now the last event of the 2019 season and the first event of the 2020 season/
To read every issue ever published of the world's best tennis magazine, tennishead, visit our 'Magazine Archive' and you can buy a copy of the latest issue here.To win incredible tennis prizes for free, enter our latest 'Competitions'. For all the breaking tennis news and exclusive player interviews, visit our 'News' section. For the latest racket, ball, shoe and clothing buyers guides plus video play tests, visit our 'Gear' section