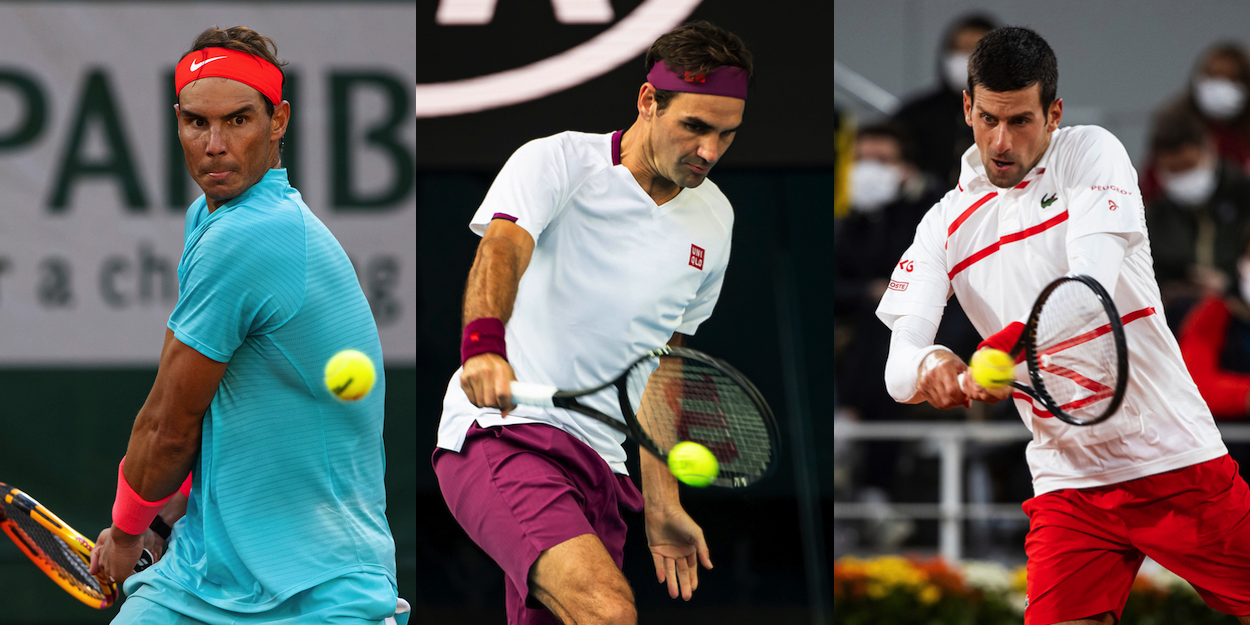 "Federer, Djokovic and Nadal are as likely to dominate in 2021" says respected commentator
Far from being in decline, the Big Three of Roger Federer, Rafael Nadal and Novak Djokovic, are looking as likely as ever to dominate when competition resumes next year and Federer will be in hurry when he does finally get to start his comeback, says former British No.1 Annabel Croft
When Dominic Thiem beat Alexander Zverev in this summer's US Open final many observers thought it might be a turning point. Of the previous 60 Grand Slam titles, 52 had been won by Roger Federer, Rafael Nadal or Novak Djokovic, who between them had also won the last 13 in a row. Would Thiem's triumph mark the end of the Big Three's extraordinary reign?
Just five weeks later we had the answer – and it was a firm no. Normal service was resumed at the French Open, with Nadal beating Djokovic in the final to take his total of Roland Garros victories to a barely believable 13.
As we look ahead to 2021, the Big Three, far from being in decline, are looking as likely as ever to dominate, with the caveat that nobody will quite know what to expect from Federer, who will turn 40 in August. He seems to have been holding back the years for most of the last decade and we have learned never to write him off, but does he have it in him to make one more all-conquering comeback?
Although Federer has made successful returns from lengthy breaks in the past – he came back in 2017 after six months out to win three of his next four Grand Slam tournaments – he will have been absent for 11 months by the time competition resumes in Australia in January, having undergone two knee operations this year. In the meantime Thiem, Zverev and some of the other young guns have taken their games to new levels, while Djokovic and Nadal have continued to prove their durability.
In all the prevailing circumstances this year Federer might even have contemplated retirement, but I imagine that the prospect of trying next summer to win an Olympic singles gold medal, which is just about the only jewel missing from his crown, might have been one of his factors in deciding to continue. There is also one key element that I think some people forget: his fundamental love for his life as a professional tennis player seems to override even his desire to win tennis matches and titles.
Nevertheless, when he last played, in Melbourne at the start of this year, Federer looked some way off his best. He was taken to five sets by John Millman and Tennys Sandgren and was soundly beaten by Djokovic in the semi-finals. Maybe his form had something to do with his knee issues, because just a fortnight later he underwent surgery for a problem which he said had been bothering him for a while.
---
"I imagine that the prospect of trying to win an Olympic singles gold medal, which is just about the only jewel missing from Federer's crown, might have been one of his factors in deciding to continue"
---
Returning next year after surgery and after such a long break will be a huge challenge, which makes me wonder whether we might see something different from him. He has had time to consider his strategy for 2021 and has always been very smart with his training and scheduling, so it would not surprise me if he has been focusing his practice on playing really short, sharp, attacking points.
By nature Federer is an aggressive player who looks to win matches quickly, but he might have decided that at this stage of his career it is time to shorten points even more by attacking at every conceivable opportunity, playing chip-and-charge on his returns and getting into the net whenever he can. If he is to challenge for the biggest prizes, he surely needs to avoid being drawn into lengthy wars of attrition. Having said all that, I think Wimbledon is probably the only Grand Slam title that he could realistically win next year, because his grass-court game is so brilliant.
As for who will take home the year's other great prizes, I find it hard to look beyond Djokovic, Nadal and possibly Thiem. You have to regard Djokovic as the favourite to win again in Melbourne, though this has clearly been an especially tough year for him emotionally, particularly after all the fall-out from his exit at the US Open and the drubbing he was given by Nadal in Paris. He will want to draw a line under the year, but his hunger to finish his career as the best player in history appears to be all-consuming and after past setbacks he has always come back stronger than ever.
Who would have imagined suggesting in 2005, before Nadal had won his first French Open, that the Spaniard would be the favourite to win for the 14th time in 2021? I will happily admit that I did not think he would win at Roland Garros this year. Not playing in the American hard-court tournaments appeared to be a huge risk. When he went to Paris having played only one tournament in the previous seven months it seemed that his major rivals might have a serious competitive edge.
---
"By nature Federer is an aggressive player but he might have decided that at this stage of his career it is time to shorten points even more"
---
Yet Nadal went on to enjoy what I would consider to be the greatest triumph of his career, winning with seven successive straight-sets victories. When Pete Sampras won his record 14th Grand Slam singles title in 2002, I remember thinking what a staggering achievement it was, but now Nadal is just one victory away from winning the same number – at a single Grand Slam tournament. Astonishing.
At this stage I have to see Nadal as the favourite to win in Paris again next spring, though Thiem could be a major threat. If he had not won the US Open I would have regarded Thiem as the most likely champion at Roland Garros this year, but to follow up his first Grand Slam title by winning another so soon afterwards was always going to be a huge ask.
As for next year's US Open, my crystal ball is starting to mist up. Thiem to make a successful defence? Djokovic? Nadal? The one certainty is that it will be fascinating to find out.
For details of Annabel Croft's Holiday programme, visit  www.annabelcroftholidays.com or email [email protected]
---