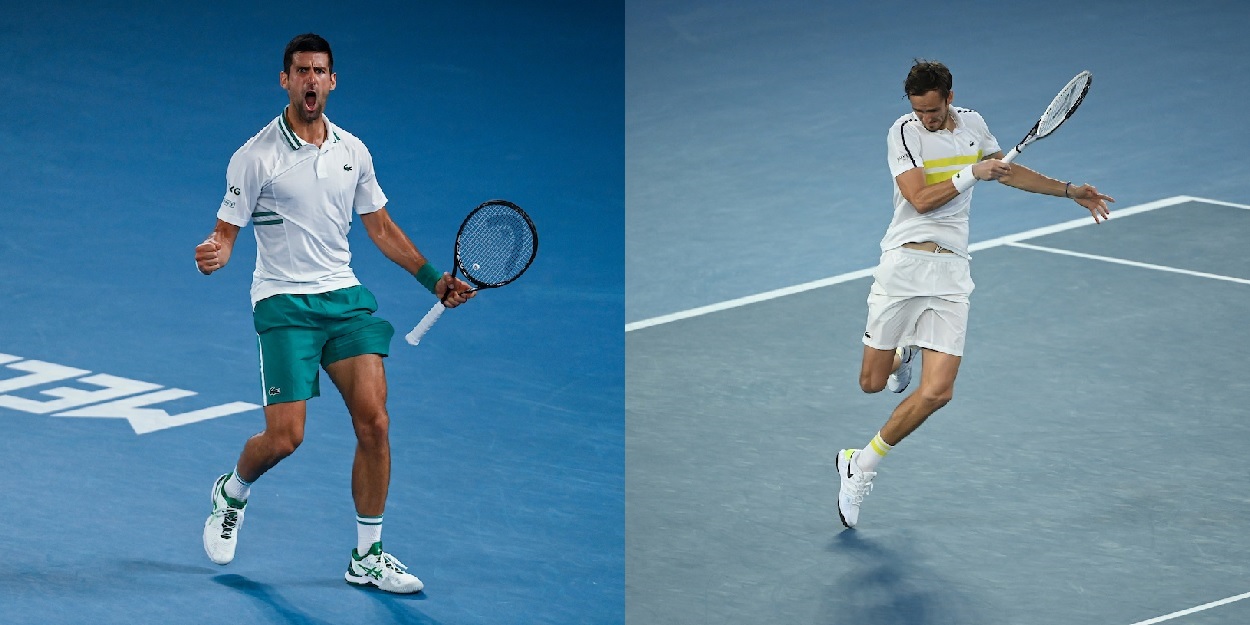 Expert unearths surprise factors that could lead to shock Australian Open victory for Daniil Medvedev over Novak Djokovic
In the 2021 Australian Open men's singles final the best player in the world Novak Djokovic faces off against the most in-form player Daniil Medvedev.
Novak Djokovic boasts a perfect 17-0 record in Australian Open semi-finals and finals and will undoubtedly be the favourite for this encounter. But Medvedev comes into the final on a 20-match winning streak with 12 wins against Top 10 opponents, including one win against Novak Djokovic at the 2020 Nitto ATP Finals. Daniil Medvedev has many weapons in his armoury and there are reasons to believe he can topple Djokovic in tomorrow's final.
Serving effectively and returning well are crucial to any tennis match. At this year's Australian Open Medvedev was won 81% of points behind his first serve, which is 4% more than Djokovic. On the second serve Medvedev wins only 1% less of points. Djokovic is known for his returning, but surprisingly Medvedev has been winning 5% more points on return (44% vs 39%). So it seems Medvedev matches Djokovic on serve but has a reasonable edge on return.
Tennis matches can often be decided by a couple of crucial break points and the importance of these break points only seems to increase in finals. Therefore, it is paramount to be clinical when an opportunity arises, while also trying to create as many break point opportunities as you can. So far in the 2021 Australian Open Medvedev has converted 56% of 62 break point chances compared to Djokovic's 46% of 63 chances. Not only is Medvedev being more clinical, but he is also creating as many chances to break as Djokovic.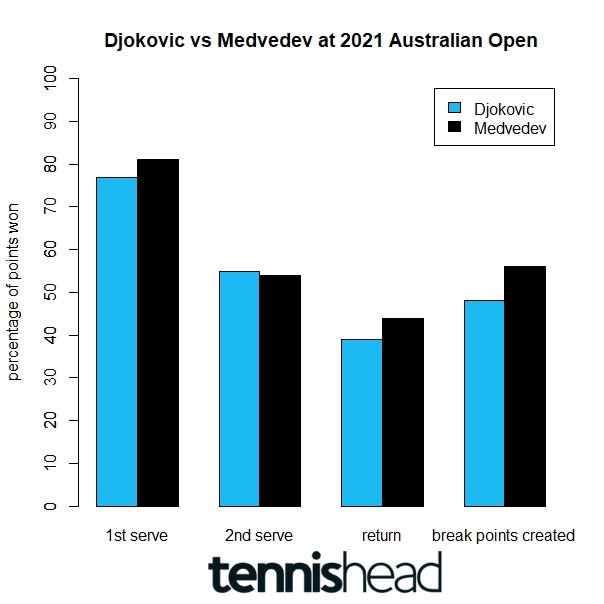 Novak Djokovic's 17-0 record in Australian Open semi-finals and finals speaks for itself and beating him will take a Herculean effort. But Daniil Medvedev is in red-hot form and clearly has the best ability to beat Djokovic where he has never lost. All he must do is maintain the high level of play he has shown so far in the tournament. Easy right?
Luka Elliott has a B Com in Economics and Statistics from the University of Cape Town. His thesis was titled "Engineering Features for Tennis Match Outcome Prediction in a Statistical Learning Framework". He now writes for Tennishead focussing on how statistics effect the outcome of ATP matches