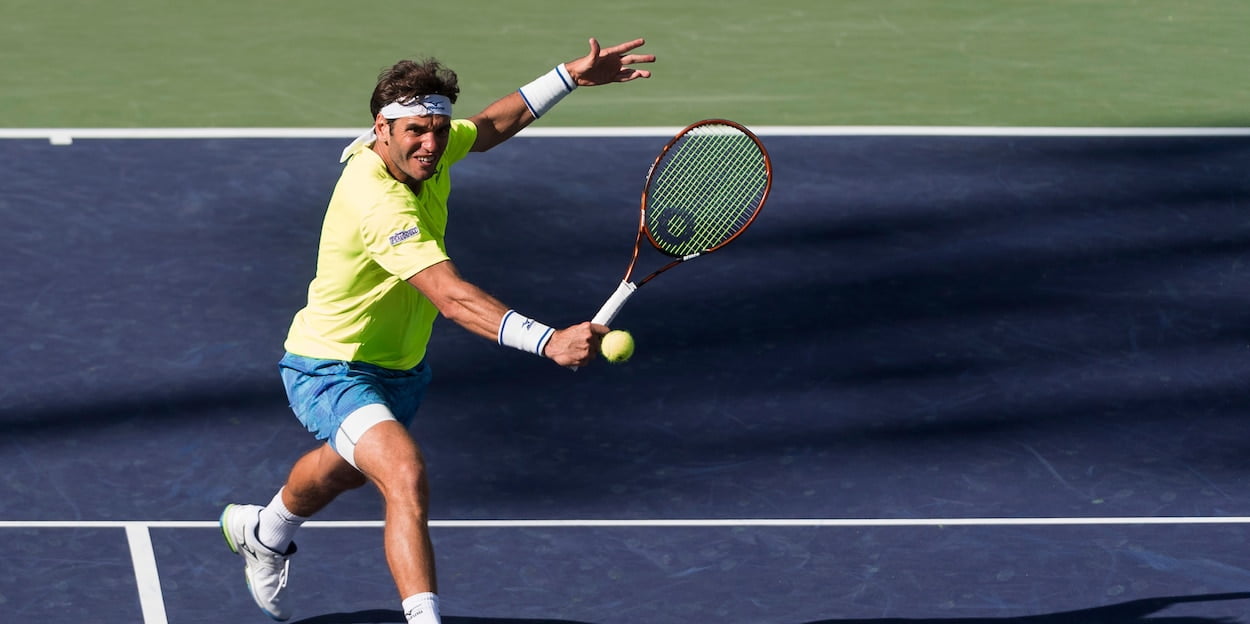 EXCLUSIVE: "We have everything you need in Tunisia – except more players" Malek Jaziri opens up on tennis in his homeland of Tunisia
In this regular tennishead feature, Editor Paul Newman speaks to Tunisia's Malek Jaziri and finds out more about his home town's remarkable links to the French Open
Bizerte lies some 1,100 miles south of Paris, but there is an unlikely connection between the Tunisian coastal city and the French capital: Roland Garros. The aviator who gave his name to the home of the French Open is also a celebrated figure in Bizerte, due to the historic flight he made in 1913. Garros became the first person to fly from Europe to Africa when he piloted his Morane-Saulnier monoplane from Fréjus to Bizerte, a journey of more than 450 miles that took nearly eight hours. When he touched down in Tunisia he had less than five litres of fuel left in the plane's tank.
Bizerte, where a statue stands in honour of Garros, is also the home city of a tennis player who has made his mark in recent years. Malek Jaziri is the most successful man in Tunisian tennis history and one of a small number of Arabs to have enjoyed careers at the highest level. Now aged 35, he reached a career-high position at No 42 in the world rankings at the start of this year. He is the only Tunisian man to have played in a tour-level final, in Istanbul last year.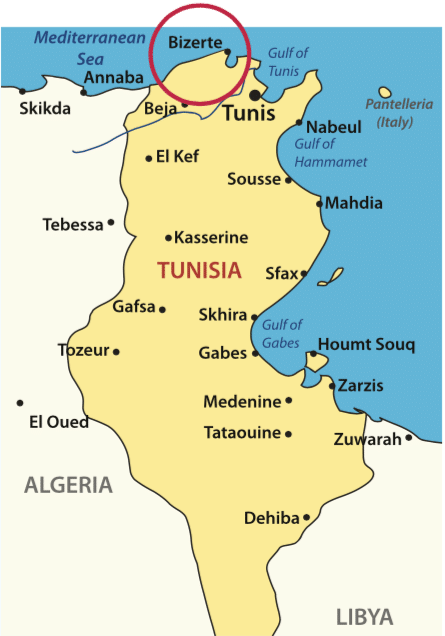 Ask Jaziri about his home city of Bizerte and he immediately mentions the link with the French Open. "Everyone there follows the French Open and is aware of Bizerte's connection with Roland Garros," he said. "I've followed the tournament since I was very young. I always watched it on TV. I've always wanted to play at Roland Garros, ever since I was a young boy."
Although Jaziri has a modest record at the French Open – he has never gone beyond the second round in his six appearances there – the simple fact that he has been competing on the main tour for the best part of a decade is a major achievement in itself given that Tunisia has such little history in the sport.
For example, it was not until 1982 that Tunisia entered the Davis Cup – which was 10 years before the country's debut in the Fed Cup. Indeed, just as remarkable as Jaziri's achievements are those of his fellow Tunisian, 25-year-old Ons Jabeur, who has been in the top 100 of the women's world rankings for more than a year now. Jabeur, nevertheless, had the example of a Tunisian woman to follow, Selima Sfar having reached a career-high position of No 75 in the rankings 18 years ago.
Jaziri, who grew up admiring Pete Sampras, started playing at the age of five at the only tennis club in Bizerte, which lies less than 50 miles to the north of the capital, Tunis. "There are other tennis courts in Bizerte, but they are connected to hotels," Jaziri said. "The club has three clay courts. It's a very nice club. My older brother played tennis, but he was the only one in the family who did. Although my parents didn't play tennis they had lived in France and knew all about the French Open and Roland Garros."
Thanks to a combination of the success of Jaziri, Sfar and Jabeur, the growth of tourism and a favourable climate, tennis in Tunisia has made good progress in recent years. "We have both clay courts and hard courts," Jaziri said. "The hotels in particular have more quick courts. Most of the clubs used to have only clay courts, but now I would say they are more half and half. Clay courts are obviously more difficult to maintain."
Jaziri is now based in Tunis, where he trains with some of his Davis Cup colleagues and the country's best juniors, though he usually goes elsewhere for pre-season training. Last year he went to Dubai, where he had the opportunity to train with better players.
"Tennis is getting much bigger in Tunisia than it used to be," he said. "The Tennis Club de Tunis has many courts – and they are all full. There are probably six or seven other clubs in the city and they are all full. The tennis federation is trying to get more courts. They are doing a great job. We have Futures tournaments almost every week of the year, plus one Challenger."
The Tennis Club de Tunis stages the Tunis Open Challenger, which was won this year by Pablo Cuevas. Jaziri has never gone beyond the second round in the tournament, though he has won Futures titles in his home country. "I hope we can have ATP tournaments in Tunisia in the future because we don't have many in Africa at the moment," Jaziri said. "We have one ATP 250 tournament in Morocco, but none in Tunisia. We have the facilities now to stage tournaments, whether they are on clay or hard courts or even indoors."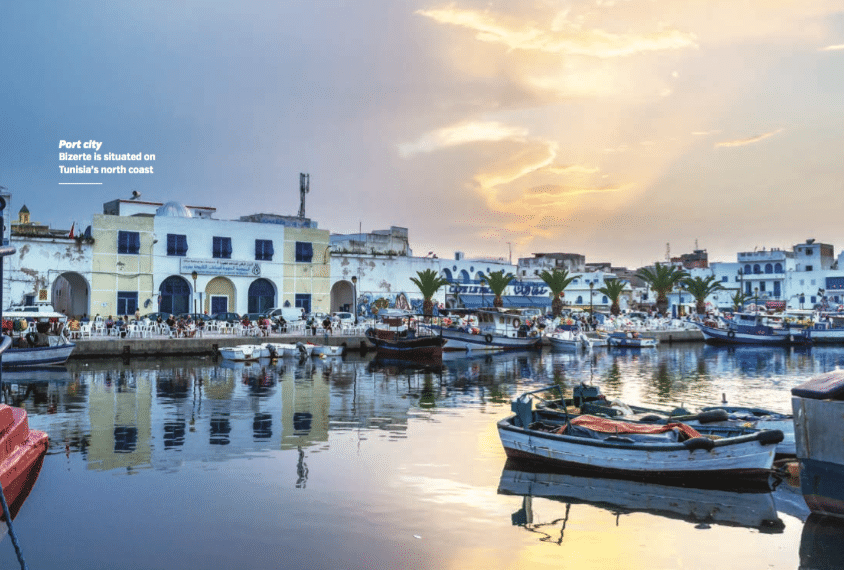 Although Jaziri and Jabeur have been the only Tunisians playing on the main tours, there are signs of change. The country has had five men and two women ranked in the world's top 1,000 this year and currently has more than a dozen juniors ranked in the world's top 1,000. "The federation are trying to develop more players," Jaziri said. "We also have some players who are learning their tennis at university in the States.
"I want to see tennis continue to improve in my country. I want us to have more tournaments and more players. I want the next generation of players to benefit from things that I didn't have. Now we have everything in Tunisia that you need, including good weather. The only thing we don't have is more players."
He added: "I hope that my career will have inspired other Arab players, because my situation was hard. When I was younger I had no traditions to follow, no sponsors, nobody showing the way for me, no tournaments to play in."
Jaziri agreed that it was sometimes lonely being the only Tunisian playing on the main ATP tour. "When you see players from other countries there are usually a lot of them who can spend time together, practise together, support each other, go to dinner together," he said. "It's different when you are alone, just with your team, for the whole year. It's much better if you can be with people from your own country."
Tennis in Tunisia has to compete with many other sports to attract the best athletes. "Football is the most popular sport and we're good at handball, but there also individual sports that are popular," Jaziri said. "We have a judo world champion and we have won medals at the Olympics. We have an Olympic champion in swimming. We have a fencing champion. We have a female wrestler who has won a medal. We have won a silver medal in taekwondo.
"I think in general we're pretty good at sport considering the size of the country. We're one of the best countries in Africa. We have a lot of players competing in football and handball around the world. You find Tunisians playing in the UK in the Premier League, in France, throughout Europe. That's good for our country. It shows that through sport you can change your life."
TUNISIA
Population: 11.5 million
Land mass: 163,610 sq km (63,170 sq miles)
Capital: Tunis (population 700,000)
Major religion: Islam
Davis Cup record: Having first entered the Davis Cup in 1982, Tunisia have never progressed beyond Europe Africa Zone Group Two. After winning all four of their matches in Africa Group Three this year, Tunisia will face Guatemala in the World Group Two play-offs in March. Malek Jaziri holds the records for most ties played (43), most years played (18), most wins (45) and most singles wins (33)
Fed Cup record: After making their debut in 1992, Tunisia lost their first nine ties before beating Egypt in 1995. Earlier this year they were beaten by Luxembourg in a Europe Africa Zone Group Two promotional play-off. Ons Jabeur shares the record for the most number of singles wins (24) with Selima Sfar, who holds the record for the most ties played (36), most years played (10), most total wins (41) and most doubles wins (17)