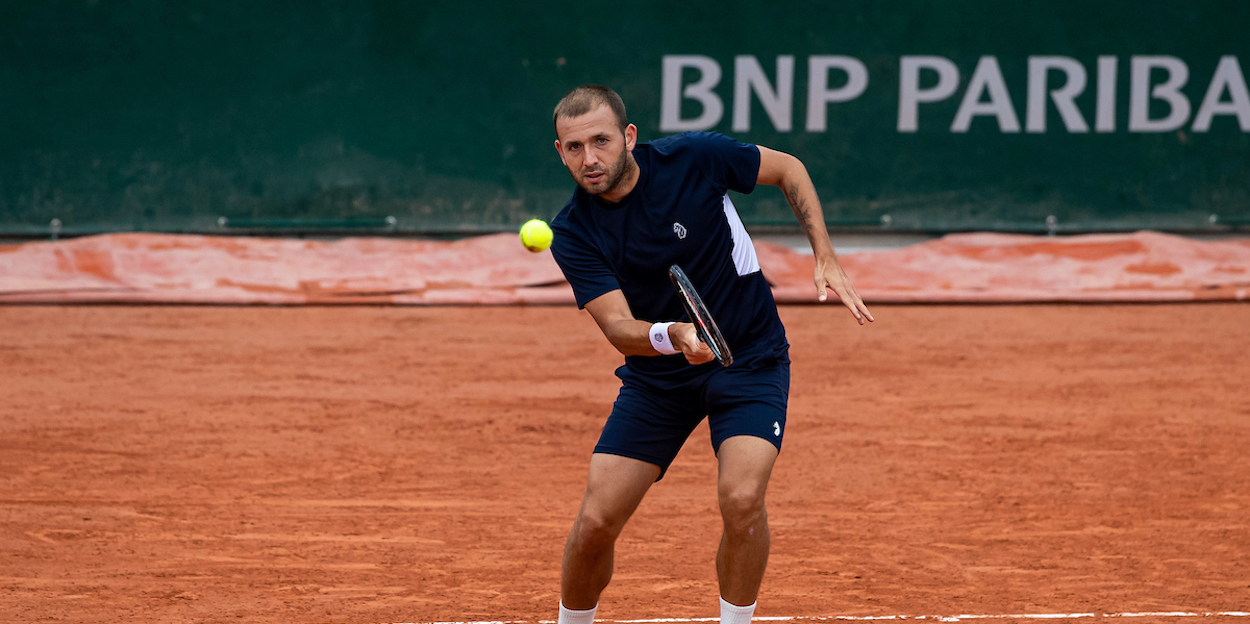 EXCLUSIVE: "A few people in Britain could do with a reality check" Controversial ATP star Dan Evans says tennis isn't everything
The last week of June should have seen Dan Evans enjoying the glorious summer sunshine while finalising his preparations for Wimbledon, but instead he was shut up inside a sweltering National Tennis Centre at Roehampton playing in a tournament without spectators, line judges or ball kids.
"It's just the way it's worked out, isn't it?" a philosophical Evans told tennishead when asked during the Schroders Battle of the Brits how frustrating it was not to be playing at Wimbledon, where in all likelihood he would have been seeded for the first time. "We just can't look back like that. There are bigger things right now. We're playing this event and it's great that we have an opportunity to play competitive tennis again."
Professional tennis players would have good reason to feel frustrated, but Dan Evans was just pleased to be back on court. The Roehampton event, which was Jamie Murray's brainchild, gave the country's leading men their first opportunity to compete since tennis went into lockdown early in March because of the coronavirus pandemic. Evans took up the challenge with enthusiasm and in winning the title and beating Andy Murray along the way showed why he is currently at a career-high position of No 28 in the world rankings and British No 1.
"The lockdown was difficult for a lot of people – for some more than others – but it was great to just be down here at Roehampton practising before the event and getting involved with everybody again," Evans said. "We've probably never had as many British players – male and female – all in one place practising. It's been a bit like a pre-season."
He added: "There's a big year ahead still, so it's a good stepping stone to get back into competition and get a head start over some other countries and other players."
This could indeed be a very big year for Evans. Although the Australian Open did not go as he might have hoped, with a second-round loss to Yoshihito Nishioka, the British No 1 played well at the ATP Cup and picked up plenty of ranking points in Rotterdam and Dubai. In the first two months of the year he beat five higher-ranked opponents in David Goffin, Alex de Minaur, Karen Khachanov, Fabio Fognini and Andrey Rublev. "I feel I'm playing better than ever," Evans said. "I feel I'm going in the right direction."
Evans would most probably have been seeded at Wimbledon, meaning he would have not faced another seed until the third round at the earliest. He has lost to seeds in three of his five appearances at the All England Club, to Nikolay Davydenko (first round 2009), Florian Mayer (first round 2011) and Federer (third round 2016). "I've had some tough matches there," said Evans, who has been beaten by a higher-ranked opponent at Wimbledon only once, when he was world No 61 and lost a five-set thriller on No 1 Court in last year's third round to Portugal's Joao Sousa, the world No 69.
"I love playing at Wimbledon," Evans said. "Everything is great about it. It's at home, there's all the tradition. Playing at Wimbledon is something you can't get enough of."
Having spent much of his career fighting his way up the world rankings, Evans clearly relishes his time playing at the highest level. After returning in 2018 following a 12-month suspension after testing positive for cocaine, he climbed more than 1,000 spots in the rankings in the space of just 10 months to reclaim his place in the top 100.
"You can't take anything for granted," Evans said. "It's sometimes good to just take a reality check every now and then. I think a few people in Britain could do with doing that as well. It's not all about tennis, you know. Some people out there think the world is all about tennis and it all revolves around them."
Before the shutdown Dan Evans was taking time to practise at Roehampton with some of the best young British players, including Jack Draper and Anton Matusevich. "It doesn't matter so much for the older guys who we practise with, but it's nice to practise with people like that," Evans said. "I think it's good that we get to practise with them and they get to practise with us."
He added: "When you're just blinkered from playing week to week and it's all about tennis and it's about where the next point is coming from, you miss out. When you're at home or when you're practising, it's good to practise with the juniors, not just on your own. It's not all about the tournaments and the week-in and week-out. You can also give some stuff back and help out a bit."
Dan Evans has yet to win a title at tour level, though he has played in two finals, both against opponents who were also chasing their first titles. In Sydney in 2017, when he was ranked No 67 in the world, Evans beat three higher-ranked opponents, including the world No 8 Dominic Thiem, before losing to Gilles Muller (world No 34). In Delray Beach last year Evans beat four higher-ranked opponents, including John Isner, and had three match points in the final before he lost to Radu Albot, the world No 82.
Is winning a title a particular target now? "It's difficult," Evans said. "Some people never win one but earn a hell of a lot of money and have a good career. If it happens, it happens. I've done some good things and it's been enjoyable so far. I think people now are obsessed with targets and goals, especially fitness goals. Jeez! You can either last a tennis match or you can't. Staying healthy is the best goal of the lot."
During the shutdown Dan Evans turned 30. He reckons he has plenty of years ahead of him on the court, but are there any times when he feels his age? "Some days yes, some days no," he said with a smile. "There have been some difficult years but there have been some good years too."