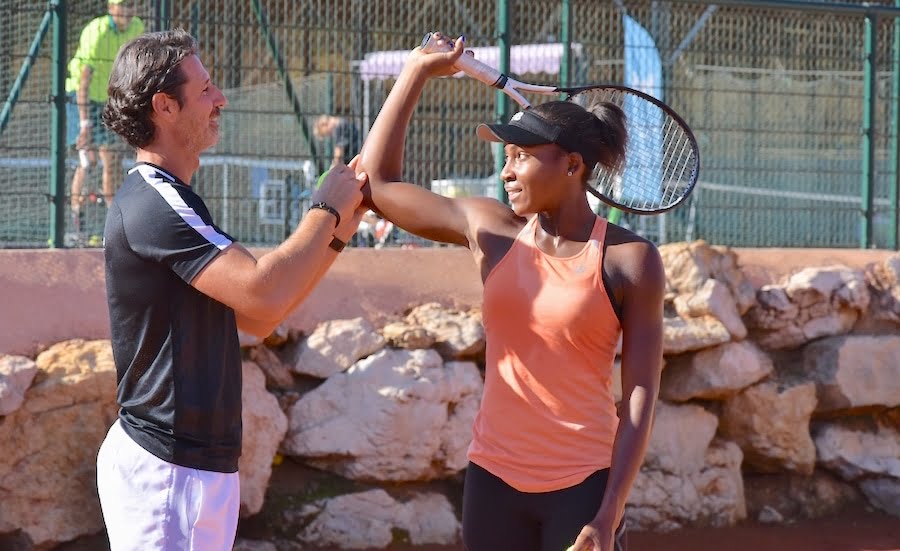 "Even at 10 years old it was clear that Coco Gauff was a special talent" Patrick Mouratoglou exclusively reveals there are no limits to what Coco Gauff can achieve
From her earliest days at my academy Coco Gauff was able to beat opponents who were technically better than her, says Patrick Mouratgolou in his exclusive column for tennishead
I remember clearly the first time I met Cori "Coco" Gauff. She was only 10 when she came to my academy in the south of France as part of the selection process for the Champ'Seed Foundation, which I set up in 2014 to help talented young players who do not have the resources to reach the highest international level.
In a few cases we help the players with their financial costs, such as airplane tickets, but for the most part what we offer is more practical assistance. In supervising every aspect of their tennis, we help with their coaching, their physical preparation and even their medical support. Whatever is needed, we have the resources at the Mouratoglou Tennis Academy to help these young people realise their potential.
Coco Gauff was in the very first batch of players seeking help from the foundation and took part in our first selection week, along with Jason Tseng, who went on to win last year's boys' singles titles at both Roland-Garros and Wimbledon. During the selection week we take a close look at players in practice sessions and matches and we put them through physical tests. I also interview every one of them individually.
Coco was very impressive in every respect. She was extremely focused in practice and a very hard worker. In the matches she was an incredible competitor and was able to beat other girls who were technically better than her at the time. That innate ability to compete is so important and is something you see in all the great champions. Coco's physical tests were also very impressive for someone who was only 10 years old. At that time she was not tall: it was only in the following years that she grew rapidly.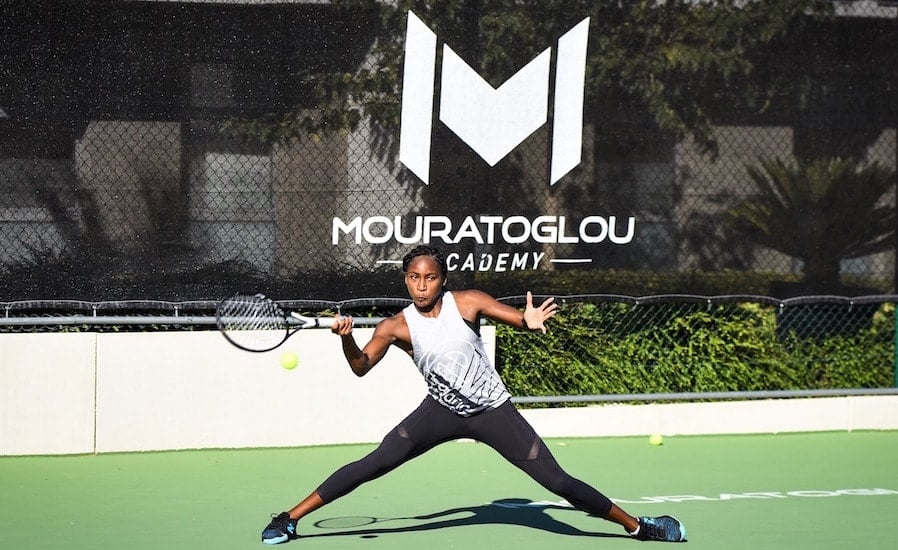 The individual interview also went extremely well. Coco Gauff came across as someone who knew very clearly what she wanted. She was very sure of herself, very self-confident, without being cocky, and clearly had the drive to succeed. I always try to find out what the players really believe, because if you only scratch the surface they will all say they want to be No 1 in the world. I push them further and ask them to explain why they think they have a chance to be No 1 and what they think it takes. I liked what Coco said. She was incredibly sure that she had the capacity to reach the top and that she would do everything necessary to achieve her ambitions.
Coco's father, Corey, who has coached her since she first picked up a racket aged six, came with her to the selection week. We always speak to the parents because I want to know their story as well. I want to understand the family's culture, their goals and how the player's tennis fits in with everyone else, because it's sometimes not easy to organise when there are other children involved. Coco has two younger brothers.
From the start I really liked the whole family. It was obvious that they were totally committed to fulfilling Coco's tennis potential. Corey and Candi, her mother, have done – and continue to do – a great job with her, both on and off the court. It certainly helps that they both have sporting backgrounds and therefore understand sport.
I always say this: Look at the player and you will know what the parents are like. You can tell from how Coco behaves and how she speaks that she is a very happy young person. You see a lot of players on tour who aren't happy, but she is. Her parents let her have a normal life. When it comes to tennis they are very professional and very serious, but she also has a life outside of tennis, the sort of life any young person of her age would have. They aren't isolating her, which is what you sometimes see tennis parents do.
At the foundation we always adapt to the needs of the individual player, because we believe everyone is different. We want what is best for them, not what is most convenient for us. Unfortunately not everyone in tennis has the same philosophy.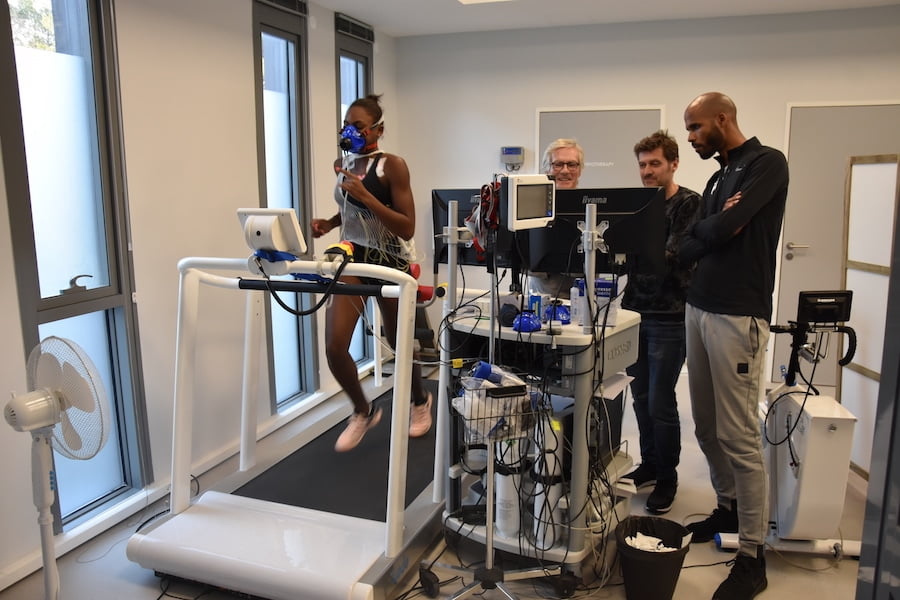 We decided it would not be in Coco's best interests for her to come full-time to the academy, which is a long way from her home in Florida. Her parents were still working and we felt that she would need her family around her. We thought it was important that she should continue to see her brothers.
At the same time we needed to ensure that she got what she needed in terms of the quality of her practice and fitness work, so we decided that she would split her year between the academy and home, where she could have a normal life with her family. Until now she has probably spent two-thirds of her time at home and one third at the academy, where she is extremely happy and has made some very good friends. Coco's results in juniors (at 13 she became the youngest ever US Open girls' finalist and at 14 she won the Roland-Garros title and became world No 1) showed that the balance worked well from the start.
At first we sent a hitting partner to work with Coco Gauff in Florida. Since this year's Miami Open she has also had a coach, Jean-Christophe Faurel, working full-time with her, whether she's at home or at the academy or at tournaments. The coach and hitting partner work with her father, who still plays a big part in her tennis. He knows Coco the best and gives her a lot of confidence. He's extremely positive with her but also demanding, which is a great balance. Before matches he is still the one who speaks to her. She trusts him 100 per cent. Why change that when it works so well?
One of the signs of Coco's great potential is the speed with which she learns. With most players when you explain something to them they might learn at first but then quickly forget, meaning you have to teach it all over again. Coco doesn't forget. Once she has learned the lesson it stays with her.
It was incredible how quickly she improved between Roland Garros and Wimbledon this summer. At Roland Garros she lost in the second round of qualifying and her level was well below what we would see at Wimbledon. We identified some tactical issues in Paris and we talked about the few things which she needed to work on.
Her subsequent improvement was amazing. She won three matches in qualifying for Wimbledon (becoming the youngest player to qualify for a Grand Slam event in the Open era) and then had her extraordinary run in the main draw, beating Venus Williams, Magdalena Rybarikova and Polona Hercog before losing to Simona Halep in the fourth round.
What Coco achieved was crazy, but the family all kept their feet on the ground, which was important. For a while now there has been much more expectation on her shoulders than on anyone else of her age because of the records she has been breaking, yet she finds a way to deal with it and still perform. When you see how difficult it is for the very best players to handle all the expectations of them after they have won Grand Slam titles I think it's a great sign of her ability to deal with the situation.
I sense the pressures on Coco Gauff and I think it's important that we don't expect too much of her too soon. She still has a lot of work to do and we can't expect her to perform like she did at Wimbledon every time she plays. The age eligibility rules also restrict the number of tournaments she can play, which I think is a shame for someone who has clearly coped extremely well in her first tournaments in professional tennis.
People ask me about Coco's potential. In most cases it will be a player's mental limits that will determine what they can achieve, so I never like to put a limit on anyone's potential. There are no limits to what Coco can achieve. I believed that when I first met her when she was just 10 years old and I still believe that today. She is very special.

Patrick Mouratoglou is the coach of Serena Williams and founder and president of the Mouratoglou Tennis Academy in the south of France
Look ahead to the rest of 2019 with our guides to every tournament on the ATP Tour and the WTA Tour. If you can't visit the tournaments you love then do the next best thing and read our guide on how to watch all the ATP Tour matches on television in 2019. To read more amazing articles like this you can explore Tennishead magazine here or you can subscribe for free to our email newsletter here