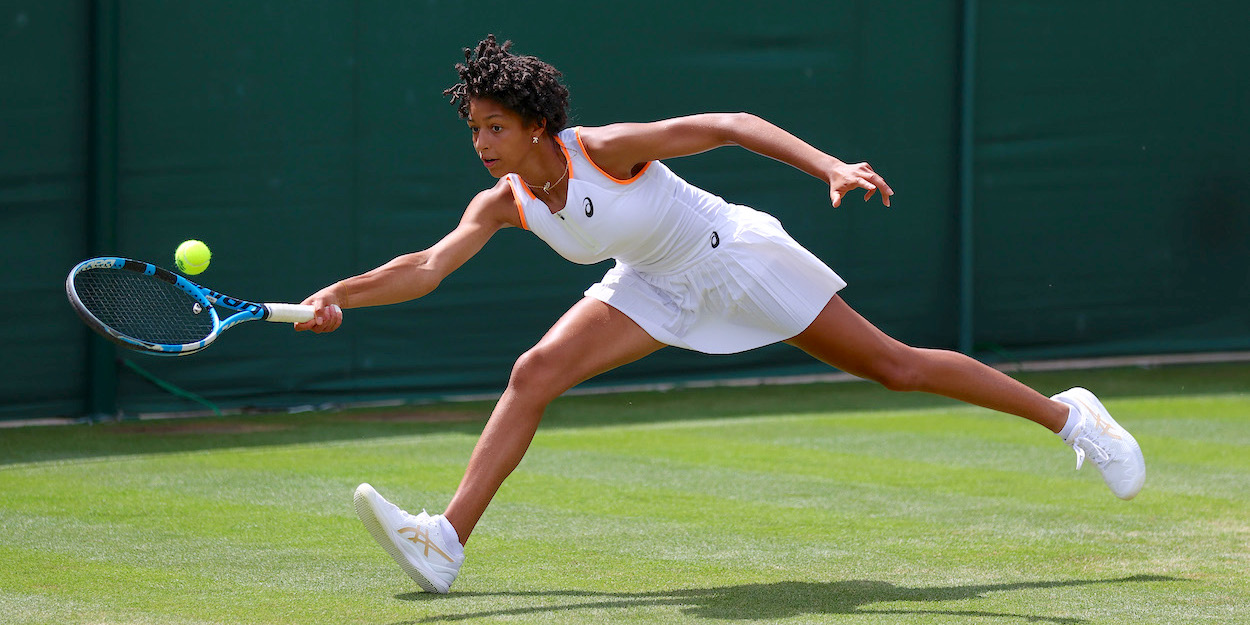 "Emma Raducanu inspires me" – reveals top British talent Ranah Stoiber
Moving through the ranks of junior tennis is a tough and competitive task so we decided to talk with ASICS sponsored British player Ranah Stoiber to find out about her career so far, what it takes to succeed as a junior tennis player and how ASICS have helped her along the way
Ranah Stoiber is a right handed, 16 year old tennis player from Middlesex near London. She currently plays on the ITF Junior Circuit with a career high world junior ranking of 80. She received a wildcard to the 2021 Wimbledon Junior Championships where she won two matches in the girls singles event.
Ranah took time out from her busy schedule to speak with Tennishead.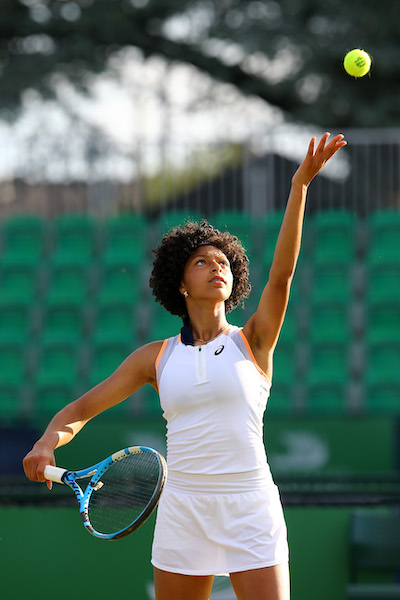 Tennishead: How did you get interested in tennis and how has your career in junior tennis developed over the years?
Ranah Stoiber: "I started tennis when I was 7 when my Auntie gave me a tennis racket. I didn't know what to do with it so I just started swinging it around. My Mum and Auntie thought it would be good if I had a tennis lesson because I seemed interested in the sport. I started with kids lessons at Thisleworth Tennis Club which I really enjoyed and so I started to attend weekly.
"As I became more interested in tennis a coach suggested a move to another tennis club, Ealing, which is when I started to play some LTA Regional and National competitions. I then managed to win some National Championships and I've continued to love the sport and now play internationally."
TH: "Have you kept that first racket you played with?"
RS: "I have! It's hidden somewhere at home in a room with all my old tennis rackets."
TH: "What tournaments have you played in so far in 2021 and how has the season turned out for you?"
RS: "2021 has been a great year for me especially for my improvement. The Summer was when things started to go really well for me because I was given such great opportunities to play with that wildcard to Wimbledon. I reached the third round."
TH: "What were the highlights of playing at Wimbledon?"
RS: "At first I was a little scared of playing on grass because, even though there are grass courts in England, we don't train on it that much. Clay is my favourite surface so initially I didn't know how I'd feel about grass but then I got really into it and ending up loving it."
TH: "A lot of people think grass is a slow, low bouncing surface but often it's not that way. Were you surprised by the way grass plays?"
RS: "I thought it was going to be really fast and I'd have to attack a lot but I was actually able to adapt to it because it wasn't too fast".
TH: "Being 16 years old, have you started to play any senior tournaments yet or is it still only junior events you compete in?"
RS: "Right now I'm still playing junior tournaments but as of early next year (2022) I'm looking to start playing Senior ITF (International Tennis Federation) tournaments."
TH: "Do you think you'll have to change your playing style when you enter into senior tournaments or will you stick to the same game plan?"
RS: "I've talked to my coaches about this and they've advised me that I shouldn't change my game but they have said that I will need to be able repeat what I do more often than in juniors and generally be more consistent."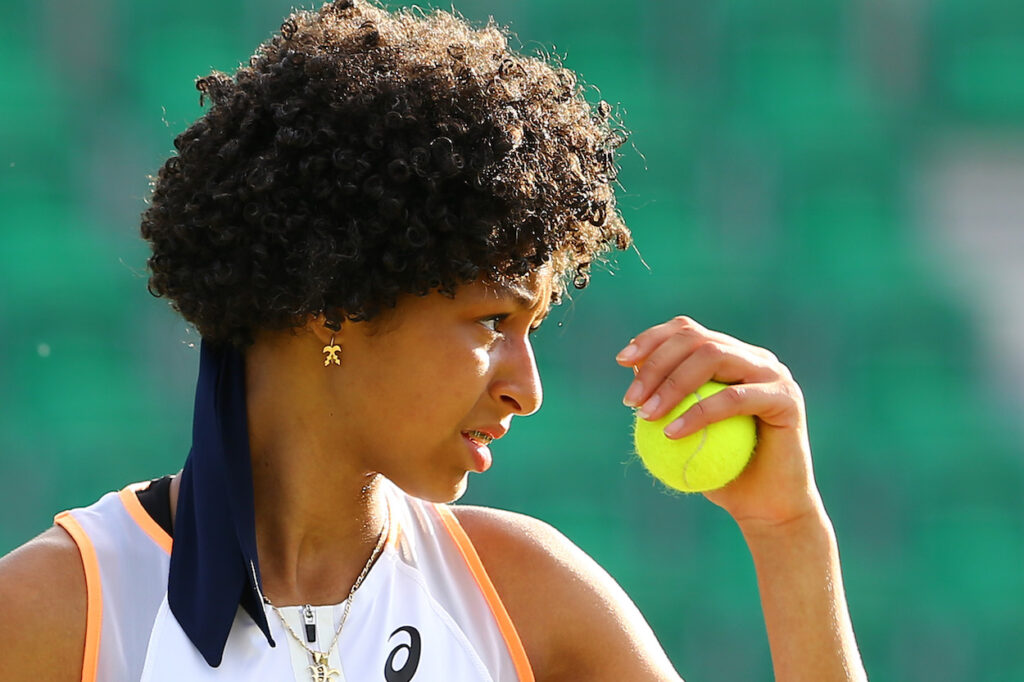 TH: "And are you having to prepare your body for the senior game?"
RS: "I've had to work on my cardiovascular fitness and my endurance fitness. Once or twice a week I now have sessions where I work on my conditioning and having a higher heart rate, which I try to improve every time. Often I will run from baseline to baseline 10 times and try and achieve this in under 1 minute."
TH: "What have you been working on for the technical side of your game?"
RS: "I've been working on trying to step up the court with both my forehand and backhand but in general i'm working on the tactical and mental aspects of my game so that I can stay strong and do things for longer."
TH: "Could you give other junior tennis players any advice that you think might help them as they follow a path to improving their own game?"
RS: "In the past I would get down on myself if I wasn't doing something right but then I realised that if I keep practising and repeating at tennis then even if I have a bad session I would still be improving. So making sure I'm motivated really helps."
TH" "That sounds like it's difficult to achieve?"
RS: "Sometimes if you are feeling negative during a match you can turn away from the court, check your strings, take a deep breath, which will calm you down."
TH: "When you play matches do you like to have your coach or parents supporting you from the sidelines?"
RS: "I like to have my mum or coaches watch me but this isn't always possible for my mum, so when she can it's a really special moment for me. And having my coach there for matches makes me feel so much better because he's part of my team."
TH: "Does your mum get nervous if she watches you play a match?"
RS: "Oh yes! She sometimes starts to panic when watching my matches but she doesn't show it and will only tell me afterwards. It actually helps me because if I saw her panicking it would make me panic as well!"
TH: "Who are your tennis role models?"
RS: "When I was younger I would look up to whoever was the best because I wanted to be the best. I would try and copy them by watching what they do that was special. Recently I've become a big fan of Ash Barty because her all-court style of play is similar to mine so I love watching her. The night before a match I might watch clips of her playing and imagine it was me which helped me feel confident in my match. And Emma Raducanu has given such great hope to British tennis players. She's very young so seeing what she's done inspires me to work hard every day to try and get to her level."
TH: "You are sponsored by ASICS. How did they first get involved and how do they continue to support your tennis career?"
RS: "When I was 14 and playing a tournament someone from ASICS spotted me, then spoke to my coach. They've really helped me because before having ASICS I didn't have many clothes but now I always feel fresh during my matches because I have more clothes to wear. And just knowing that I'm representing the ASICS logo makes me feel really special."
TH: "Which ASICS shoes do you wear?"
RS: "Currently l wear the ASICS Gel-Resolution shoes. Out of all the shoes I've tried over the years I find the ASICS Gel-Resolution are the best"
Ranah Stoiber is sponsored by ASICS. Read reviews of all ASICS shoes in our dedicated reviews section or watch as Tennishead's expert testers try out the ASICS Gel-Resolution 8 tennis shoes:
🎾 Read >> Breaking tennis news
🎾 Follow >> 24/7 LIVE scores
🎾 Free >> Receive our legendary newsletter
🎾 Join >> Tennishead CLUB, the world's only virtual tennis club
🎾 Social >> Facebook, Twitter, Instagram & YouTube
🎾 Order >> World's best tennis magazine
🎾 Shop >> Lowest price tennis gear from our trusted retail partner