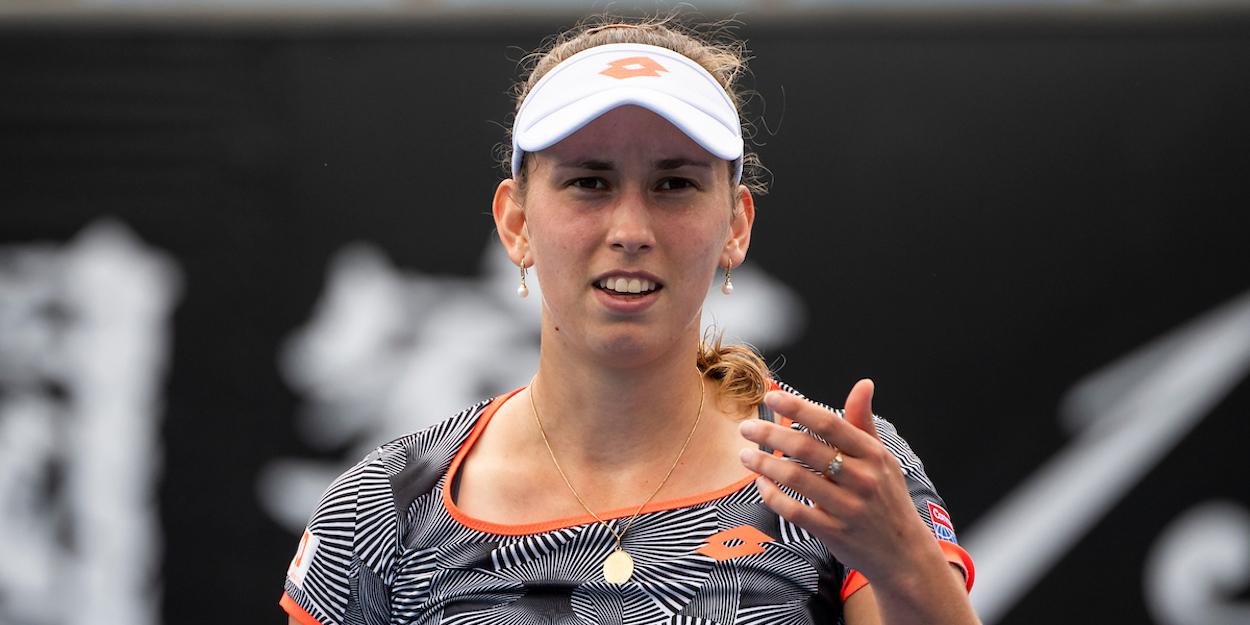 Elise Mertens exclusive: "Billie Jean King has been a great example for women's tennis – and for women in general"
Tennishead talks Elise Mertens, Belgium's world No.24, in our unique '5 minute interview' covering tennis and much much more…
What is your first tennis memory?
"I started playing tennis when I was three and a half or four years old. My sister played tennis and my mum dragged me on to the court with her. She said: 'If your sister's playing, you can play as well.' The place where I play tennis now [the Kim Clijsters Academy in Bree, Belgium] is actually where I first started playing."
When you were younger, which Belgian were you a fan of, Kim Clijsters or Justine Henin?
"That's a difficult question, because they both had really different game styles. But because Kim lived so near to where we lived there was maybe more of a connection with her."
How nervous would you be if you played Kim Clijsters in a tournament?
"It would be a strange situation, but I would try to treat it like any other match. She has already achieved a lot in tennis, but she still plays amazingly well."
If there was one player in history you could play, who would it be?
"It would have to be Billie Jean King. She's been a great example for women's tennis – and for women in general. What she's done is really amazing and she still does a great job."
You won a Premier 5 title in Doha last year, beating Kiki Bertens, Angelique Kerber and Simona Halep in your last three matches. Do you regard that as the biggest win of your career?
"That would be my biggest win, but I would say my best memory was winning the title in Hobart for the first time [in 2017]. I went through qualifying and by winning the title there I moved into the world's top 100 for the first time, so it feels like everything started for me there. That was my most emotional victory."
Is Hobart, where you've won the title twice, your favourite tournament? You've won the title there twice.
"It's certainly a tournament where I feel at home. I go back there almost every year and I hope to keep going back there for as many years as possible. It's certainly one of my favourite tournaments"
Which tournament would you like to win more than any other?
"It would have to be one of the Grand Slam tournaments – in singles, though I also enjoy doubles. But it doesn't matter which one."
What is your favourite surface?
"I've no idea actually. I don't really have a favourite surface, which I think is a good thing."
You've said before that you like playing on grass. When did you first play on grass and what were your early impressions?
"It was when I was a junior. I first played on grass at Roehampton and then at Wimbledon. The first time you play on grass you really have to adapt, because it's a really different style of play and different movement. The first time I played on it I thought: 'This isn't for me.' But once you've played a few matches on grass it gets better and better."
What's your favourite restaurant in the world?
"I'm not really a meat eater. I would generally go for vegetables. I'm not really a restaurant person either. I like it when my mum cooks at home. Just simple things make me happy."
Is there something your mother cooks that you particularly like?
"She can cook a lot of things. I particularly like her vegetarian burgers and her sweet potato fries."
Is there one luxury that you take with you wherever you go?
"I'm not sure if you would call it a luxury, but I always take my own pillow when I travel. Because we need to perform at 100 per cent, a good night's sleep is really important for me. I've been taking my own anti-allergic pillow for two or three years now."
If you hadn't been a tennis player what would you have done?
"It would definitely have been something with animals. I just love all sorts of animals. We have five dogs at home, as well as chickens, ducks, other birds, fish."
So do you live in a zoo?
"Just a little one!"
Elise Mertens fact file
> Age: 24
> Born: Leuven, Belgium
> Height: 5ft 10in
> Tour-level debut in singles: 's-Hertogenbosch, 2016
> Year-end ranking in singles: No 264 in 2014; No 157 in 2015; No 120 in 2016; No 35 in 2017; No 13 in 2018; No 17 in 2019
> First titles: Hobart (2017) in singles, Auckland (2016) in doubles
> Best Grand Slam performance: Australian Open semi-finals in singles (2018); won US Open (2019) in doubles with Aryna Sabalenka
---