Dunlop SX 300 (2022) racket review
With significant tech resources and a growing list of professional endorsements, Dunlop are gradually rebuilding their reputation for quality tennis rackets, which is why we eagerly anticipated the chance to try out the updated Dunlop SX 300
Background
Originally launched back in late 2019, Dunlop are obviously committed to their SX rackets if they are redesigning the whole range just two years later. Dunlop's reasoning is that tennis is continually developing and a new breed of player demands more spin even when hitting the ball off centre. Seems fair…
Dunlop have said that their analysis of the first edition of the SX range showed that balls were landing too short allowing opponents to attack and players were happy with the control but still required more power when hitting away from the sweet-spot.
---
"It was a good balance between control and power without being overwhelming for either"
---
Technology
Dunlop are at pains to emphasise the 'state of the art Japanese technology and design features' in the new SX series. To be fair, Dunlop are one of only two brands on the market that develop their rackets in Japan and from Tennishead's own experience of the Japanese technology used in ASICS tennis shoes, it does allow Dunlop some significant credibility with their comments.
There are four key new tech features in the 2022 updated SX series:
Spin Boost Grommets which are a "dynamic set of enhancing grommets that work with a new spin boost string tech pattern to offer players more spin, power and control'. Our play test will discover if these lofty claims can be backed up.
Sonic Core utilises 'Infinergy' which is the 'world's first expanded thermoplastic polyurethane' developed with chemicals giant BASF. Evidently they have created a 'super elastic material which is also very light giving a 46% increase in rebound height versus the original used in the first SX series of rackets'.
Spin Boost String Tech is a 'redesigned string bed aimed at increasing the power distribution especially towards the top of the SX frame'.
V-Energy Shaft is a new 'V shaped shaft area of the racket that enhances frame stability and racket power'.
The play test
Testing rackets can be down to personal opinion so it's important to remember that not every racket is right for every player and one person's discomfort can equally be another's joy. This is why we try to test rackets with a variety of players and for the Dunlop SX 300 (2022) we have three accomplished testers with very differing game styles.
Our Tennishead play testers for this review are:
Julian – Who is an out and out hacker (in other words he never misses!), has been playing for 45 years and currently plays with the Babolat Pure Drive (an older version).
Sue – A player who sees herself as a 'baseline grinder with volleying aspirations', has been playing tennis for 30 years and currently uses a Mantis 300 racket.
Austin – Who 'likes to win the point at the net', has been playing for 15 years and currently plays with the Babolat Pure Drive 2020.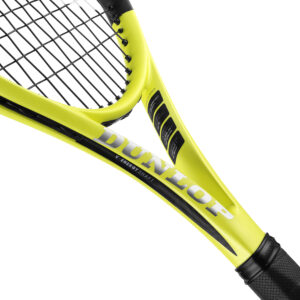 Groundstrokes
Austin: "This was really nice from the baseline giving me good power and control. In fact it was a good balance between control and power as it wasn't overwhelming for either. The sweet-spot was quite big so overall I'm a really big fan of this racket. I felt that I could generate both slice and topspin with ease."
Julian: "I normally play with a Babolat Pure Drive and this Dunlop felt quite similar. I agree that it helps you hit controlled spin. It's not got quite as much power as my Babolat but that could be because I've only just started playing with it. And if I didn't nail the sweet-spot then I think the thicker frame in this Dunlop compensates. As long as you aren't miss-hitting then you get a pretty good shoot with this."
Sue: "Initially it felt a little bit 'clubby' but after I got used to it it felt like I could get more spin and so maybe that initial feeling was just about getting used to the racket in my hand. If I didn't hit the centre of the strings with my groundstrokes this racket felt a little bit dead but then I got better at hitting the sweet-spot and the ball started to zip off the strings more."
Volleys and smashes
Julian: "The racket feels light in your hand so its easy to manoeuvre around. Volleys were fine with the ball coming off the racket reasonably fast and with nice feel and control. I felt the same on smashes once I'd found the sweet-spot. However if I missed the sweet-spot on a smash then it wasn't quite so good, but that could be the case with all rackets couldn't it!"
Sue: "Volleys felt solid. This racket is heavier than what I'm used to and feels 'chunkier' so there's a feeling that you might hit the frame but actually you don't and so it was fine. On smashes even though this racket is 'chunkier' it's not heavier so it was easy to get the racket into position for smashes and swing through ok. However, if I wasn't striking out of the centre with the shot then it did lack a little power."
Austin: "My volleys were really nice with this racket as I could achieve good slice by cutting underneath the ball which made the ball zip through the court with ease. And if I didn't middle it, because the sweet-spot is pretty big, then it was still ok. Not as big a sweet-spot as a Babolat Pure Drive but much bigger than a Wilson Blade. On smashes I found super easy power so I could smack the ball as hard as I could and it still seemed to go in."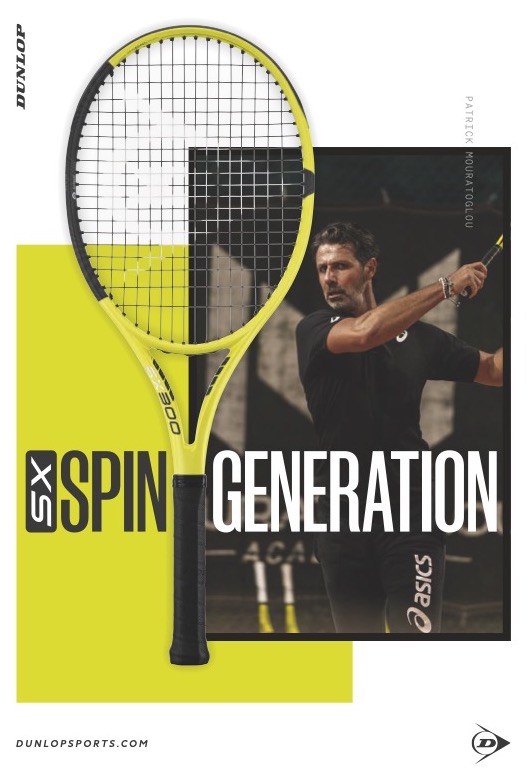 Serves
Sue: "It felt like the serve was flatter and fairly clean even though I couldn't get over the feeling of this frame being chunky but not heavy. The ball came off the strings well and it felt ok to serve with"
Austin: "Serves were good. On the first serve I could achieve a lot of 'pop' so it was easy to find the power. On kick serves it wasn't the best racket but it certainly wasn't the worst I've played with."
Julian: "There was definitely some power in the flat serve then on the spin serve it did feel like I wasn't going to get as much spin as I'm used to."
Would this new Dunlop SX 300 suit similar styles of player as yourself?
Austin, who likes to win the point at the net: "This racket definitely suits my style of play as I can be aggressive on my approach shot followed up with a good 'zippy' volley. I enjoyed it"
Julian is a hacker and never misses: "Yes I believe this Dunlop would suit a hacker because it's giving you power and spin when you are hitting difficult balls at the back of the court, which would be quite effective for someone hacking around at the back of the court like me. And it was nice for slice which seemed to come through quite effectively which made it feel comfortable."
Sue is a baseline grinder with volleying aspirations: "Yeah it was ok actually even though I wasn't too sure when I first started hitting with it. It did take a bit of getting used to. It certainly helped my control and stopped me being too wild."
What are your thoughts on the design and style of this racket?
Sue: "It's bright and cheerful!"
Julian: "It looks very similar to the Babolat Pure Aero."
Austin: "I can see they are copying the design of the Babolat Pure Aero but it looks nice with the yellow and black going well together"
Is $200/£180 a fair price for this Dunlop?
Julian: "That's a very good price when compared to most other rackets, which cost £230 or £240."
Austin: "That is a very decent price. It's cheap compared to other rackets and something I'd definitely consider buying myself at that price."
Sue: "That's not a bad price really as I think this racket would work well for a lot of levels of player, from club level up to high club team standard."
The specifications
For a detailed explanation of each racket measurement criteria below have a read of our guide.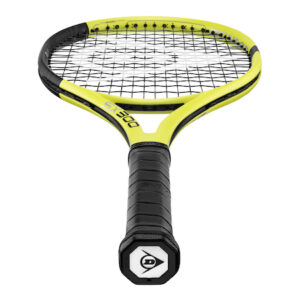 Dunlop SX 300 (2022)
R.R.P. = $200/£180
Head size = 100 sq in
Weight = 300g
String pattern = 16/19
Length = 27 inches
In conclusion then…
When testing new tennis rackets we are always focussed on two areas. Have our racket testers enjoyed hitting all their shots with this racket and does it live it up to the manufacturers claims? If a brand are saying a racket should do one thing then the testers say it does another thing, then obviously something's gone wrong!
With the Dunlop SX 300 our testers were unanimous that Dunlop's claims over increased spin and control had stood up to testing. In fact our youngest tester Austin, who's used to playing with a Babolat Pure Drive, said that, with the Dunlop's low price point, he'd consider buying one.
Dunlop are honest about their wish to compete with Babolat's popular range of big power, big spin rackets and it seems that this new Dunlop SX can definitely be talked about in the same conversation.
Buy this racket
The new Dunlop SX 300 racket is available to purchase from our trusted retail partner AllThingsTennis.co.uk. Use discount code 'TENNISHEAD5′ for a 5% discount
🎾 Read >> Breaking tennis news
🎾 Follow >> 24/7 LIVE scores
🎾 Free >> Receive our legendary newsletter
🎾 Join >> Tennishead CLUB, the world's only virtual tennis club
🎾 Social >> Facebook, Twitter, Instagram & YouTube
🎾 Order >> World's best tennis magazine
🎾 Shop >> Lowest price tennis gear from our trusted retail partner