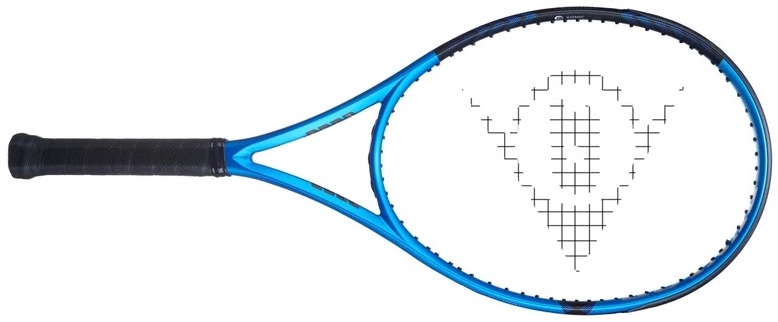 Dunlop FX 500 review
The Dunlop FX 500 is the latest model in the new range of tennis rackets from this renowned brand to receive the upgrade treatment. We were so keen to try it out we headed over to Spain and the superb clay courts of the La Manga Club to give it the once over.
Dunlop have been putting in the hard yards over the past few years to update their range with new technology, no doubt influenced by their Japanese owners Srixon who've seen considerable success using the same strategy in the other sports they are involved with.
Whilst Dunlop can't boast any real super stars on their rosta of sponsored players using this racket, they must be delighted that British youngster Jack Draper has managed to shoot up the rankings whilst using their FX 500.
What's new in the Dunlop FX 500?
Located at the 2 and 10 o'clock areas of the racket, Dunlop use a technology called 'Sonic Core Infinergy'. Ok it's a very fancy name but don't let that put you off. Bascially it's a 'super-elastic, super-light material that offers rebound properties significantly higher than other materials'. This aims to reduce vibration and deliver more comfort.
Then you have the 'wider and deeper precision groove engineered into the racket frame' around the grommet strip which creates 'more pull-back of the strings at impact, resulting in more power.'
Dunlop have also redesigned the string bed which is now larger across the main & cross strings which is done to 'provide more even power distribution, particularly at the racket top. String movement generates more power & spin.'
Finally, an 'aerodynamic power head shape provides a sharp, modern looking shaft. The wider throat provides more stability.'
Watch as our expert took to the stunning clay courts of the La Manga Club in Spain to try out the Dunlop FX 500 tennis racket
The Dunlop FX 500 review
It's crucial for our credibility that when we take a product out onto court we let the players try it out and then we simply publish what they report. It's the only truly unbiased method of reviewing a product. This time we were joined by Josh who's an accomplished club player. Josh usually plays with the Babolat Pure Aero so is well acquainted with a powerful racket and he uses a lot of spin on his shots, so the Dunlop FX 500 should suit his game. Let's find out!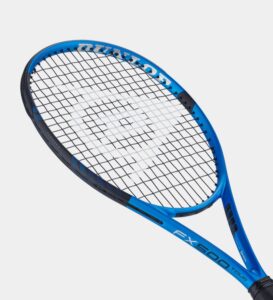 First impressions…
"The first thing I noticed about this new Dunlop FX 500 was the satisfying feel when I started hitting my groundstrokes. I play with a fast racket head speed and western grip, so often some rackets feel wobbly and flimsy when I strike the ball, but not this one. The connection with the ball was really solid with virtually no vibration even when hitting slightly off centre and with maximum power. This is something I haven't experienced before with many rackets, so that's impressive"
Rallying from the back…
"It was a really windy day when we tested this racket so finding the centre wasn't easy but the margin for error with this frame was considerable. The head shape actually looks different to normal rackets and I think the increased size of the string bed seemed to help me because I felt I could trust the racket to deliver solid shots even when hitting off centre."
"The power and spin were certainly there. I like to hit lots of topspin on my forehand and then hard and flat on my backhand. Both shots felt good. I definitely agree that the low vibration created by this frame is noticeable. I often find with other rackets that I do feel some vibration when i'm hitting hard, but not with the Dunlop FX 500"
Volleys…
"This was interesting. The power was certainly there and I didn't have to work hard for it as long as the shot that came to me had plenty of speed for me to use. So when playing a decent player I think this is a great racket for volleys as you can use the power from your opponent nicely. A few times when a slow ball came to me and I had to generate my own power on the volley this wasn't as succesful or easy but maybe that's just my technique letting me down and nothing to do with the racket!"
Serves…
"I actually hit flat and inside the ball on my serve rather than the more traditional spin/slice that players generate from hitting around the ball. So when I got it right this racket was a dream on serve but when I miss-hit the serve or didn't time it perfectly then the power created by the Dunlop did make it tricky to control on my serves"
Overall impression?
"Impressive! Better than I expected because I have always played with the Pure Aero so I was expecting a lesser version of that, but actually the Dunlop FX 500 holds up well on its own and I felt it's nicely suited to my style of play. If I was a player who hit flatter and relied on control then maybe I wouldn't recommend this but for modern players that play with lots of power and fast racket head speeds then I really would say this is worth a try."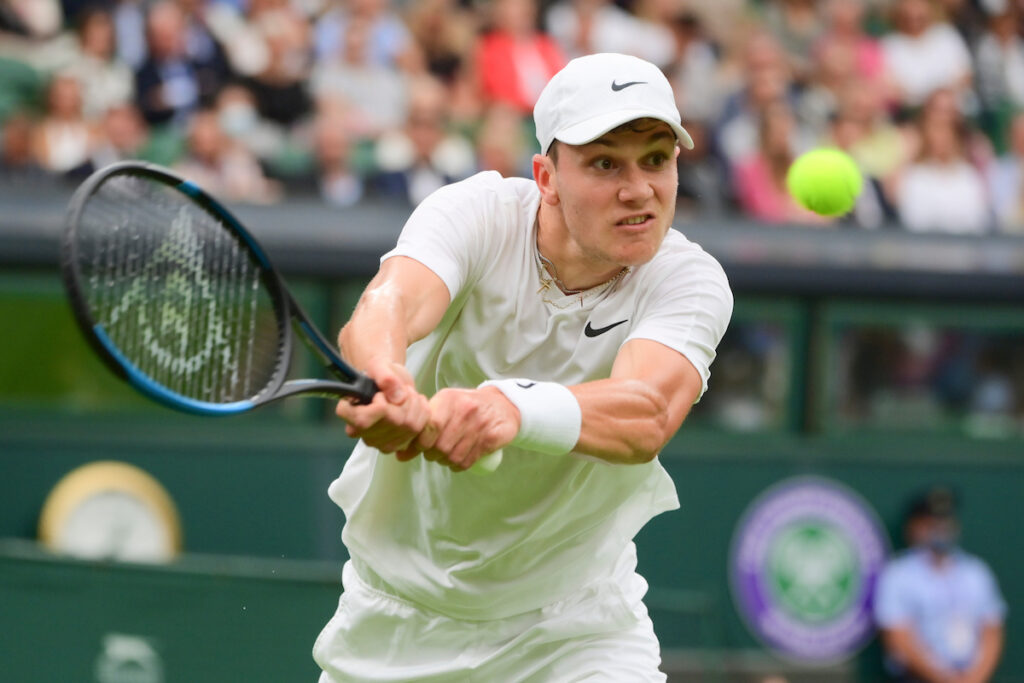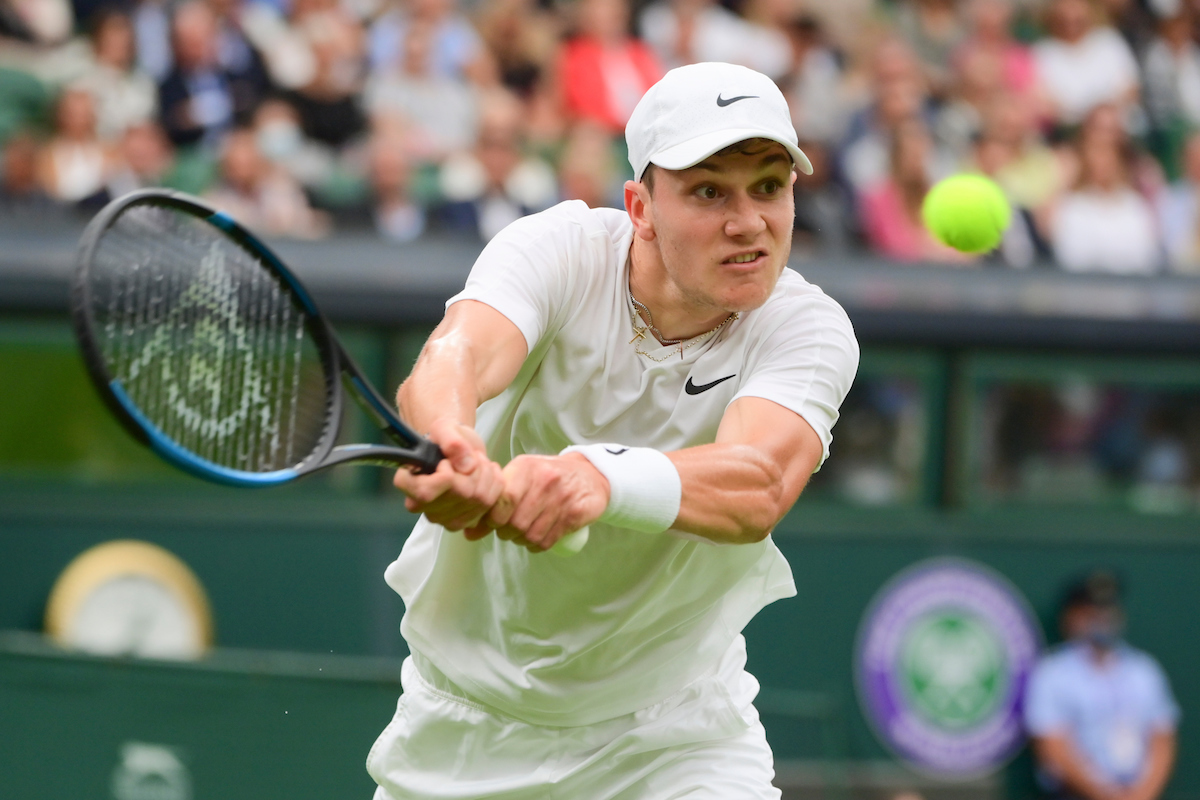 Dunlop FX 500 > Tech specs:
Weight Unstrung (+/- 5g): 300g

Head size: 100 sq in

Balance (+/- 5mm): 320mm

Beam width: 23-26-23mm

String pattern: 16×19

R.R.P: £190
What's the conclusion about the new Dunlop FX 500
This racket has obviously been doing a great job for Jack Draper as he's been flying up the rankings and scoring some notable wins. And going from the feedback from our tester Josh the racket is a real winner.
Dunlop have put a lot of effort into updating their range over the past few years and the influence of their new Japanese owner can definitely be felt, especailly in their appetite to try new technology.
So we suggest that if you've got a game that suits this racket it's definitely worth a try, and it won't break the bank which is an added bonus.
Buy the Dunlop FX 500
Head over to our trusted retail partner All Things Tennis to purchase this latest version of the Dunlop FX 500. Remember to use coupon code TENNISHEAD5 for a 5% discount at the checkout.