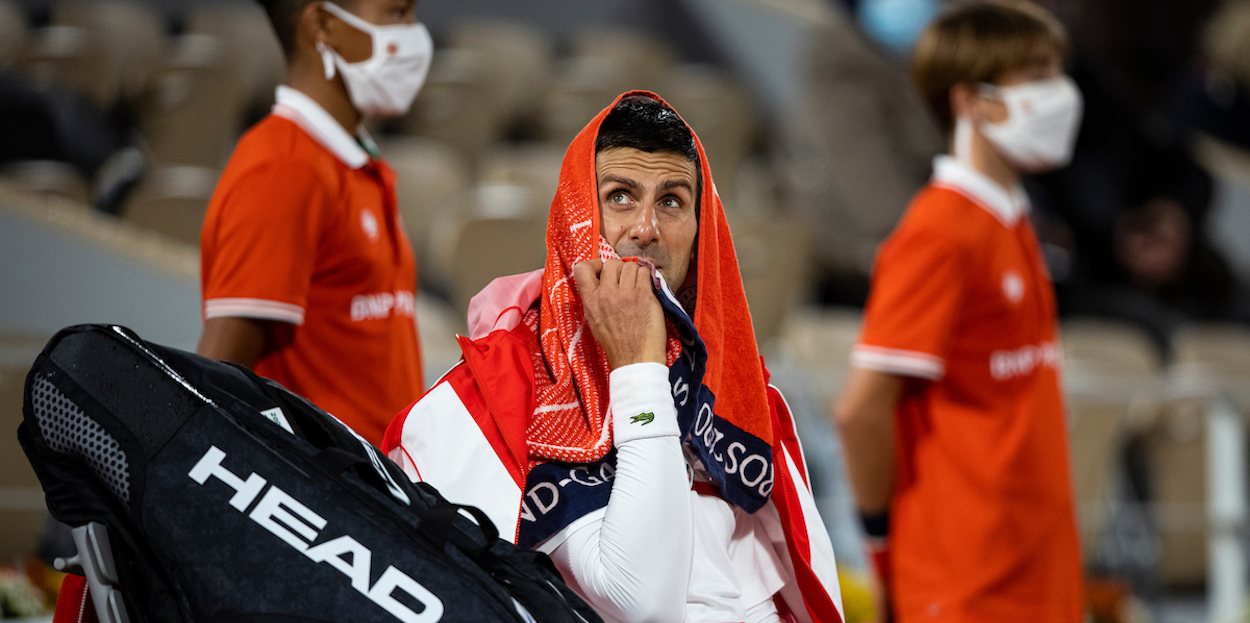 Djokovic's year dogged by criticism and controversy
Whether he was organising the ill-fated Adria Tour, setting up the players' association or being defaulted in New York, the world No.1 Novak Djokovic has rarely been out of the headlines
Novak Djokovic is not everyone's cup of tea – and the man himself knows it. "I understand that there are people that don't like maybe what I do on the court or off the court," the world No 1 said in the wake of his defeat to Rafael Nadal in the final of the French Open. "I understand that I can't be liked by everyone. That's fine. I think it's important to have an understanding of who you are and your position in this life, be grateful and move on."
Competing in the same era as Nadal and Roger Federer, two of the most popular players in the history of tennis, cannot be easy for Djokovic, who may yet finish his career as statistically the greatest of all time. However, the Serb does not always help himself, even when he acts with the best of intentions.
"I understand that there are people that don't like maybe what I do on the court or off the court"
As Europe came out of lockdown this summer, Djokovic's idea of staging a series of exhibition tournaments across the Balkans, where spectators have few opportunities to watch the many great players the region has produced in recent years, was a commendable one.
However, the Adria Tour rapidly turned into a public relations fiasco as social distancing among spectators appeared to be negligible and videos emerged of players partying in nightclubs. After a number of players and coaches tested positive for Covid-19, including Djokovic, the tour was abandoned. Serbia's Prime Minister insisted her government should take the blame for going too far in easing lockdown restrictions, but Djokovic, inevitably, took most of the flak.
Even when the world No 1 tried to find a way to help lower-ranked players hit by a loss of income during the pandemic he came in for criticism. Djokovic proposed a sliding scale (according to a player's world ranking) of contributions to a relief fund, only for a number of players to oppose the plan. Dominic Thiem even questioned the professionalism of some lower-level players and said there were other people and organisations in greater need.
---
Djokovic's idea of staging a series of exhibition tournaments across the Balkans was a commendable one
---
If there was an upside to how tennis dealt with this year's myriad challenges, it was the increasing co-operation between governing bodies. The Association of Tennis Professionals and the Women's Tennis Association even started talking about a potential merger.
However, at the US Open news emerged of a rift within the ATP that ran counter to the prevailing mood of working together. A group of players, believing that their voices were not being heard sufficiently within the ATP (which in theory at least is run jointly by the tournaments and the players), said they were forming a separate players' association, open to both men and women. Djokovic is the association's leading light and quickly stepped down as head of the ATP's player council.
One of the biggest gripes for many players is that they do not receive a big enough share of the profits which the four Grand Slam tournaments generate. They may well have a case, but was it right to launch the breakaway at a time when most people in the sport were trying to work together in the midst of global crisis? The news about the new players' association came at a time when the US Open was going to great lengths to keep the players safe and entertained within a bio-secure "bubble", while prize money was still 95 per cent of the 2019 total, despite the massive drop in revenue caused by the lack of spectators.
"I don't know if he's really in pain or he has a mental [problem]. Ask him."
Djokovic, nevertheless, has plenty of support among the players, with some notable exceptions. Federer and Nadal were quick to make it clear that they would not be supporting the new association.
Back on court at Flushing Meadows, when a player was defaulted after hitting a line judge in the throat with a ball carelessly whacked away in frustration, guess who was involved. Most people would agree that Djokovic was unlucky, but his actions were undoubtedly careless.
Then, when the circus moved on to Roland Garros, one of Djokovic's opponents, Pablo Carreno Busta, was not impressed when the Serb had on-court treatment for what appeared to be an issue with his elbow or shoulder. "Probably the last years he's always doing this when he has problems on court," Carreno Busta said. "Maybe it's the pressure or something that he needs to do it. But, I mean, he continues playing normal, no? I don't know if he's really in pain or he has a mental [problem]. Ask him."
---