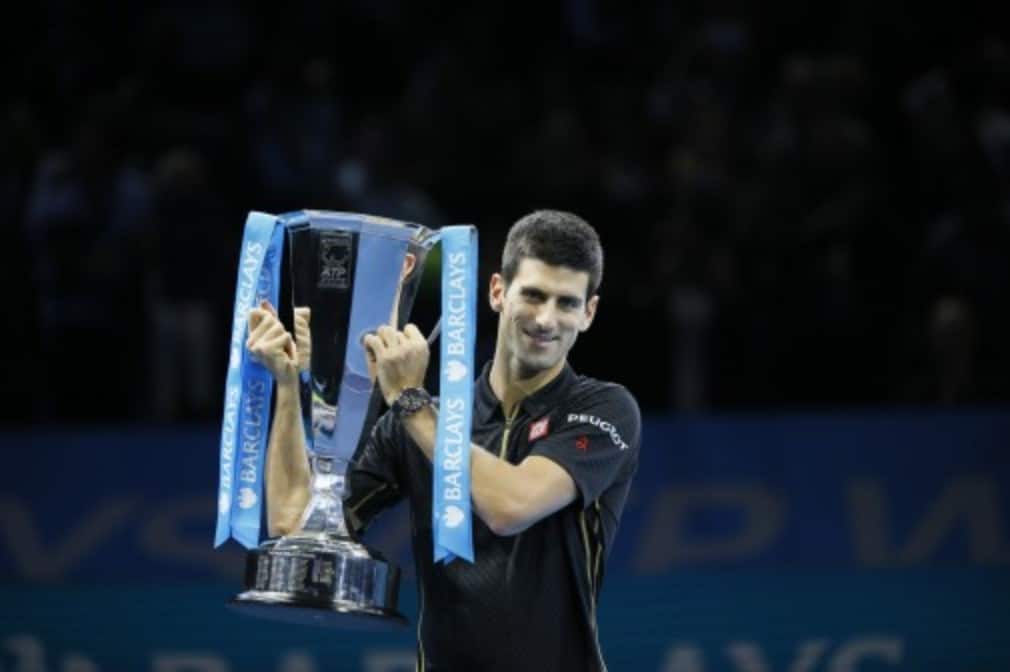 Djokovic claims London hat-trick after Federer withdrawal
Originally published on 16/11/14
Federer, who saved four match points before defeating fellow Swiss Stan Wawrinka in dramatic fashion on Saturday night, took to the court at The O2 to apologise to fans. Following the conclusion of the doubles trophy presentation, in which Bob and Mike Bryan received their fourth season-ending doubles crown following victory over Ivan Dodig and Marcelo Melo, Federer announced that he would not be able to compete in the final – only the third time in his career that he has handed his opponent a walkover.
"Unfortunately I'm not match fit to play the match tonight," Federer told the stunned London crowd. "Clearly I wish it wasn't so. You try all year to be ready for the ATP World Tour Finals and I didn't want it to end this way but I tried everything I could last night, also today; painkillers, treatment, rest and so forth, warm up til the very end but I cant compete at this level with Novak in the ATP World Tour Finals like this it would be too risky at my age to do this right now."
Speculation began earlier in the afternoon when Federer missed his scheduled warm-up on the practice courts, and the 17-time Grand Slam champion revealed that he had injured his back during the final-set tiebreak of his dramatic victory over Wawrinka.
"It's a very disappointing end to the season. I was playing so well here. I was feeling great until [the] tiebreaker. All of a sudden the back was feeling funny.
"I tried to have treatment on it, medication on it, just tried to turn around as quickly as possible but I didn't feel that much of an improvement overnight. The way I feel right now, there's no way I can compete at any level really. Nevertheless, congratulations to Novak. He's had a terrific season."
Djokovic is the first man to win a hat-trick of ATP World Tour Finals titles since Ivan Lendl won the crown between 1985 and 1987 – the year Djokovic was born. While the title comes in unfortunate circumstances, the history books will remember his unbeaten run in London between 2012 and 2014.
"Clearly it was not the way I wanted to win," said Djokovic as he accepted the trophy for a fourth time. "I feel very sorry for Roger. I've been in tennis for 10 years and he has always given 100 per cent. I'm sure if he could have played he would have."
However, fans that had bought tickets did not go home without seeing Djokovic play; Andy Murray stepped in to play the world No.1 in a one-set shootout (which Djokovic, fittingly, won 8-5) before teaming up with John McEnroe to take on Pat Cash and Tim Henman in a doubles exhibition.
Federer, a six-time champion at the year-end finals, will now hope to recover in time for next week's Davis Cup final, when he will team up with the man he beat on Saturday night; Stan Wawrinka as they bid to win the title for the first time in Swiss history when they take on France in Lille.
"It has been a great week for me; I played some great tennis," he said. "I love coming to the O2, to London. I've had so many great memories here. Congrats of course to Novak, he's played an amazing season, an amazing tournament here as well and I hope we can play some more great matches, hopefully next year."