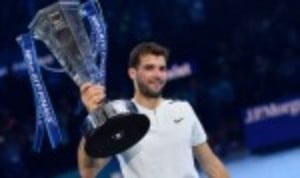 Dimitrov targets Grand Slam glory
Originally published on 19/11/17 00:00
This year, the Bulgarian bagged four trophies – in Brisbane, Sofia, Cincinnati and London – but he has not yet been able to snare a much-coveted major title.
The world No.3 has reached the semi-final stage at the Australian Open and Wimbledon, but he believes that to continue his progression, he needs to snap up one of the four biggest prizes in the sport.
Commenting after his dramatic three-set win over David Goffin in the championship match of the ATP Finals, the 26-year-old said: "I'm still trying to think about what I just did. I think now definitely we are going to sit down with the team and reassess the whole year, see what we've done good and what we can improve.
"Of course, one of my main goals is to win a Grand Slam tournament. This has always been a dream of mine.
"I'm getting there. I think I've had good results in the past, but now, as I said, I need to be even more consistent in those kind of events, and at the same time raise up my level on occasions like this.
"Obviously, this is a great, unbelievable achievement for me, but I still have a lot to give. I want to perform better and better."
Dimitrov praised his coach, Dani Vallverdu, for helping him turn his fortunes around after a spell in the wilderness following his breakthrough campaign in 2014.
"Dani did a tremendous job with Andy (Murray), but also with Thomas (Berdych)," added the Bulgarian. "He was one of the biggest assets, I would say, in my team, especially when he joined last year. If you think about it, we've actually been together just a little bit over a year.
"I think we have a great understanding of the game. He could easily be the hardest-working coach out there. He knows the game inside-out. A lot of that success goes to him, absolutely. Everyone in my team has been on point throughout the whole year."