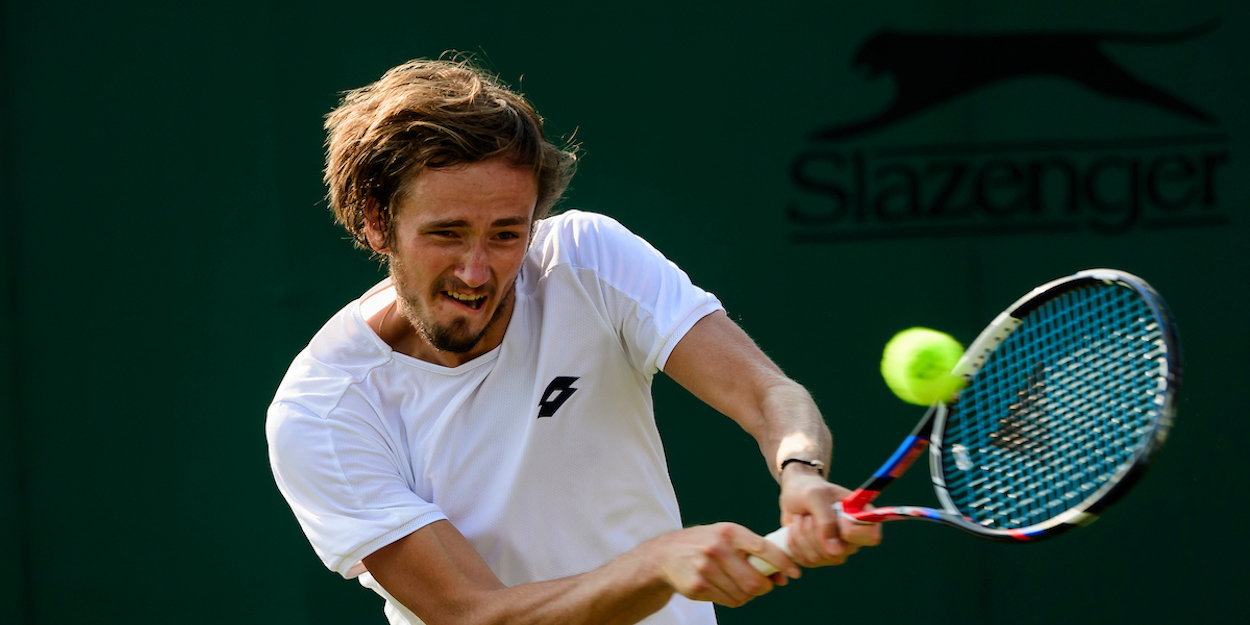 'I know I can play well on grass,' says Daniil Medvedev ahead of Wimbledon
Despite losing in the first round at Halle this week, Daniil Medvedev has no concerns ahead of Wimbledon and believes he is more confident on the grass courts than the clay. 
The Russian star lost in the opening round to Jan-Lennard Struff this week, though insists he likes to play on the surface and just needs a confidence boost.
"I like to play on grass, I just need to get some confidence in my game on the surface, because we didn't play [on it] for two years," said Medvedev.
"Two years ago, I was not the same player as I am right now. It is tough for me to say where I see myself, but I know I can play very good on this surface. I just need to find the right balance."
The World No 2 has earned big wins on grass, most notably upsetting Stan Wawrinka in 2017, though the Russian admits he needs to adapt quickly as the grass-court swing is the quickest of all the surfaces.
"In Halle, I had three days of practice, which was definitely not enough to feel good," Medvedev said.
"I lost my first round against a great player, so it [was] not easy, [and] that is why I decided to come to Mallorca to try and get some more matches."
The World No 2 said he also has to adapt his game to the pace of the courts, stating that the central courts play a little slower which extends the rally length.
"When I started playing on grass, I played in Challengers and even in [ATP] Tour tournaments on the outside courts, not on the central courts, and I can tell that the central courts are quite slow," Medvedev said.
"Especially the match I played with Gilles Simon at Queen's [Club], we had rallies of 40 shots every second point. That is what makes it a little bit tougher.
"When I practise on practice courts, I feel like I am playing so good as the ball is so fast. Then I come onto the centre court to play the match, and the ball just stops after the bounce, and you have to adapt your game, so it can be tough. But I know I can play really well on grass."