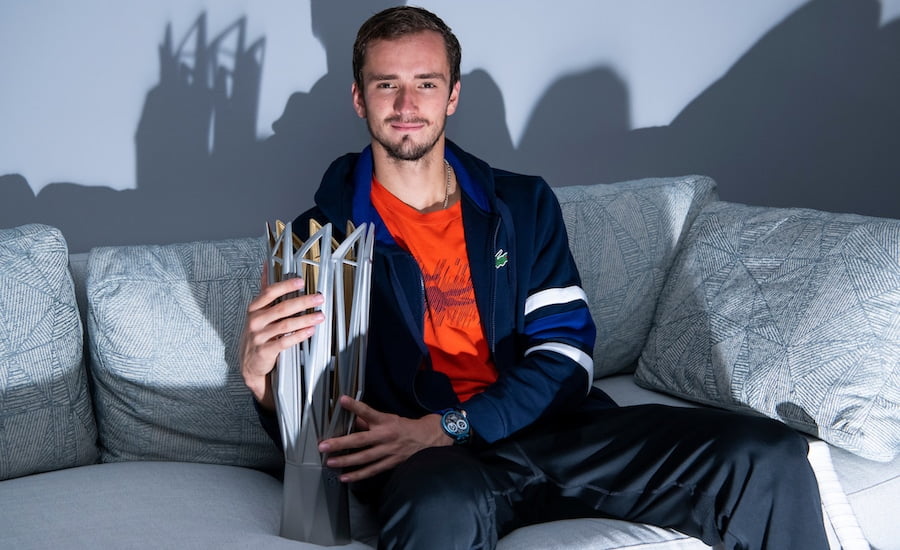 Daniil Medvedev reveals immediate plans for his next tournament
Shanghai Masters champion Daniil Medvedev confirmed where he will travel to immediately after his latest tournament victory but he still can't decide if he'll be playing tennis this week or not
The 23 year old Russian sensation Daniil Medvedev has confirmed he will travel to Moscow immediately after his victory in Shanghai but feels he needs to wait to see how his recovery goes before confirming if he will play in the Kremlin Cup in Moscow.
Medvedev said to the press after his two set victory over Alexander Zverev, "Yeah, I'm going there (Moscow) if I catch a flight at 1:00 in the morning. If not, there is one at 11:00. Hopefully I can make it to 1:00. I don't have my bags ready.
"But at this moment, I'm not sure. I need to see how my body reacts to the flight, because it's still a long flight, nine hours. I think it's five-hour difference.
"It's not easy. Some players did it. I remember Roberto Bautista Agut, when he was in the final, he was playing Moscow. Lost, though, in the first round. So I will have to decide when I'm on-site there, but I'm going there."
Medvedev has played 6 tournamwnts in the past 10 weeks including the 2 week Grand Slam in New York. He's still only 23 years old but the rigours of travelling the world playing the highest level of tennis on hard courts can take it's toll. Older players such as Nadal and Federer are much more selective over the tournaments they play so as to preserve their fitness for the biggest events such as the Grand Slams.
To read every issue ever published of the world's best tennis magazine, tennishead, visit our 'Magazine Archive' and you can buy a copy of the latest issue here.To win incredible tennis prizes for free, enter our latest 'Competitions'. For all the breaking tennis news and exclusive player interviews, visit our 'News' section. For the latest racket, ball, shoe and clothing buyers guides plus video play tests, visit our 'Gear' section