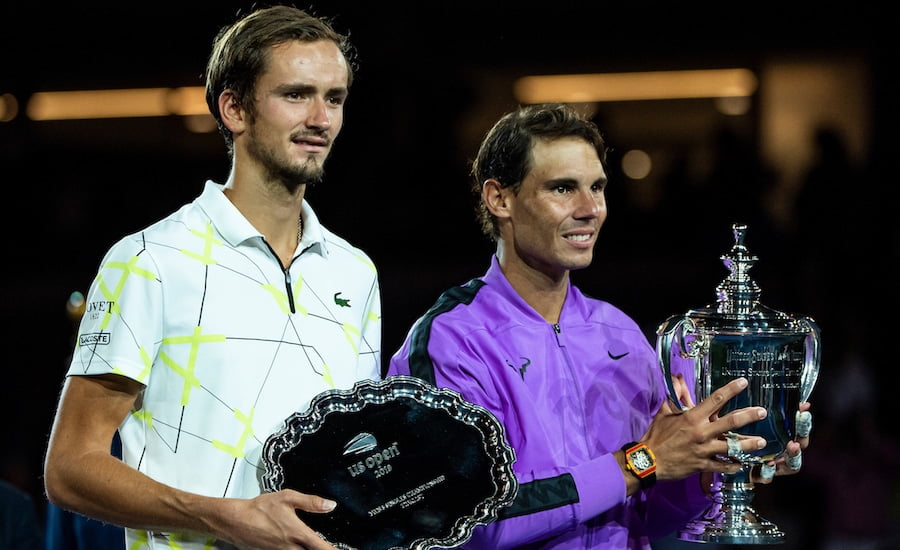 Daniil Medvedev identifies why it's so tough to play Nadal, Djokovic & Federer
Daniil Medvedev has called Rafa Nadal, Roger Federer and Novak Djokovic legends in his post match press conference at the same time as highlighting why they are so difficult to beat
Russian Daniil Medvedev had just lost to Rafa Nadal in one of the greatest finals in US Open history when he was asked about his mindset during the match and what he felt he had to do to win. His reply has helped explain why 'The Big 3' have won so many matches and titles in their careers and why it's so difficult to beat them.
Now enjoy tennishead, the World's best tennis magazine, in a new digital format. Download in seconds to read the latest 164 page issue
He said, "It's all about tactics. Rafa was a beast tonight and it felt like everything I did he had an answer for so I was continuing to try something new. These 3 guys (Djokovic, Nadal, Federer) are legends and the way they play tennis is so unbelievable and so when you are out there tactically it's tougher than against anybody else"
Daniil Medvedev lost the final of the US Open mens singles for 2019 in 5 sets to Spanish world No.2 Rafa Nadal. Medvedev has now risen to No.4 in the world rankings but is still over 2,000 ranking points below Federer in third and 4,000 points below both Djokovic and Nadal.
Since playing Wimbledon 2019 Medvedev has entered 4 tournaments on the ATP tour reaching the final of all of them only losing to Nick Kyrgios and then Rafa Nadal twice.
Look ahead to the rest of 2019 with our guides to every tournament on the ATP Tour and the WTA Tour. If you can't visit the tournaments you love then do the next best thing and read our guide on how to watch all the ATP Tour matches on television in 2019. To read more amazing articles like this you can explore Tennishead digital magazine here or you can subscribe for free to our email newsletter here