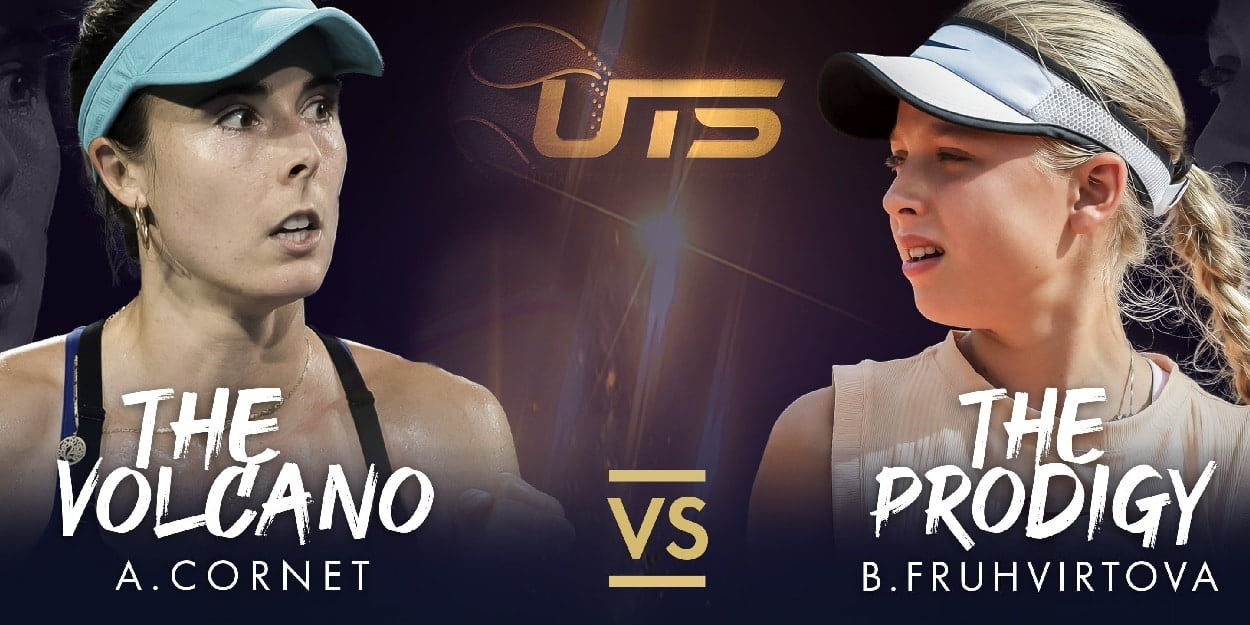 Cornet battles past 13-year-old Fruhvirtova at UTS
This evening saw the introduction of female competitors to the UTS format. First up, French veteran Alize Cornet faced off against 13-year-old Brenda Fruhvirtova, who is a product of the Mouratoglou Academy and earlier this year won the prestigious Les Petits As junior tournament. On this night, experience prevailed and Cornet won in three, 16-11 16-10 13-12.
The first quarter was won comfortably by Cornet 16-11 but Fruhvirtova won the last three points, giving her some momentum to build on heading into the second. After some lengthy rallies and solid play whilst using her 'Next Point x2' card, Fruhvirtova took the second quarter lead at 8-6. Cornet appeared to be frustrated during a coaching time-out but fought back to reclaim a one-point lead. The quarter stayed tight until the last 30 seconds when Cornet, using her 'Winner x3' card on the return, hit a blistering forehand winner and went on to win the quarter by a flattering score of 16-10.
Cornet took the early lead 8-4 but Fruhvirtova clawed her way back to 8-8 and neutralised her opponent's 'Next Point x2' card in the process. At 11-11, Cornet caught a lucky net cord with her serve and as per UTS rules took the point. Undeterred, Fruhvirtova levelled once more but then Cornet played her 'Serve & Volley' card with mere seconds left to play. The young Czech hit long and Cornet edged the quarter 13-12 for a 3-0 win and a place in tomorrow's final.
In spite of her loss, the 13-year-old Fruhvirtova kept the match close and held her own in a number of extended rallies with the experienced Cornet. After the match, the Frenchwoman said, "she has a bright future ahead… I can't wait to see her in three, four, five years; it's going to be amazing."
Earlier in the day Richard Gasquet and Corentin Moutet won their groups in the men's event and will face Felix Auger-Aliassime and Alexander Zverev respectively. Zverev beat Auger-Aliassime to kick off the evening session, earning the chance to choose his semi-final opponent, and he opted for the lower ranked Moutet.
The women's final, along with the men's semi-finals and final, will all take place tomorrow.