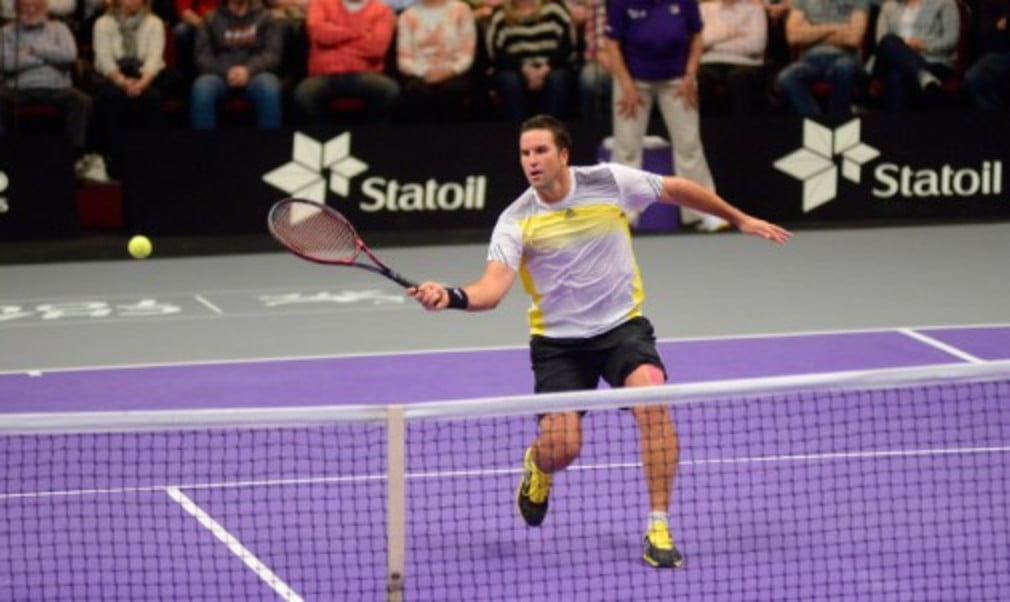 Champion's Moment: Pat Rafter
Originally published on 16/09/16 00:00
Two-time US Open champion, former world No.1 and two-time Wimbledon runner up, Pat Rafter was all but guaranteed a place in the International Tennis Hall of Fame.
When he was inducted in 2006, there must have been a tinge of regret, that the words 'Davis Cup champion' did not appear alongside his list of achievements.
His first missed opportunity came in 1999. Following his back-to-back US Open wins in 1997 and 1998, Rafter went unbeaten in the Davis Cup competition in 1999. Indeed, it was after defeating Jim Courier and Todd Martin in Australia's quarter-final win over USA at Longwood Cricket Club in Massachusetts that he climbed to world No.1, becoming the first Australian at the top of the world rankings since his Davis Cup captain John Newcombe in 1971. Rafter was overtaken by Pete Sampras a week later, making him the shortest-reigning world No.1 in ATP history, but his contribution in Boston was not as short-lived.
"In Hadean July heat, Rafter was magnificently just as hot, knocking off Courier 7-6(5) 6-4 6-4 then rebounding from being down a fifth-set break in the clincher over inspired Martin 4-6 5-7 6-3 6-2 6-4," recalled renowned tennis journalist Bud Collins. "Without those performances, there would have been no Cup for Australia."
Win tickets to Champions Tennis at the Royal Albert Hall
Australia won the competition that year, but Rafter was not in attendance. With Russia awaiting in the semi-finals, Rafter was unavailable after a shoulder injury saw him forced to retire against Cedric Pioline during the first round of his US Open title defence in New York. Australia went on to reach the final, where they defeated France 3-2 in Nice, with Mark Philippoussis clinching the victory.
The defending champions reached the final the following year, but Rafter, who lost to Sampras in the Wimbledon final that year, was once again unable to get his hands on the trophy as the holders lost 3-1 to Spain in Barcelona.
Rafter once again went unbeaten in singles rubbers in 2001 as he defeated the likes of Gustavo Kuerten and Thomas Johansson to help Australia reach the final for a third straight year with victories over Ecuador, Brazil and Sweden. Once again, however, Rafter was a doubt, as he battled chronic shoulder and arm injuries.
In what would be the last professional singles match of his career, Rafter defeated Sebastien Grosjean on the opening day to keep Australia in contention after Nicolas Escude's shock win over world No.1 Lleyton Hewitt
The following day, Rafter and Hewitt were beaten by Pioline and Fabrice Santoro in the doubles. By then, his shoulder was so painful he was unable to play a further part in the tie as he was forced to watch from the sidelines as France celebrated an unlikely victory.
Although he did not announce his retirement until January 2003, Rafter did not play another match. That year, Australia went on to lift the prestigious team trophy for a 29th time with a 3-1 victory over Spain.
"That would have been the icing on his career," team-mate Mark Philippoussis said. "I would have liked to have seen him win the Davis Cup."
Rafter served as Australia's Davis Cup captain for four seasons after being appointed in October 2010. In 2013 he guided Australia back into the World Group before stepping down in January 2015.
Champions Tennis at the Royal Albert Hall is the season ending finale of the ATP Champions Tour. Former Grand Slam Champions, World No.1's and national icons compete in one of London's most famed and iconic venues.
This year from 30th November – 4h December, Champions Tennis celebrates its 20th year, with John McEnroe, Pat Rafter and Tim Henman confirmed to play, and more players to be announced in due course.
Be part of the showpiece event of the festive season, buy your tickets here: www.championstennis.co.uk/tickets/