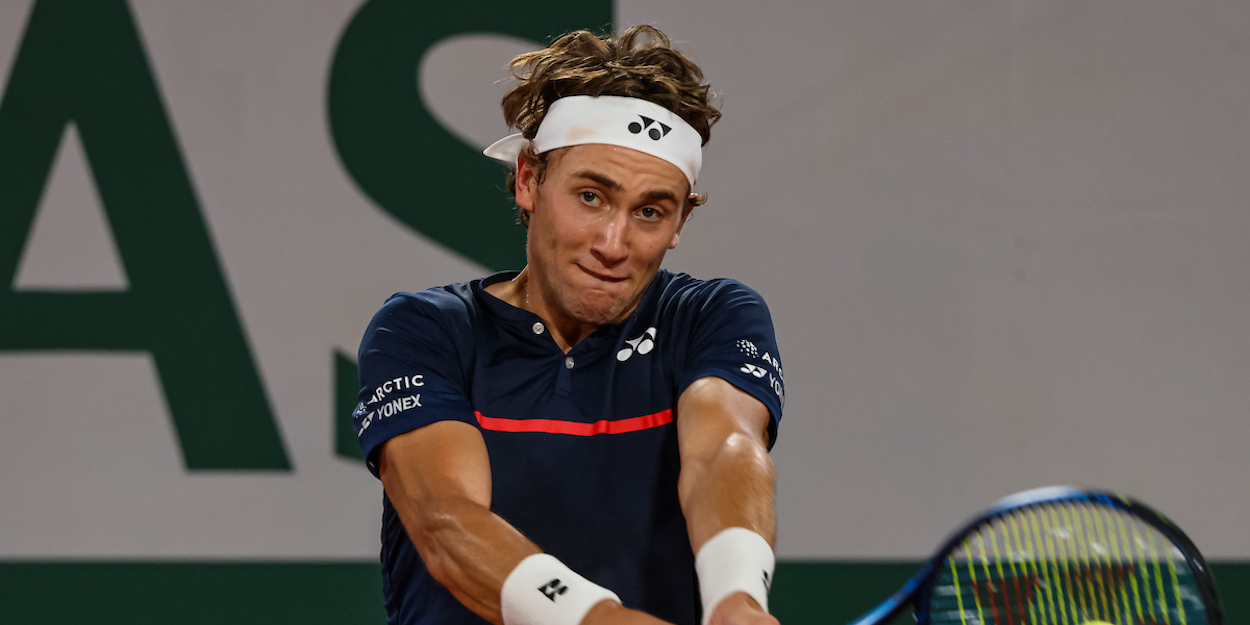 Casper Ruud exclusive: "I was a bit angry. I just told them they were very unprofessional"
Christian and Casper Ruud: Father and son break the mould for Norway
Search for significant achievements by male Norwegian tennis players and you barely need to look beyond the exploits of one family. Christian Ruud became the first man from his country to reach an ATP final in 1995, when he also led his national team to their best Davis Cup performance and set a high mark for any Norwegian by reaching No 39 in the world rankings. Now Ruud's son, Casper, is chipping away at those records. In Buenos Aires earlier this year he became the first Norwegian to win an ATP title and in so doing overtook his father's best world ranking position by climbing to No 34.
Norway can actually boast a Grand Slam singles champion in Molla Bjurstedt Mallory, who won the first four of her record eight titles at the US Nationals representing the country of her birth before becoming an American citizen after moving to New York in 1914. Since then, however, major Norwegian triumphs in tennis have looked as likely as British gold medals in Olympic ski-jumping.
While Christian Ruud was the first Norwegian man to make a significant mark on tennis, his 21-year-old son looks capable of making an even bigger impression. Casper, who reached three ATP finals in 11 months before this year's tennis shutdown, puts much of his success down to his father, who is also his coach. Having a mini tennis court in the garden of the family home in Oslo played a part in Casper's early development and he also gives credit to the school for talented athletes which he attended between the ages of 13 and 15.
"In my class we had soccer players, handball players, tennis players, skiers and people from many other sports," he said. "We had a very good group of kids, training together every day in school. We had two hours of training every day. That was very good for me to get basic fitness. We did many different things every day. We went out for long walks, we did climbing in trees, some fitness sessions. I think that was very good and a fun time for me to be with other athletes. We were pushing each other."
While growing up in Oslo Ruud spent as much time playing on clay as he did on hard courts. "There are probably more clay courts than hard courts here, but for half of the year the weather's not good enough to play outside on them," he said. "We play outdoors from maybe late April until late September. The autumn comes quite quickly and the weather gets very windy and rainy. Even during the summer we're not guaranteed good weather.
---
When away from competition Ruud splits his time between Oslo and the Rafa Nadal Academy in Mallorca
---
"Most clubs here have maybe four or five outdoor courts and three or four indoor courts. I think most of them have a full capacity of members. It would be good to have one or two more, but it's coming. The state is also building some more public courts. But it would also be good to have a nice club with a good restaurant where you can practise and then sit down to have something to eat or drink. We don't have that culture that you find in other countries."
All three of Ruud's ATP finals have been on clay, which he says suits his style of play. "From a young age I played with quite a lot of top spin and I was maybe playing more safe and secure from the baseline, not making too many mistakes," he said. "I always preferred playing on clay, though I also enjoy playing on a hard court. You don't get the bad bounces, the points are a bit shorter and you get more free points with your serve."
Rafael Nadal was Ruud's boyhood idol and the Norwegian has trained at the Spaniard's academy for the last two years. He splits his time between Mallorca, where he usually works with one of the academy coaches, Pedro Clar, if his father is not there, and Oslo, where he trains mostly at the Norwegian federation's tennis centre.
"I mix it up a bit in Oslo," Ruud said. "If I was preparing to play on clay I would try to find the club that has the best clay courts. There are also different options in terms of hard courts. There are a couple of guys who have private courts at their houses. It's nice to go there every once in a while to be just with my father and focus on our work."
While success in tennis has been rare in Norway, the country punches above its weight on the international sporting stage considering its population of just 5.4 million. Norway has produced many top footballers, including Ole Gunnar Solskjaer, John Arne Riise and Tore Andre Flo, while the golfer Viktor Hovland became the country's first winner on the PGA tour just after Ruud won his first ATP title.
Winter sport, however, is where Norway enjoys the most success. "We say in Norway that we are born with skis on our feet," Ruud said. "I think the sport where we are the most dominant is cross-country skiing. We seem to win just about every single race there is to win. Alpine skiing and biathlon are also big for us."
Despite Ruud's emergence, top Norwegian tennis players are thin on the ground. Viktor Durasovic, who began the resumption ranked No 336 in the world, is the only other Norwegian man in the world's top 1,000, though he enjoyed a brief moment in the spotlight in January when Norway beat the United States at the ATP Cup. Ruud beat John Isner and then joined forces with Durasovic to secure victory in the doubles over Austin Krajicek and Rajeev Ram. Meanwhile in the women's world rankings there are three Norwegians in the top 1,000, the best of them 27-year-old Ulrikke Eikeri, who reached a career-best position of No 206 two years ago.
The potential for Ruud's success to ignite further interest in tennis in Norway was shown with the announcement of a Challenger tournament to be played in November in the country's second city, Bergen, which last staged such an event 30 years ago. Ruud is expected to play in it, though the disruption to this year's calendar means it is far from certain to go ahead.
Eurosport broadcasts ATP tournaments in Norway, but media coverage of tennis elsewhere can be sketchy. "I was a bit angry when someone called me after we beat the United States in the ATP Cup and asked me if I was going to play in the Olympics," Ruud recalled. "I said: 'Come on, we've just beaten the United States, which is one of the biggest tennis countries in the world, and you're asking me if I'm going to play the Olympics!' I just thought it was a very stupid question. I can guarantee that if Norway had beaten, say, Germany in football it would have been all over the news. I just told them they were very unprofessional."
The tournament that generated most interest in Ruud was last year's French Open, where he beat Matteo Berrettini to set up a third-round encounter with Roger Federer, who won in straight sets. Ruud's father recalls practising with Federer during his own career.
With most of the year spent away from home, what is it like being the only Norwegian player on the ATP tour? "Sometimes you can get a bit lonely, because my father and I are the only Norwegians around," Ruud said. "Of course there are other people you get along with, but it's not like the Spanish players, for example, who are friends and go out for dinner with each other. I haven't really experienced that, but I'm used to it. To be honest I also enjoy being in my own company. Sometimes it's good just to go back to the hotel and watch a movie."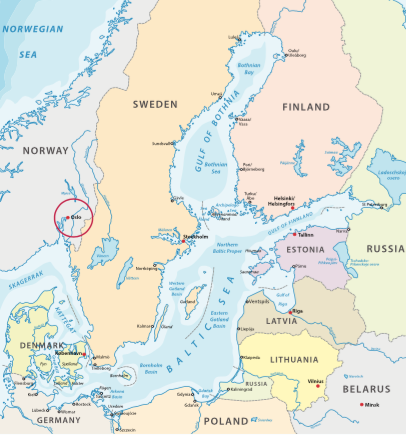 NORWAY
Population: 5.4 million
Land mass: 323,800 sq km (125,020 sq miles)
Capital: Oslo (population 676,000)
Prime Minister: Erna Solberg, who heads a right-wing coalition government
Davis Cup record: Norway first entered the Davis Cup in 1928. Their best year was in 1995, when they reached the World Group play-offs. They are currently ranked No 45 out of 143 countries on the ITF list. Stian Boretti, who represented the country between 2000 and 2014, holds the record for the most ties played (39), most rubbers won (38) and most singles rubbers won (26)
Fed Cup record: Norway, who are ranked No 63 out of 107 nations by the ITF, played in the inaugural Fed Cup in 1963. Their most successful years were when they reached the last 16 in 1972 and 1974. Amy Jonsson-Raaholt, who played between 1985 and 1995, has won the most rubbers (30) and most singles rubbers (19), but Ulrikke Eikeri, who made her debut in 2008, has played in the most ties (29)
---