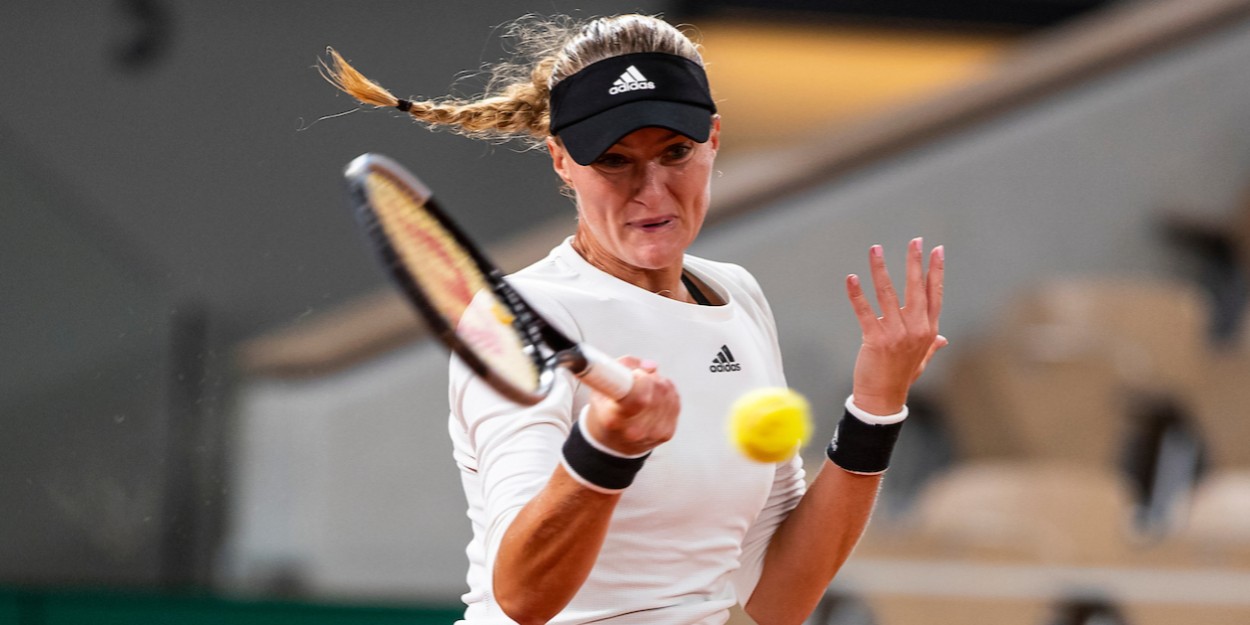 "I can't wait for 2020 to end" – Kristina Mladenovic disappointed after dramatic September
Tennis' return after the five-month suspension has been difficult for many players on tour, but perhaps no player has had a more dramatic return to the sport than Kristina Mladenovic.
Mladenovic, a former top ten player in singles and world number one in doubles, has found herself caught up in controversy on both sides of the Atlantic since the WTA Tour returned in early August. The past month has been the most tumultuous of the 27-year-old's career.
The Frenchwoman's return was undramatic to begin with, losing her opening match in Palermo before heading to the 'bubble' at Flushing Meadows to play at the Western and Southern Open and the US Open. It was shortly before the latter tournament began that things started to unravel for Mladenovic.
Her compatriot Benoit Paire tested positive for covid-19 shortly before the US Open began and, deemed to have been in close contact with Paire, the world number 44 was placed under heavy restrictions. Her access to practice courts was limited and she had no access to other areas of the site. Seeded 30th after an array of withdrawals, Mladenovic beat American wildcard Hailey Baptiste in straight sets in the first round but did not hide her frustration afterwards.
"Let's make it simple, I'm allowed to play my match, I'm literally allowed to do nothing else. I don't know how we are going to keep going, but yeah, I'm not allowed to fitness, to any public like bubble thing, I'm not allowed to do anything anymore," claimed the six-time major champion following her win over Baptiste."Literally seeing no one else, not allowed to any other facilities that have been put in place for the players, like I said, it's mentally very tough."
The situation may have contributed to what happened in her next match against Varvara Gracheva. Up 6-1, 5-1 it seemed that she would pick up a comfortable victory, though the Frenchwoman could not convert four match points and ultimately won just one more game in the entire match. Gracheva prevailed 1-6, 7-6, 6-0 in what proved to be one of the most talked about matches of the entire tournament.
Unsurprisingly, the Frenchwoman was forlorn after the match. "Most painful defeat in my career. I can only blame myself for not taking my chances," she tweeted. Things would only get worse.
Under pressure from local health authorities, the USTA withdrew Mladenovic and doubles partner Timea Babos from the women's doubles draw in New York due to her close contact with Paire. Mladenovic and Babos were the top seeds in the draw and were considered by many as favourites for the title.
Fast forward a few weeks and, after skipping Rome and withdrawing from Strasbourg, she was back on court at her home Grand Slam tournament. Eager to put events in America behind her, Mladenovic stepped onto Court Philippe Chatrier for her French Open first round match against Laura Siegemund yesterday.
It was plain sailing for early on. She broke twice on her way to a 5-1 lead and on a first set point should have won the set, though a double bounce was missed by umpire Eva Asdareki as Siegemund won the point and eventually began to work her way back into the match.
Six more set points came the Frenchwoman's way but she could not convert any of them, and a run of six straight games against her saw the opening set go the way of Siegemund. The German eventually prevailed 7-5, 6-3, and Mladenovic was unabashed in her comments about Asdareki after the match: "I don't see how the umpire could not see it. Unfortunately, she continues at Roland Garros but I do not." The Frenchwoman called for further
"My month of September….can't wait for 2020 to end!" she tweeted a few hours after her loss to Siegemund. Mladenovic and doubles partner Babos are defending champions and second seeds in the women's doubles draw and are once again considered strong contenders for the title, though there is little doubt that Mladenovic will be looking forward to hopefully a much less dramatic season in 2021.