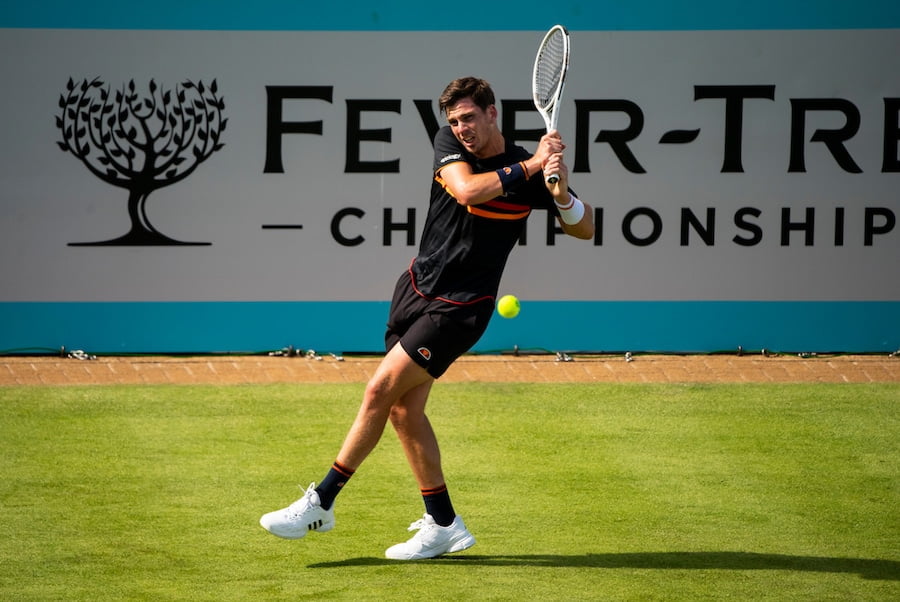 British star Cameron Norrie vents frustration at Wimbledon policy, issues swift apology
British No.2 Cameron Norrie has risked the wrath of powerful figures at Wimbledon after venting his frustration at the way they issue wildcards for the tournament
Norrie, who's currently ranked No.49 in the world, will compete in the main draw of the Wimbledon singles starting on Monday 1st July, but some players are given entry into the main event via a Wildcard system that allows a tournament to offer players a place even if their ranking isn't high enough. Wimbledon wildcards are incredibly valuable partly because it gives lower ranked players the chance to shine on the biggest stage but also because of the prize money on offer even if you lose your first round.
So it was surprising to some fans that Cameron Norrie felt he needed to announce his frustration that wildcards are announced just 1 week in advance of the tournament rather than his suggested 6 weeks in advance, to give the players more time to prepare.
Norrie said on Twitter, "Zero time for players awarded to plan & prepare. This needs to be done more professionally – 6 weeks in advanced."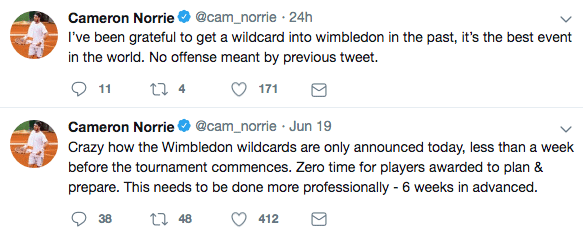 Norrie was then very quick to issue a heartfelt apology saying, "I've been grateful to get a wildcard into Wimbledon in the past, it's the best event in the world. No offense meant by previous tweet."
Immediately following Norrie's initial message Jamie Murray replied to his tweet jokingly suggesting that he wouldn't have done his chances any good of becoming of member of the All England Lawn Tennis Club (AELTC). The AELTC is the members club that hosts the Wimbledon Championships and has a notoriously exclusive membership with former players needing to be invited to join the club.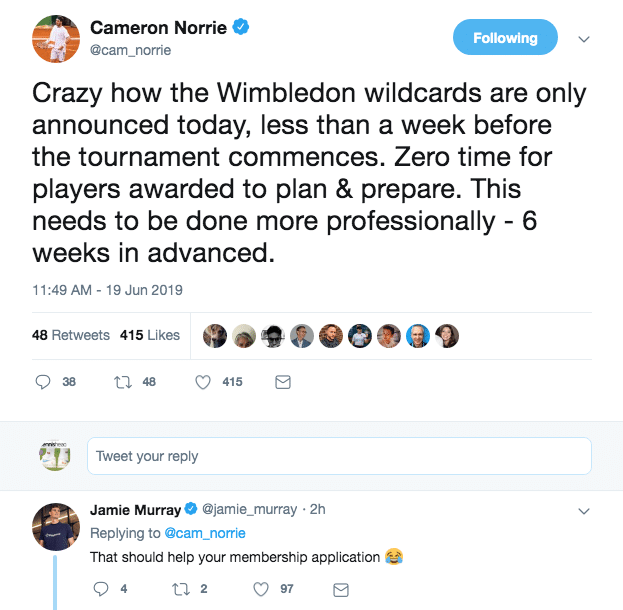 However, former coach to Andy Murray, Mark Petchey, and many other followers were quick to back up Norrie. Petchey said, "Well I think Cam has a point that some of the more obvious ones could be announced earlier. Just makes sense so they can prepare. Hopefully living in a democracy which promotes free speech means it's not ever held against you for voicing a perfectly reasonable opinion".
Norrie lost his first round at this weeks Queens Club Fever Tree Championships to No.2 seed Kevin Anderson in a close 3 set match. Norrie's next tennis will be at the Nature Valley ATP 250 tournament in Eastbourne starting next week.
The 164 page tennishead Wimbledon magazine is now available to order online here with reduced postage costs
The official announcement for the first set of Wimbledon wildcards is: