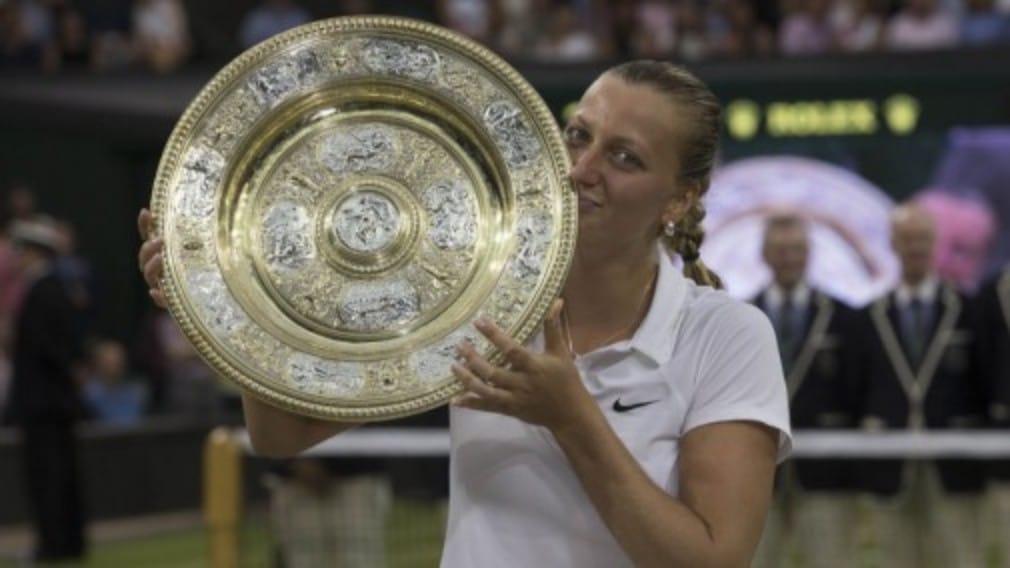 Brilliant Kvitova crowned Wimbledon champion again
Originally published on 05/07/14
The 2011 champion was in scintillating form from start to finish, hitting 28 winners on her way to a 6-3 6-0 victory in just 55 minutes. It is her second major title and will see her move up to No.4 in the world.
"It was definitely one of the best matches I have played," said the Czech. "I knew that I could play well on the grass, but I really played so well today. I knew exactly what I had to do to beat her. I just did really everything that I could in the moment. I was very focused for every point. I knew that I had to go forward for every shot to push her and I did it."
The 55-minute match was the quickest Wimbledon final since 1983 and finished just before the Centre Court roof was closed for rain. Kvitova, who was watched by fellow Czech and nine-time Wimbledon champion Martina Navratilova, had not been in a major final since 2011, but there is still doubt she feels at home on the lawns of SW19.
"Tennis here is tennis history," she said. "Centre Court is always great to play on. I feel really at home. I love to play finals and to play at the big stadiums. This is something really special. It's not just a tournament for me, it's something more."
Bouchard will take some consolation from the fact that she is set to rise up the rankings into the top 10 for the first time on Monday. And although she will be disappointed with the outcome of her first major final, she will surely take solace from the fact that few players could have lived with Kvitova in this sort of form.
"I felt like I started well and was in there," she said. "But I didn't feel like I was able to play my game. She really took the chances away from me and was really putting a lot of pressure on me. I didn't have that many opportunities.
"Sometimes your opponent just plays better than you, and that's what happened today. She played unbelievable and didn't give me many opportunities to stay in the rally or do what I do.
"It was a big moment walking out onto Centre Court for a final. I have that experience now. I know what it feels like. I hope I can walk out to many more finals. That's the goal. I'm going to go back, work on my game, try to get better, because you always need to get better."
It took just three games for the Czech to make the first break of the match as her powerful hitting caused the Canadian all kinds of problems. The 20-year-old managed to stave off three more break points in the fifth game but another forehand winner saw Kvitova move 5-2 ahead. Although she failed to serve out the set, it was only a minor blip as she broke in the next game to clinch the opener in 32 minutes.
The second set was even more one-sided as Kvitova dropped just three points on serve and took three of the four break point chances she created. Fittingly she sealed victory with a backhand winner and then sunk to the grass in celebration.