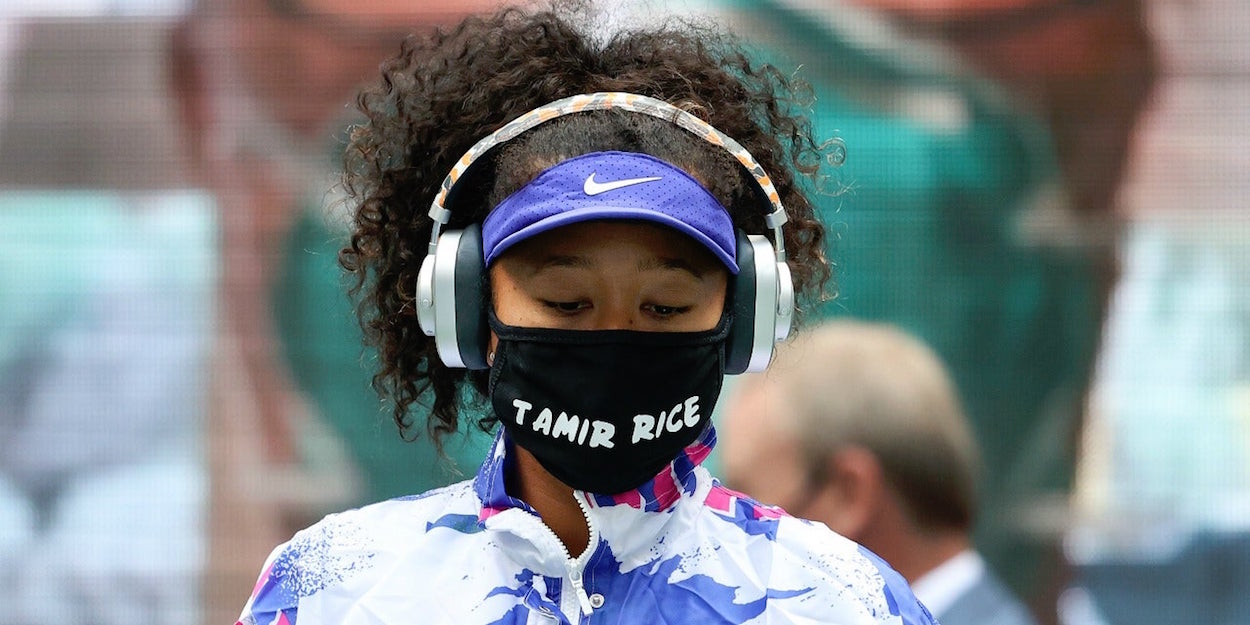 Behind the mask: Naomi Osaka finds her voice
Naomi Osaka decided this summer that it was time to use her platform to express opinions on issues that matter to her. Paul Newman says the new US Open champion has emerged as a major voice in the campaign for racial justice
It is March 2018 at the Indian Wells Tennis Garden and Naomi Osaka has just claimed the first title of her career. The 20-year-old Japanese's painful shyness is evident as she delivers what she describes as "probably the worst acceptance speech of all time". Laughing nervously throughout, she almost forgets to congratulate her opponent in the final, Daria Kasatkina, and remembers to thank all her sponsors only in the nick of time. "I think that's it," she says after two minutes of what has clearly been a nerve-wracking experience in front of the microphone.
Fast forward to Osaka's recent triumph at the US Open and you could have been forgiven for thinking that a different person had been out there in the biggest arena in world tennis. Osaka's natural shyness might never go away, but she has learned to live with it, to the point where she is happy to thrust herself under the spotlight in order to promote causes in which she believes.
At the Western & Southern Open in the week before the US Open, Osaka's announcement that she was withdrawing from her semi-final in protest at the shooting of a black man, Jacob Blake, by police in Wisconsin led to the tournament calling off all matches for a day. "As a black woman I feel as though there are much more important matters at hand that need immediate attention, rather than watching me play tennis," Osaka wrote on social media. "I don't expect anything drastic to happen with me not playing, but if I can get a conversation started in a majority white sport I consider that a step in the right direction. Watching the continued genocide of Black people at the hand of the police is honestly making me sick to my stomach."
---
"As a black woman I feel as though there are much more important matters at hand that need immediate attention, rather than watching me play tennis"
---
At the ensuing US Open Naomi Osaka walked on to court before each of her seven matches wearing masks bearing the names of black American victims of violence. By publicising the names of Breonna Taylor, Elijah McClain, Ahmaud Arbery, Trayvon Martin, George Floyd, Philando Castile and Tamir Rice, Osaka helped to ensure that the issue of racial injustice remained high on the agenda. When she was asked at the post-final presentation ceremony what message she had wanted to send out, Osaka said: "Well, what was the message that you got? I feel like the point is to make people start talking."
Those were snap shots from a year in which Naomi Osaka has used her position as one of the world's most prominent athletes to support the Black Lives Matter movement. In June, for example, she joined an online demonstration protesting at the death of George Floyd, who had been unable to breathe as a police officer knelt on his neck. At the time she posted messages criticising those who "tweet about the lootings before you tweet about the death of an unarmed black man" and pointed to others who had joined the protests but had never previously commented on the incidents which had prompted them.
It was in June that Osaka decided it was time to come out of her shell. "I'm done being shy," she wrote on Twitter. "It's really a waste of my time. I could've shared so many ideas by now, I could've had convos with so many different people. All the things I could've learned but no I'm over here actually putting my own limiter on myself."
After claiming the third Grand Slam title of her career with her victory over Victoria Azarenka in the New York final, Osaka said that this year's lockdown had given her "a chance to think a lot about things, what I want to accomplish, what I want people to remember me by. I came into this tournament, or these two tournaments, with that mindset. I think it definitely helped me out."
---
"All the things I could've learned but no I'm over here actually putting my own limiter on myself"
---
The face masks were a powerful demonstration of her determination to use her fame to put over a message. "I feel like I'm a vessel in order to spread awareness," Osaka said. "I do think it's a very big motivating factor for me just to try to get the names out to as many people as I can."
Wim Fissette, who has had a very good influence on Osaka's game since becoming her coach at the end of last year, believes that the chance to make public statements with each match that she played in New York gave her "extra motivation" and "even more energy". He added: "It's very important to have big personalities like Naomi to make a change hopefully one day. I think it's a great thing that she does. For sure with wearing the masks, she wants to be a role model, but also she knows that it has to go together with being a role model on the court. It's a good combination: role model off court and also great attitude on court. That goes together."
An indication of the impact Osaka's actions had worldwide came in Formula One in September at the Tuscan Grand Prix in Italy, where Lewis Hamilton, the world champion, wore a t-shirt bearing the words: "Arrest the cops who killed Breonna Taylor". Hamilton said that Osaka's actions had been "an incredible inspiration" for him.
Earlier this year Osaka replaced her childhood idol, Serena Williams, at the top of Forbes' list of the world's highest-earning female athletes. Ever since she won her first Grand Slam title two years ago she has been in big demand from sponsors, especially major Japanese brands.
The fact that some of those sponsors might not approve of her political activism has not held her back. In the wake of this year's US Open the Associated Press contacted a number of her sponsors; one said that Osaka's campaigning was "her personal matter" while another said that it did not want to comment. The International Olympic Committee, meanwhile, does not allow athletes to make political statements at the Games, so it remains to be seen what Osaka might do if she is successful in Tokyo next summer.
---
"I think it's amazing what Naomi is doing. And just think, she's only 22 years old. She's just getting started" Billie Jean King
---
Osaka, who was denied the chance of going for another Grand Slam title when she pulled out of the French Open with a hamstring injury, has a Japanese mother and a Haitian father. She has become an increasingly influential figure in Japan, where there is no great history of political activism by athletes and where the idea of a black person representing the country is unusual. Baye McNeil, an African-American author and activist who is based in Japan, told the Reuters news agency that Osaka was following in the footsteps of Jesse Owens, the black American athlete whose four gold medals at the Berlin Olympics in 1936 countered Adolf Hitler's belief that the Aryan race were supreme. "What she is doing is very in line with Jesse Owens," he said. "Not necessarily for her impact on America, but on Japan."
Within tennis, comparisons are being made between Osaka and Billie Jean King, who has fought throughout her life for equality for women and is a huge admirer of the two-times US Open champion. "It's so great when you see the young people out there pushing," King said. "I think it's amazing what Naomi is doing. And just think, she's only 22 years old. She's just getting started."
---