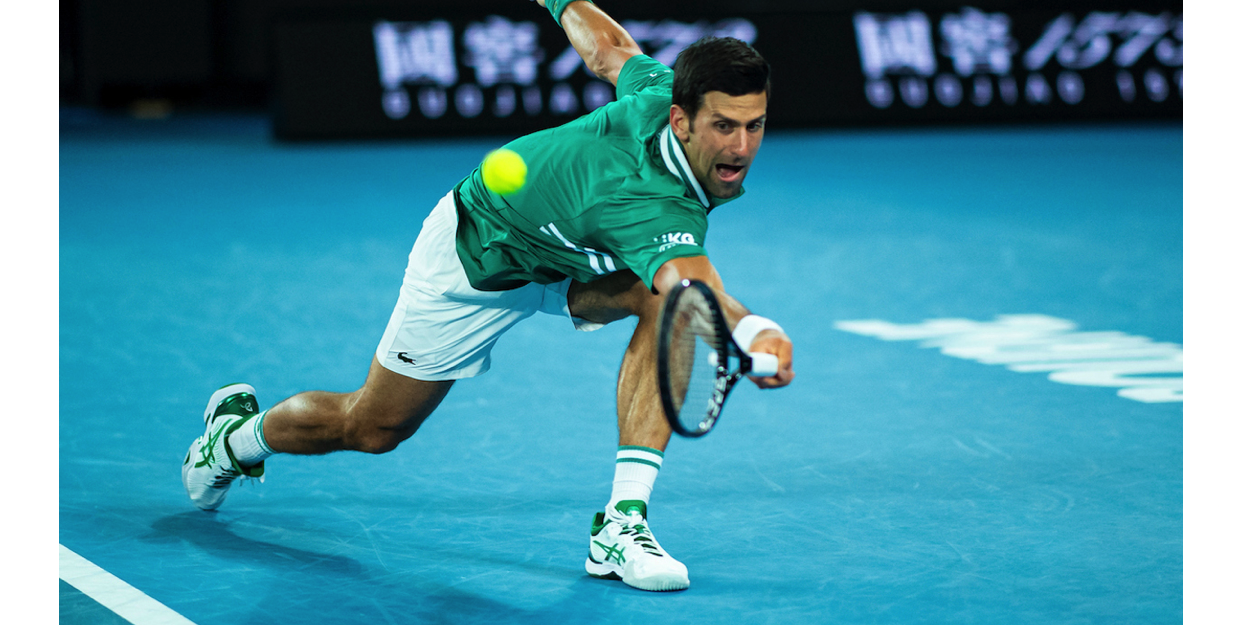 "Be ready to suffer" says young ATP newcomer as he joins the former coach to Tim Henman & Donna Vekic in this revealing interview
Tennishead was lucky enough to be joined by two former pro's and a current ATP player in this fascinating look into a wide variety of tennis related topics covering both the professional and amateur games.
David Felgate, runs the JTC Academy in London with 8 coaches in his team. David was a professional tennis player until the age of 26 then he took up coaching and worked withTim Henman for 8.5 years from when Tim was 17 years old. David also coached Donna Vekic from the age of 12 for 8 years. David also worked as the Performance Director for the British Lawn Tennis Association.
Jack Pinnington-Jones is ranked 2,201 which for a 17 year old who is just taking his first baby steps into the professional game is impressive. Jack is British and is part of the JTC coaching Academy and is sponsored by ASICS.
Marina Caiazzo, fa ormer professional tennis player who then became a national coach for the French Tennis Federation and has now worked at ASICS for 10 years where she is the head of sponsorship for core performance sports.
Watch the full unedited interview:
Tennishead: Most Tennishead readers are keen amateur tennis players. Do you have anything that you've learned from your travels coaching Tim Henman and Donna Vekic that you'd like to pass on to the Tennishead readers?
David Felgate (DF): It might be stating the obvious but even at the very top of the professional game all the way down to an amateur level, the game of tennis doesn't change . It's a beautiful and a simple game and in its simplest form the ball just has to go over the net and land within the lines. It sounds simplistic but if you take that analysis to the pro's, they just manage to do it for a little longer, hit closer to the lines and hit the ball a little harder. Too often I see amateurs trying to bash the ball and worrying about too many other things. The principles that I adhere to when working with younger players is to do the basics. Put the ball in the court, over the net and work up from there. The beauty is that you are playing against an opponent so every match is different but that one principle has never changed and never will in my opinion.
Tennishead: There is a lot of analysis about the first 4 shots of a point being so crucial. Do you agree with this and use that analysis yourself about how most points are won early in the rally?
DF: We've just finished the Australian Open where some of those rallies were going on for a long time so as a tennis player you need to have the stamina to play for 3 sets or 5 sets, but what I like to do as a coach is use my eyes because each player is an individual. I like to use analysis to back up what I actually see from the player as opposed to taking the analysis and trying to mould the player around that. Sometimes you can make statistics tell the story you'd like as opposed to having all the stats and finding a match comes down to 1 or 2 points where you might server 2 doubles faults in tie breaks so all the stats that came before that can be irrelevant.
Tennishead: Now we want to ask you about the most common mistakes you see, whether its amateurs or pro players. You've already mentioned about amateurs trying to do to much with the ball so is that the most common of all mistakes?
DF: Yes that is the most common error, with the rally breaking down early. There is a lot of discussion about 'what is technique?' and to me technique is something that can be repeated over and over again. When I started out as a player there was an older chap down at my club called Knapman and everyone said to the youngsters to go and play him and he would put the ball back in court time and time again and he would beat us until we realised we had to match him shot for shot and then use our skills. That's what I'd say for the amateur is that they break down to soon.
We all watch those wonderful shots on TV and we see the big winner right at the end with Federer playing it between his legs but its about what gets you to that point, so breaking down during the rally is the biggest problem I see.
Tennishead: Tennis changes regularly so if you saw an amateur who was serve and volleying every point would you get them to change their game because the courts are slower nowadays?
DF: I certainly wouldn't take serve and volley away from them because that's a great skill. Tennis is cyclical. There was period in the late 90's when you wouldn't see a slice backhand whereas now it's a very popular shot.
I would say to an amateur to look at their win rate and are they winning, but if its working I certainly wouldn't change it but i'd try to make them understand the surface they are playing on and the situation they are in.
Tennishead: Marina, ASICS are involved in the grass roots of tennis. Is there a specific reason that you want to get involved in a sport right at the start of a player's tennis journey?
Marina Caiazzo (MC): There are many reasons. The shoes are a very important tool like the racket and if a young player likes the shoes then there is more chance they will continue to play in them if they feel comfortable. It's also very expensive for a young player to travel around so we try to provide as much support as possible – sometimes this is financial support or sometimes with the product (shoes or apparel) – we also want the player to feel comfortable.
If you look at Nadal who's been playing with Babolat from a very young age and ASICS also have a nice group of young players who have been playing well which gives a nice story for us to tell to our customers.
But the most important for us is to support a strong programme for children and then try to influence their preferences. Sometimes you get the cherry on the cake with a player making it to the top who we have sponsored, but it's a gamble.
DF: The two most important products for a tennis player are the racket and the shoes. When you are on the British Olympic team they will have an overall sponsor but you are still allowed to use your own racket and your own shoes. If you start out comfortably with a good shoe from a young age it will become part of you . The beauty of ASICS is that the shoe you see Djokovic wearing you can go and buy in the shop which is a great bonus for an amateur to be able to have.
Tennishead: Many Tennishead readers who have worn ASICS shoes will say that they find the shoes are very comfortable from the first moment you put them on, whereas other shoes need to be worn in. Is that something you've really worked on at ASICS to get right?
MC: At ASICS we spend a lot of time getting feedback from our players both on the court and off the court . Our Japanese owners are very keen on improving the shoe through all the small details. We get great feedback form all levels of players including Novak Djokovic who played for many years in Adidas shoes but when he came to ASICS he wanted a similar shoe but a little bit lighter with more stability. 3 months later our team was able to come up with the Court FF Novak.
We were then joined by Jack Pinnington Jones who is a young British professional tennis player working at the JTC Academy and sponsored by ASICS and was taking part in a training camp in the Dominican Republic when we spoke to him…
Tennishead: Jack, has your planned tennis tournament schedule for 2021 had to change a lot because of COVID?
Jack Pinnington-Jones (JPJ): For me luckily its been reasonably similar but the key is not to commit too early to an event because it could change very quickly, so you have to be flexible.
Tennishead: Tennishead has a lot of keen junior players who get in touch with us to ask what its like to move from junior to senior tennis. Having done it yourself at a high level what would you say are the key differences form playing senior tennis compared to junior tennis?
JPJ: The big difference for me is it's a lot more physical (in the senior game). You might be one of the best physically as a junior then you go into the men's game and you are a bit behind. Also it's the experience factor where your opponents has had so many more matches, they've been in those high pressure situations more than you. You also have to try and hold your level consistently for a bit longer which is a big ask but the more you do it the more it becomes normal. It's tough but its not frightening!
Tennishead: So your saying that in the senior game you have to learn to maintain your level from the start right through to the end of a match?
JPJ: Exactly, I did 4 weeks playing a series of tournaments and in the last week I played a match where I won the first set 7-6 and it was the best set of tennis I'd played on the trip and then the next set I went down 3-0 and a double break and I didn't think I'd played that badly but maybe I'd dropped my level by 5 or 10% because I was happy that I'd played a good first set. Then all of a sudden I have to apply all my physical efforts to get back into the second set, which he won 7-6, and then in the third set my body said you've put too much into this already and so in the third set I was toast!
It's about doing it more often so it's not a shock to the system because in the junior game you can get away with losing a break of serve here and there but not in the senior game where your service game is so much more valuable. And if you do get 1 or 2 break points on your opponents serve then you've really got to zone in on them
Tennishead: So is that a combination of mental and physical aspects that you have to try and maintain in the senior game?
JPJ: You have to be mentally ready to suffer a lot and really push yourself and so if you make the changes your body will realize that it can do it but it just wasn't used to it
Tennishead: Tennishead has a lot of club players and county level players who are trying to improve their level. When you made the jump are there specific changes you can highlight that helped you make this progression?
JPJ: I've always just loved playing tennis and the more you play the better you get, and I found that it became apparent that if you are a little more switched on in those first 10 minutes of a practice session its going to make a big difference.
Tennishead: David we wanted to ask you why getting the right shoe is so important for a tennis player?
DF: The shoe is what propels you around the court. Tennis is a game of movement and whilst the shots may have changed dramatically over the years was hasn't changed is that if you can't move then you can't win. Jack talked about his long match that he played last week and he's in those shoes for a long time. The stability of the shoe, the comfort and the mould around your foot is important as it needs to feel like an extension of your body, like the racket feels like an extension of your arm.
You see the technological research that goes on in Japan (at the ASICS research institute) and how the shoes get better every year.
But what most astounds me is the technology around the 3 different types of shoes that are made to fit the type of player you are. Whether you are a base-liner or an all court player or a combination of both, the technology is astounding.
We you have young players like Jack and in an ideal world the 2 things you don't want them changing are their racket and their shoes as its what made them a success and you want them to carry on that journey.
Tennishead: Currently there is a lot of discussion about the way professional tennis players are remunerated and the prize money split. Is it too much for the top players and not enough for those lower down the ranks? Jack, do you think the money needs to be spread out more evenly or do you think that when you get to the top you deserve the money you earn?
JPJ: It's hard for me at my age to say but when you look at the top guys they've earned every penny for the sacrifices they've made, but that doesn't mean the other guys who are still working just as hard and trying their best don't deserve compensation as well because its their livelihood. So I'd say the money could be spread out from the top slightly more but you can't take away or punish those top guys.
Tennishead: David you've seen both sides of the coin with players like Tim Henman and Donna Vekic who have been very well rewarded but then you've worked with other professionals who aren't making as much money . Currently do you think we've got it right or could more be done for players ranked 150 – 500 in the world rankings?
DF: If you've got a few hours we could really delve deep into it ! Tennis is very difficult because of the separate entities. You have the 4 Grand Slams then the ATP and WTA. I served time sitting on the ATP board and its not easy.
At the top the players earn every penny and when you compare it to other sports its comparable as its above some sports and below others. It's fair to say that financially we look after 100 players on the men's and women's tours but I'd like to see the number of players that earn a living going down to 200 or 250 players on the ATP and WTA tours.
There's a lot more money in the qualifying rounds for the Grand Slams now but it costs a lot of money for these players to compete, so instead of taking it from the top it would be nice to find a way for more money to come into the lower levels.
Especially with the COVID climate it's difficult to put more money in. These are businesses we are talking about and the entrepreneurs that own them can't just find an extra $10,000 per player so its easy to say but harder to do.
Players know what they are getting into when they join this sport but that's why us as an organization and the players are so grateful for what we get from ASICS to wear their clothing and their shoes.
Yes I'd like to see more money but I don't necessarily agree that you just take it from the top. They bring a lot of money to the top of the game and they've earned the right and that's why people turn on their TV's to watch and why tickets sell out to see those top players, so I just hope there's a will in the game to keep looking into it.
Tennishead: Marina this leads on to ask about how ASICS are investing in the next generation of players and how you are helping these younger players as they move through the rankings?
MC: We wish we could help everyone but we can't so we have to make some choices and to make the best choices we have set some sponsorship criteria based on how serious is the project. It's not only about someone who wants to become a tennis player it's also about doing what it takes and being 100% focused on your game and when we see that we want to support them.
At a young age we try to help out with product (shoes) first of all and then when they climb the rankings and get more exposure then sometimes we will support financially with bonuses or compensation as well. Then the important aspect for us is to keep the player because the competition is strong for sponsors to be involved with the best players.
In the UK our strategy is to have only a few sponsored players and the same around the world and we've had great results with some Grand Slam junior champions but it would be nice to see a young ASICS players enter the Top 10!
ASICS.com are a global leader in tennis shoe and apparel manufacture. Find out more about David Felgate's JTC Academy