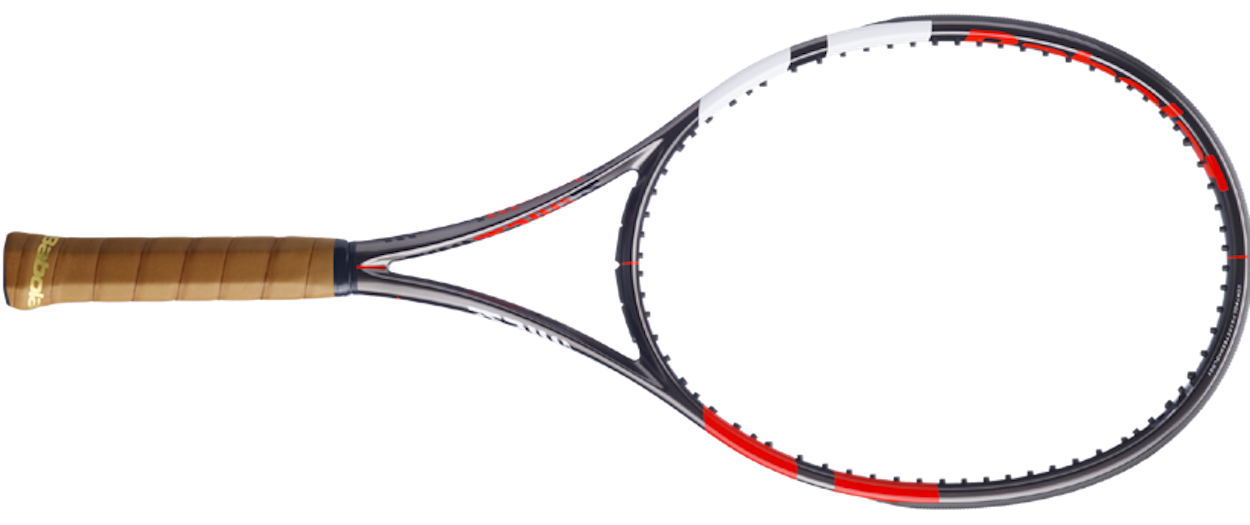 Babolat Pure Strike VS tennis racket review
Babolat have been upgrading all their racket ranges with a new VS model and finally it's the Pure Strike's turn. We were intrigued to discover how this new, top of the range, Babolat Pure Strike VS would perform in our play test and review. Find out for yourself…
Background
It's been over 130 years since Babolat started producing tennis equipment and their brand has become synonymous with some of the greatest names in the sport including Rafael Nadal.
In 1925 Albert Babolat launched the 'VS' string and that hallmark is now their signature for high quality. VS rackets are the most expensive and generally targeted at advanced players.
Jump forward to 2014 and the Pure Strike range hits the shelves with Dominic Thiem being the rackets most high profile ambassador.
---
"The power comes with masses of spin which you don't always get from other powerful frames"
---
Technology
The main technology in the Pure Strike VS is Babolat's patented 'Control Frame Technology' that they say has been 'developed to ensure maximum control combining the stability of a square beam frame with the dynamism of an elliptic beam structure'
This new VS also includes a nice touch with a longer, thicker bumper guard that Babolat hope will protect the frame and strings during frequent use. This sounds like a good idea as experienced players will understand the annoyance when a worn down bumper strip causes strings to break.
Watch as our experienced testers try out the Babolat Pure Strike VS
---
Buy this racket…
To help you feel confident when purchasing this racket we've teamed up with a trusted retail partner, AllThingsTennis.co.uk, to make sure you get the best price combined with free premium tennis balls, next day delivery (UK only) and fantastic advice from tennis equipment experts.
To take advantage of all these benefits simply follow this link to purchase the Babolat Pure Strike VS with an exclusive 5% Tennishead discount.
---
The play test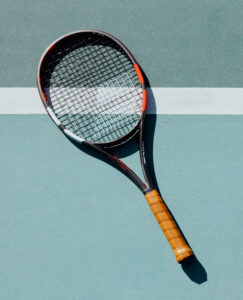 Testing rackets can be down to personal opinion so it's important to remember that not every racket is right for every player and one person's discomfort can equally be another's joy. This is why we try to test rackets with a variety of players and for the Babolat Pure Strike VS we have three accomplished testers with very differing game styles.
Our Tennishead play testers for this review are:
Finley – A baseline grinder who wears down his competitors. Finley has been playing tennis for 20 years and currently uses the Wilson Blade.
Ella – Labels herself an aggressive baseliner with 18 years of playing experience. She currently uses the Babolat AeroPro Team racket.
Joe – An all court player who has been playing for 15 years and plays with the Babolat Pure Aero.
Groundstrokes
Ella: "I really like it. It gave me really good power and control on my forehand which is where I like to attack the ball but it was also good on my backhand. When I was pushed out wide it gave me good control and flexibility whereas I sometimes find other Babolat rackets can be a little stiff. This frame allowed me to get the control I required to help me recover on the baseline."
Joe: "After getting used to it this racket played nicely. There wasn't a huge amount of power behind it and I felt I had to add my own power to get a good shot. When pushed out wide it was pretty solid but I would have liked a bigger head size (97 sq in) for a bigger sweet spot so that I could just focus on my footwork rather than hitting the middle of the racket."
Finley: "It generates great power with very little effort. And the power comes with great spin which you don't always get with other powerful rackets where you can't control that power. As soon as I was moved out wide I felt it had a nice even swing and I was able to recover well."
Volleys and smashes
Joe: "I felt I had to punch my volleys more rather than just blocking them.
"Smashes were good. I'm aggressive on my smashes and the power was there with this racket plus I found a good connection."
Finley: "I was expecting this to be more of a baseline racket but I was pleasantly surprised by the amount of touch this racket gave me which allowed my to hit some nice drop volleys and some punchier volleys.
"Smashing was a dream! I could generate a lot of power and precision."
Ella: "Wow the volleys were powerful! But I still had the same good control which allowed my to direct my volleys better. I enjoyed it.
"On smashes it took time to get used to the difference between this and my usual Babolat Aero Pro Team, but once I found that range this was even better than my current racket giving me more power and better direction."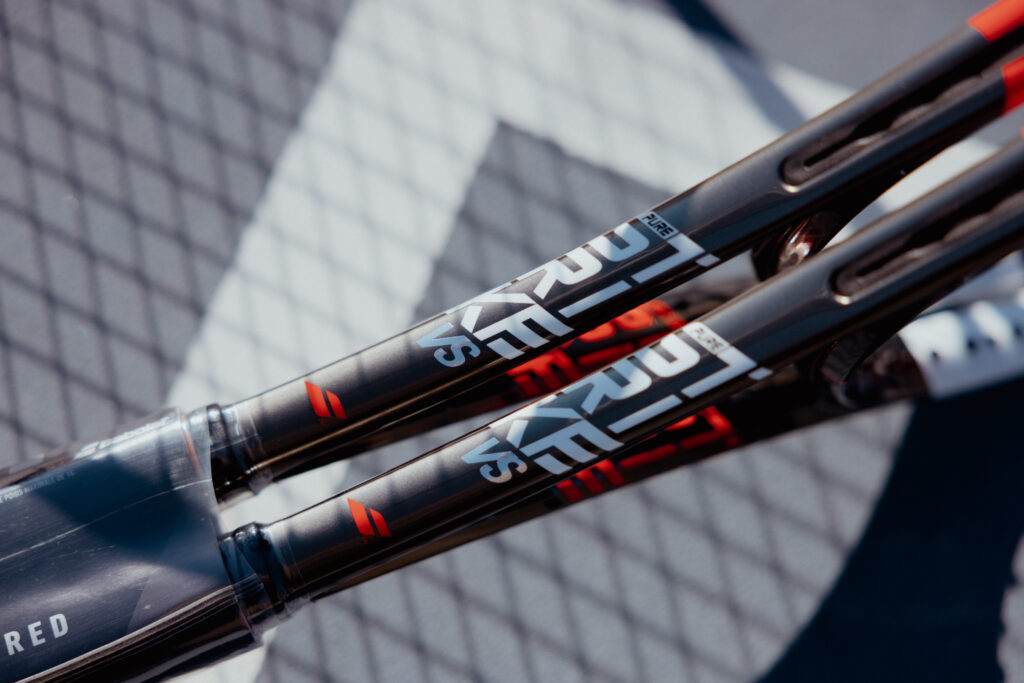 Serves
Finley: "With a racket like this it's so nice as you can generate a lot of power on serve. There's very little effort on my shoulder. Throughout my career I've always found my arm aches when I try to hit big on serve but this frame left my arm feeling good."
Ella: "I enjoyed the serving. This frame allowed me to go out wide with my lefty serve but also hit down the middle. It gave me effective power and control."
Joe: "I have a flat first serve and this racket gave me plenty of feel and power as long as I caught the centre of the racket. I didn't generate as much spin on my serves as I normally would but it was ok."
Would this Babolat suit similar styles of player as yourself?
Ella, who likes to be aggressive from the back of the court: "Definitely! And I think this racket would be good on all different surfaces not just the hard courts we played on today."
Joe, who is an all court player: "This racket has a narrower beam than the Pure Aero I normally use, which is more forgiving for my all court game, so for that reason it didn't quite suit my game as maybe someone who plays with more control."
Finley, who grinds out points from the baseline: "Yes I definitely think so. This is one of those rackets that allows you to grind but also to end the point early with power."
What are your thoughts on the design and style of this racket?
Joe: "I like the black and red which is cool and has a 'take no prisoners' attitude so I'd definitely rock this on court."
Finley: "It's a really smart colour scheme overall and the shinier finish is something I haven't seen before on this racket which is really eye-catching."
Ella: "I think the colours are nice and I really like the red in the design which is striking and different to other Babolat rackets."
Is $330/£249 a fair price for this Babolat?
Finley: "It's a pretty reasonable price because this racket does it all. It covers a lot of different shots and is very good for generating power at the baseline but also for net players so I can't see why you wouldn't want to pay that."
Ella: "Yes it is more expensive but it is good quality which you can't go wrong with."
Joe: "I think that price is a little bit steep for how specific the racket is as it doesn't offer as all round play as some of Babolat's other rackets."
The specifications
For a detailed explanation of each racket measurement criteria below have a read of our guide.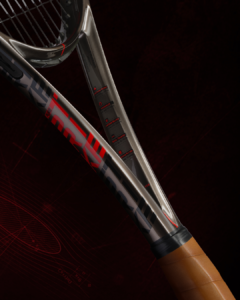 Babolat Pure Strike VS

R.R.P. = $330/£249
Tennishead discount price (UK only)
Head size = 97 sq in
Weight = 310g
String pattern = 16/20
Length = 27 inches
In conclusion then… 
We can't reiterate enough that not every racket is suited to every style of player and this was very well highlighted during our Babolat Pure Strike VS play test. Two of our testers are accomplished team players who absolutely loved this frame whereas our club level player didn't fall in love with it.
This racket requires a high level of skill and masses of experience to get the best from it. If you've got those then it's obviously a brilliant frame but if you can't be sure of hitting the smallish sweet spot every time then maybe this narrow beam and tight stringing pattern isn't right for you.
What's clear though is that Babolat have created a superior quality racket which advanced tennis competitors should certainly give a try.
Buy this racket 
Head over to our trusted retail partner All Things Tennis if you want to get your hands on the new Babolat Pure Strike VS for the best possible online price which includes our exclusive Tennishead discount
🎾 Free >> Join our legendary newsletter
🎾 Join >> Receive $700/£600 of tennis gear from the Tennishead CLUB
🎾 Social >> Facebook, Twitter, Instagram & YouTube
🎾 Read >> World's best tennis magazine
🎾 Watch >> How to enjoy ATP/WTA/Slam tennis on TV
🎾 Shop >> Lowest price tennis gear from our trusted partner