ATP Finals – semi-finals preview: Djokovic v Thiem – Nadal v Medvedev
The semi-finals have been set for the 2020 ATP Finals and, fittingly, they will be contested by the top four players in the world according to the official rankings. On Saturday, the world No 1, Novak Djokovic will face world No 3 Dominic Thiem, whilst No 2 Rafael Nadal will take on No 4, Daniil Medvedev.
Djokovic, Nadal, and Thiem have split the spoils at this year's Grand Slam tournaments, but Medvedev came to the O2 with the most recent display of good form, lifting the title in Bercy just seven days before the ATP Finals began. Only two of them can progress to Sunday's final and here we take a look at each of their chances.
***
Novak Djokovic v Dominic Thiem
Djokovic's round-robin results:
Won v Diego Schwartzman, 6-3 6-2
Lost v Daniil Medvedev, 3-6 3-6
Won v Alexander Zverev, 6-3 7-6(4)
Thiem's round-robin results:
Won v Stefanos Tsitsipas, 7-6(5) 4-6 6-3
Won v Rafael Nadal, 7-6(7) 7-6(4)
Lost v Andrey Rublev, 2-6 5-7
This put the world No 1 into a very similar position as 2019, with an all-or-nothing, de facto quarter-final, for his third group-stage match. Last year, Roger Federer triumphed and sent Djokovic home, but this time around the five-time ATP Finals champion fought through, beating the 2017 champion, Zverev, in straight sets. It was not a vintage performance from Djokovic, and it may have been closer had the German not started so poorly.
Thiem, meanwhile, kicked this year's tournament off with a repeat of last year's final against Tsitsipas. In 2019, the Greek won a very close match, but this year it was Thiem's turn to edge through. He backed that up with a mightily impressive win over Nadal across two tiebreak sets that collectively lasted close to two and a half hours.
His third match saw Thiem lose tamely to Rublev but the Austrian knew he was already safely through before that match began, giving him very little incentive to compete at his ferocious best, especially after such a gruelling win against Nadal and with the prospect of Djokovic up next.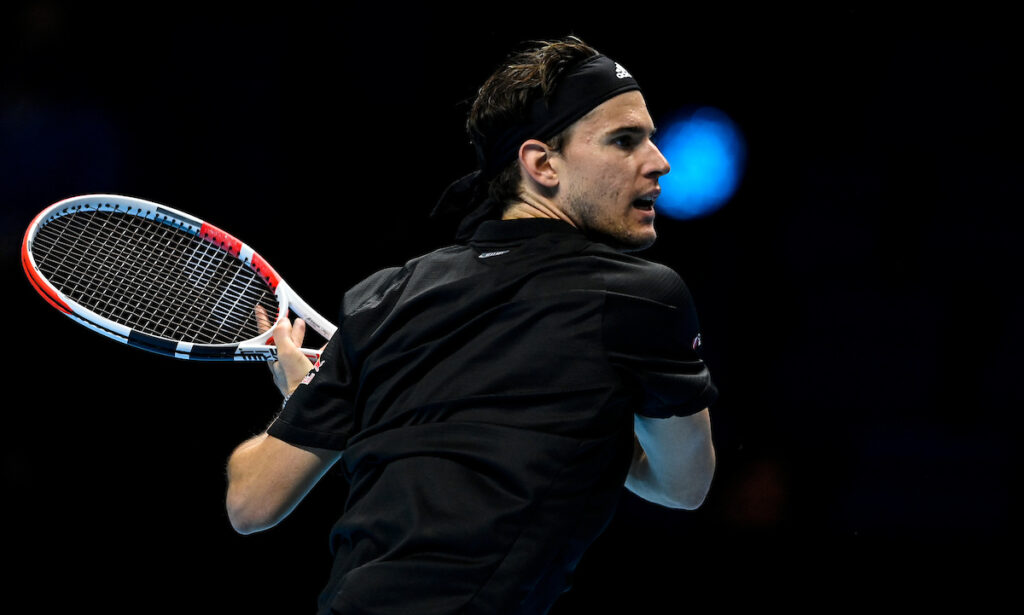 The pair have met 11 times before, with Djokovic leading the series 7-4. The Serb won their first five encounters but Thiem is 4-2 since then, including a 6-7(5) 6-3 7-6(5) victory at last year's ATP Finals, in what was a true match of the year candidate. They last met in this year's Australian Open final, producing another classic, but this time with Djokovic coming out on top, 6-4 in the fifth.
Whatever happens, recent history suggests that this will be a very high quality, closely fought encounter. Djokovic is seeking to tie Federer's record of six ATP Finals crowns, whilst Thiem is looking for his first, but having won his maiden Grand Slam title this year at the US Open, the Austrian will come into this bout with renewed confidence, in spite of his gut-wrenching loss to the man on the other side of the net earlier this year in Melbourne.
Djokovic has not looked to be quite the same man since his one-sided defeat in the French Open final last month, but perhaps he has been waiting for a big opponent on a big stage to reignite the competitive fires within him. Thiem could be that opponent and the semi-finals could be that stage… But, Thiem has also proven that he can beat Djokovic on this particular stage. He has proven this week that he can beat Nadal on this stage, and he proved in New York that he can now win the biggest titles on the biggest stages of all. His time is now.
Prediction: Thiem in 3
***
Rafael Nadal v Daniil Medvedev
Nadal's round-robin results:
Won v Andrey Rublev, 6-3 6-4
Lost v Dominic Thiem, 6-7(7) 6-7(4)
Won v Stefanos Tsitsipas, 6-4 4-6 6-2
Medvedev's round-robin results:
Won v Alexander Zverev, 6-3 6-4
Won v Novak Djokovic, 6-3 6-3
Won v Diego Schwartzman, 6-3 6-3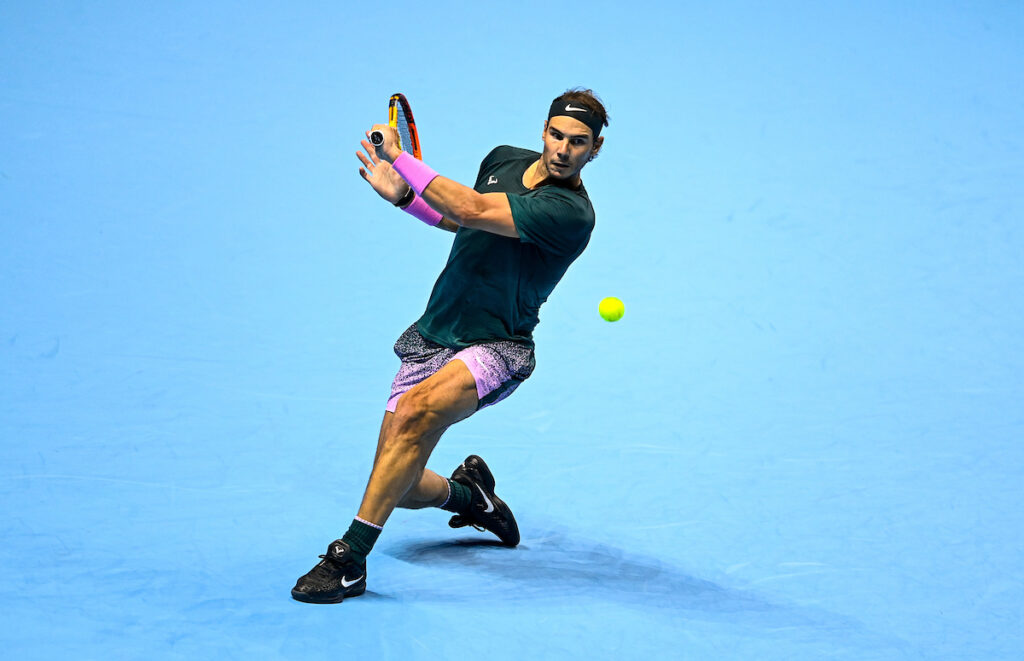 For Nadal, a comfortable win against Rublev was followed by a tight loss against Thiem. Much like Djokovic, this then put the Spaniard in the position of having a third group stage match from which the victor would move on to the semi-finals and the loser would go home.
At first, it all appeared to be plain sailing for Nadal as he led Tsitsipas 6-4 *4-5 with very little resistance. Perhaps feeling a little complacent, the Spaniard was then broken from seemingly out of nowhere and it came down to a single-set shoot-out. Nadal broke in game one, but was then immediately broken back, before a fourth consecutive break of serve gave him a *2-1 lead. After that spell of messiness, normal service resumed and maintained control to reach the semi-finals at the O2 for the first time since 2016.
Medvedev lost all three of his round-robin matches at his ATP Finals debut in 2019 but this year he is the only man to progress to the semi-finals with a 3-0 record. Not only that, but he did so without losing a set. He began within a comfortable win over Zverev, before putting in an excellent shift to neutralise Djokovic's many weapons and win 6-3 6-3. There was nothing on the line for his final group match against Schwartzman, but he did not let his level drop and he cantered to another straight sets win.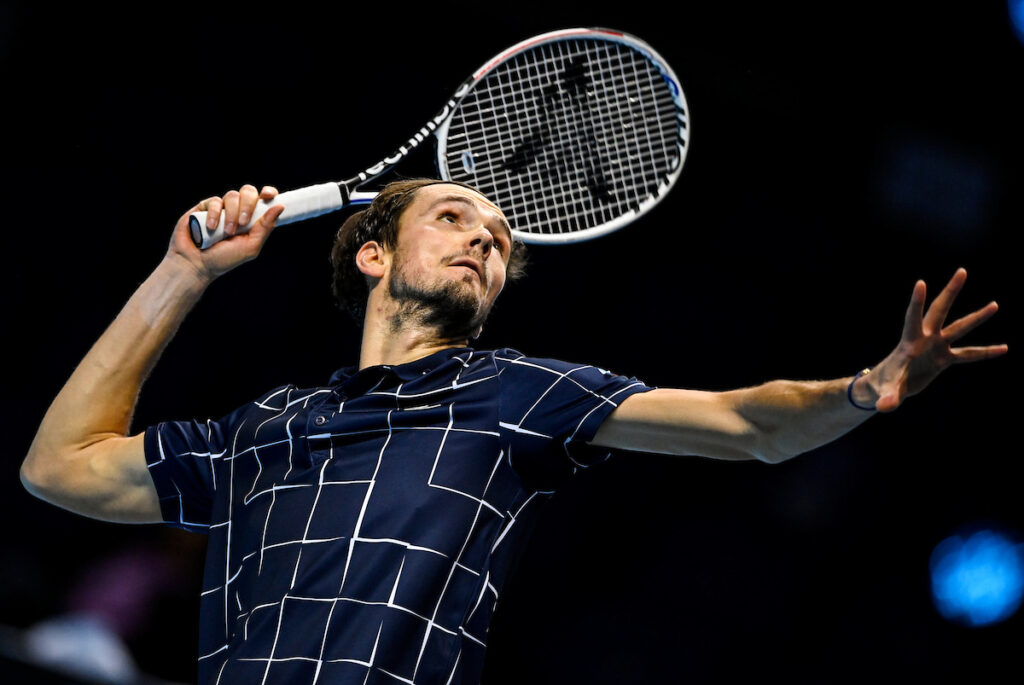 Nadal and Medvedev have met three times with Nadal leading 3-0. However, they have not played in twelve months, and the two most recent of those matches were very tight. They played in the US Open final last year, with Nadal winning 6-4 in the fifth after Medvedev staged a remarkable comeback from two sets to love down, and they play at last year's ATP Finals with Nadal edging it in a deciding set tiebreak.
As with the other semi-final, there is much to suggest that this will be a down to the wire spectacle, and there is also reason to think that the lower ranked man might win. Nadal has a notoriously poor record at indoor hardcourt tournaments, having won only one in his career, and the now 34-year-old was still a teenager at the time. Medvedev, on the other hand, has only eight career titles but half of them have come on indoor hard, including his most recent, at the Paris Masters, earlier this month.
Medvedev's imperious performance against Djokovic showed that he can stand toe-to-toe with the big boys, and his time may have come to record his first victory over another all-time great in Nadal. The 20-time Grand Slam champion will know, however, that this may be his best chance to add the one piece of significant silverware missing from his trophy cabinet and he is not likely to let the opportunity slip from his grasp without a fight. Then again, nor is the Russian.
Prediction: Medvedev in 3