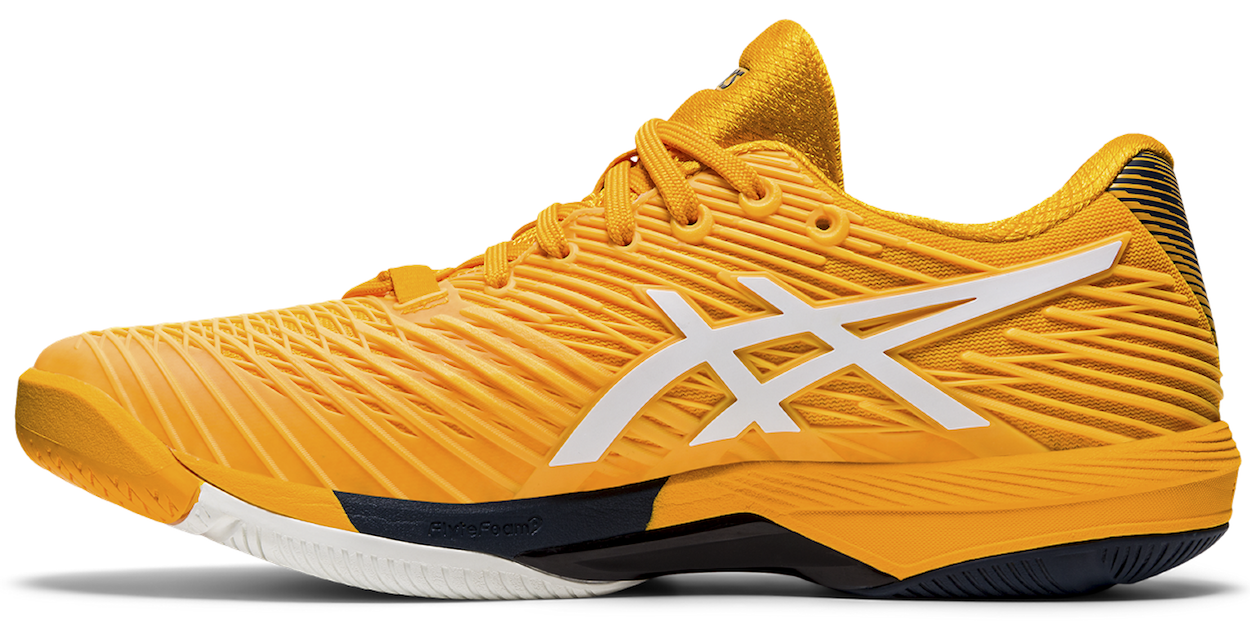 ASICS Solution Speed FF 2 tennis shoe review
Leading tennis footwear brand ASICS have three shoes in their tennis range with the Solution Speed being lightest of the range aimed at attacking players who like to utilise the whole court. The Solution Speed FF 2 has been updated for 2021 with a focus on new technologies designed to improve a players speed from the baseline. When the new shoes dropped in the Tennishead office we couldn't wait to try them out and here's the results.
Background
Founded on the principles of 'Kaizen', ASICS are a global leader in tennis footwear with a reliance on research and technology to guide their products. 'Kaizen' literally means 'continuos improvement' hence why the brand will often update existing shoes to try and squeeze out the small improvements that can make the difference between winning and losing in professional & amateur tennis. We have always admired the fact that the shoe's you see Novak Djokovic wearing to win Grand Slams are exactly the same as the shoe you can buy online or in store.
Technology
This second version of the Solution Speed FF has been given a number of technological enhancements as well as a few funky new colour schemes.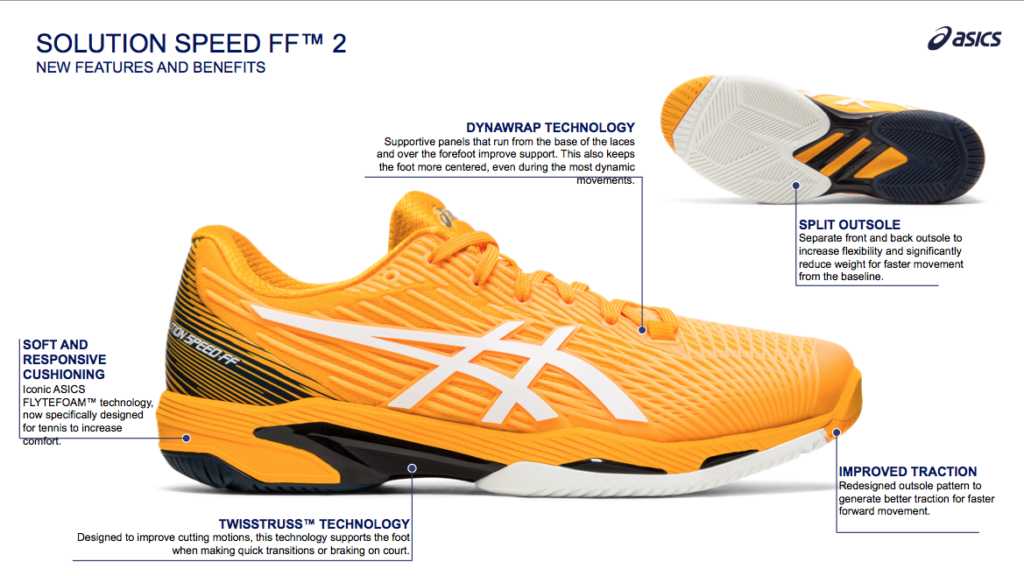 The toe grip area has received a new traction system to help improve your speed when running forwards to chase down those annoying drop shots. A split outsole separates the front and back of the sole to improve flexibility for lateral movements and reduce the weight of the shoe. The foam in the heel of the shoe, called Flytefoam, has been updated specifically for tennis to provide even more cushioning exactly where a tennis player needs it.
But would the shoe live up to these claims when we sent our testers on court to try it out?
Watch as our testers try out the ASICS Solution Speed FF 2
---
Buy the latest colour of the ASICS Solution Speed FF2 for the lowest online price from our trusted retail partner All Things Tennis
Use discount code TENNISHEAD5 at the checkout for an exclusive 5% discount
---
The play test
Testing shoes straight out of the box can be a very personal experience which is why we always have multiple different testers so that we receive a variety of feedback based on their opinion. We make sure they try the shoe in all the situations they would face on the tennis court right from taking the shoe straight form the box, trying it on then finishing up with competitive play.
Our Tennishead play testers for the ASICS Solution Speed FF 2 review were:
Will: Sees himself as a 'counter punching' style of play and has been into tennis for 16 years
Sue: A player who sees herself as a 'baseline grinder', has been playing tennis for 30 years.
Initial feedback on first seeing the shoe out of the box
Will was first to try on his new shoes and he said, "I just thought WOW when I first opened the box. Very bright as you can see. You would not miss me on the court that's for sure but for me I probably wouldn't pick these off the shelf but if you want to stand out these are very much there."
Sue then took out her shoes. "I was pleasantly surprised with the colour, an unusual colour, a bit muted but I like having a bit of colour on my feet and I think they go great with the socks so I really like them."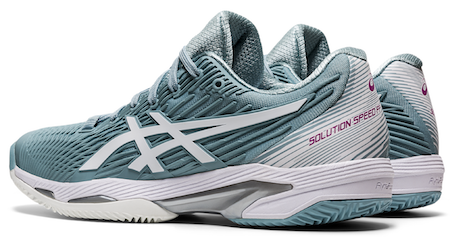 When first trying on the shoe
Will, after putting on his shoes for the first time, said, "Straightaway I realised how supportive these are. They are tight in all the right places. I can really feel the stability between the ankles and where it matters really but with that I am getting the sponge and the softness from the soul which is good."
Sue then tried hers on and said, "The fit is absolutely perfect. I have got no areas inside the shoe where my feet feel uncomfortable at all and also underneath it feels quite nice and supported and a little bit soft and padded so it's soft under foot."
Will and Sue then did their pre-tennis warm up. Will said, "It was good to run around with them. They felt really light. I didn't feel like they were weighing me down too much. I tried to change direction and things like that and they were really supportive and soft."
Sue said, "The shoes felt light. They felt like they had a lot of stability especially on the outer side and they felt like they had some nice bounce."
Hitting groundstrokes and volleys
Will then headed to the baseline to start hitting balls, "These shoes felt really good during the action. They were soft under the foot, quite lightweight and I feel like I could definitely play with these."
Sue commented, "To be honest I didn't notice they were on my feet which I think is an amazing thing for a pair that you've literally just put on. They feel very light, very stable. I felt fast around the court. Really nice."
Did you feel the improved toe traction system?
We asked Will about the increased grip in the toe, but he said, "I didn't feel that as such no. If I had known that before maybe I would've looked out for that a bit more but I did not find that though."
Sue also said, "I don't think I moved into the net at all so I don't think I noticed that to be honest."
Does the split sole technology help with flexibility and a lighter shoe?
Will commented, "I think I could definitely feel that. The flexibility in the shoe was very good. The lateral movement was very good. I could really push off of my toes and the cushion on the heel allowed me to absorb the impact so it felt really good."
Sue said, "Definitely, they feel very light and they do feel manoeuvrable actually. It doesn't feel like its rigid on the bottom of your foot because of that so they feel good."
Did you like the extra foam in the heel which looks to deliver increased cushioning?
When asked about this, Will said, "I could definitely feel the thickness in the heel a little bit more as I have already got ASICS shoes at the moment and the heel was a little bit thinner than that, so I could really feel the difference here. Gave me a bit more support when I am moving forwards and backwards."
Sue said, "Yes definitely they feel very cushioned under foot."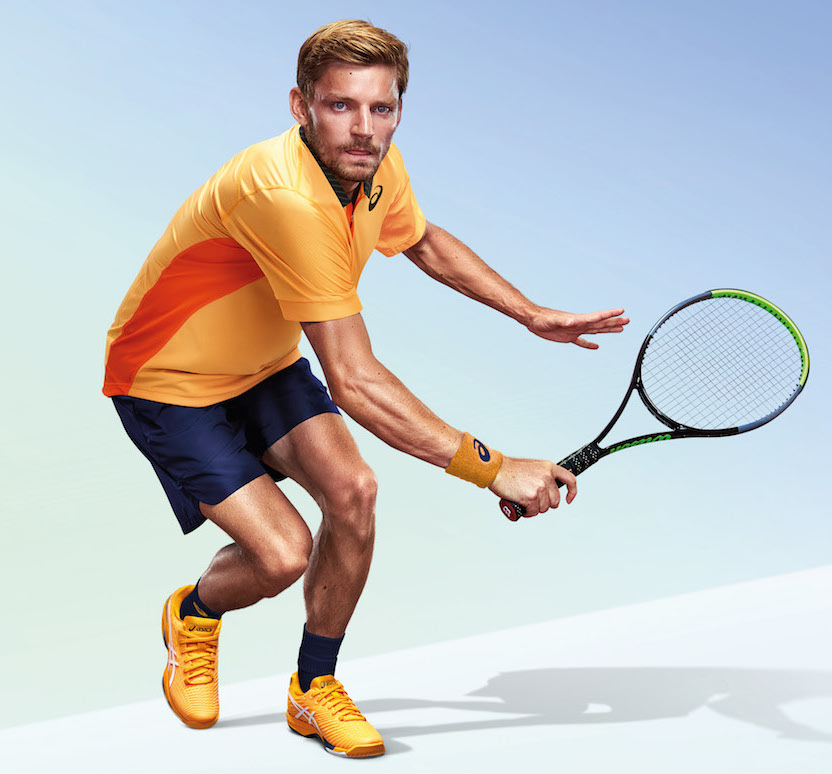 These shoes are £130/$130/€150, is that a fair price?
Sue said, "For a top of the range shoe which they are I think that's a comparable price and I would pay that for them without a doubt."
On this point Will commented, "£130 is fair I would say so. Like Sue said, the shoes are top of the range with this new technology. I think they are definitely worth it compared with other shoes on the market."
Once you've done the laces up how does it feel as a material that will stay done up?
Will specifically noticed this and said, "Yeah I've had problems before with ASICS laces being a bit too thin. These ones are a bit thicker, a bit more sturdy. I think they are a bit better quality material which will hopefully allow them to stay done up and not rip as some other competitors."
In conclusion then..
Our testers seem to be impressed with the fit and comfort of these shoes right out of the box which can be a difficult feeling to achieve with brand new shoes.
The Solution Speed 2 definitely wins on lightness, flexibility and support with most (but not all) of the new technologies having an impact. The colour scheme of the men's shoe might not be to everyone's taste but as always ASICS offer a variety of colours.
With the shoe seemingly delivering decent value for money there's nothing to stop you trying a pair for yourself but make sure the Solution Speed FF will suit your style of play.
Buy now with an exclusive discount and next day delivery
Now purchase the ASICS Solution Speed FF2 tennis shoes (or any other ASICS shoes) from our trusted retail partner All Things Tennis.
Use discount code TENNISHEAD5 at the checkout for an exclsuive 5% discount
🎾 Free >> Join our legendary newsletter
🎾 Join >> Receive $700/£600 of tennis gear from the Tennishead CLUB
🎾 Social >> Facebook, Twitter, Instagram & YouTube
🎾 Read >> World's best tennis magazine
🎾 Watch >> How to enjoy ATP/WTA/Slam tennis on TV
🎾 Shop >> Lowest price tennis gear from our trusted partner