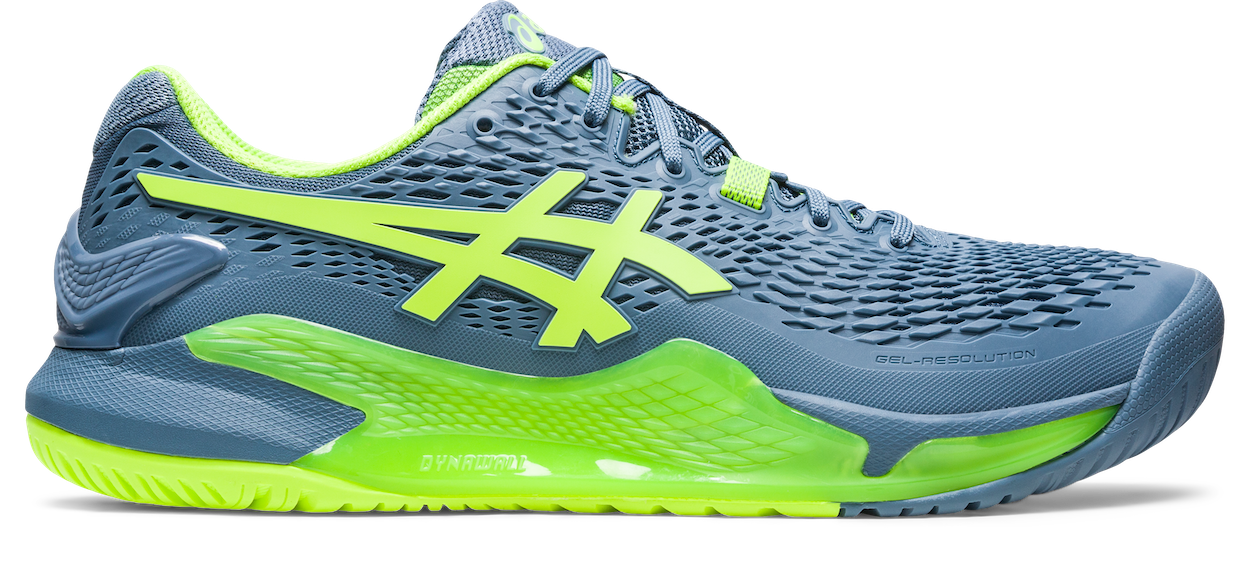 ASICS Gel-Resolution 9 (2023) tennis shoe review
The 9th version of the Gel-Resolution, ASICS' original dedicated tennis shoe, has hit the courts. Now worn by Matteo Berrettini, we were intrigued to find out how the shoe has changed especially considering the huge popularity of the previous version.
Baseline grinding has actually been around since hard court tennis first became popular, just ask Bjorn Borg. Making yourself hard to beat by never missing a groundstroke is an incredibly effective way of winning tennis points. So to have a company as advanced as ASICS designing 9 versions of a shoe that is specifically focussed on supporting that style of play, is a real bonus.
What's new in the Gel-Resolution 9?
We spoke at length to Rene Zandbergen who is the designer behind all of ASICS' tennis shoes. He told us that the key differences between the Gel-Reoslution 8 and this 9th version are…
A new 'Dynawrap' which supports the top and front of the foot and helps keep the foot in place when performing the most dynamic movements on court.
The increased length of the outsole which helps improve the player's connection with the court especailly during side to side movements.
An updated 'Dynawall' which is the technology that sits on the side of the shoe near the arch. This should now enable a 'smoother return' when getting back to middle after hitting a wide shot.
Watch as our experts try out the ASICS Gel-Resolution 9 tennis shoes
The Gel-Resolution 9 review
It's crucial for our credibility and the integrity of our reviews that when we take a new shoe onto the tennis court we simply let the players try it out and we publish exactly what they report. It's the only truly unbiased method of reviewing a product. This time we were joined by Michelle and Cheerag who are both professional tennis players plying their trade on the ITF circuits.
Michelle, who has played tennis since she was four years old in the Netherlands then moved to England and competed nationally before turning pro at 18, had never worn ASICS shoes before. Her usual shoe is the Nike Vapor
Cheerag, who was playing ATP Futures until last year when he had a few injuries so took six months off before starting to play again professional from the beginning of  of 2023, had recently moved to the ASICS Solution Speed model after years of wearing Nike Vapors, mainly because he had suffered recently with shin splints.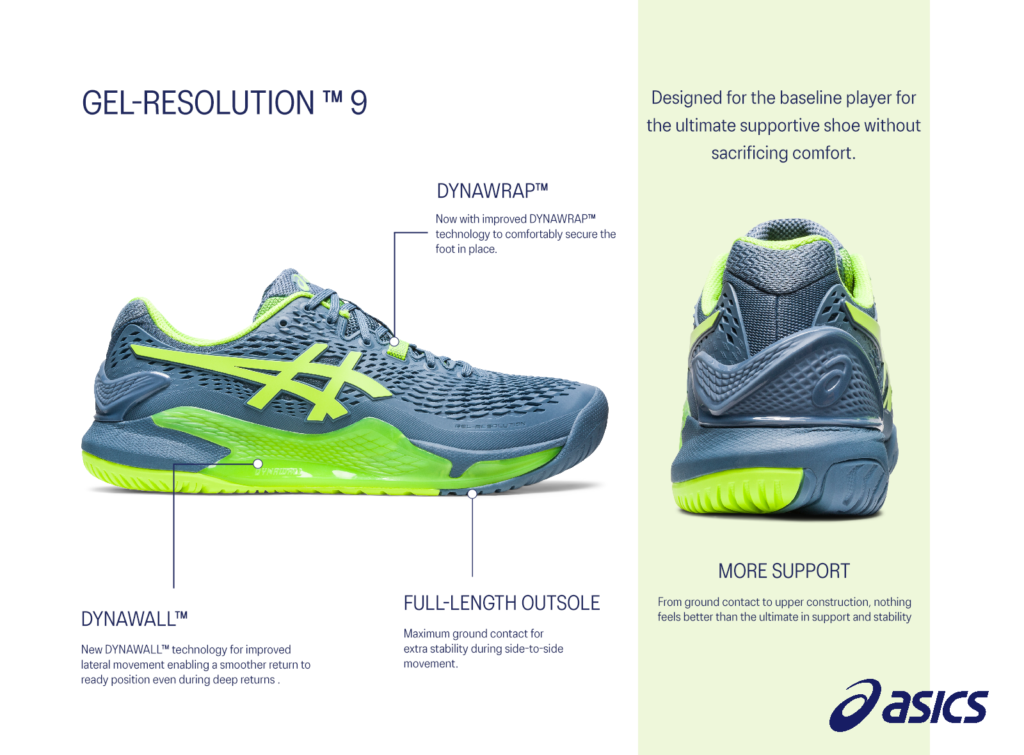 What's your thoughts on the design and colour scheme of these new ASICS Gel-Resolution 9 tennis shoes?
Michelle: "I think they're very pretty. I like to play with white shoes and I like that it has a little bit of pop with the purple, so I thought they were really pretty."
Cheraag: "I like the design quite a lot, specifically this kind of new bit on the side that they've added it's actually quite cool. It's a cool looking shoe."
When you first tried on the shoe, how comfortable did you find it?
Michelle: "I thought they fitted perfectly and they're very supportive with a nice cushion in it. I noticed that it is quite a flat shoe which I quite like, so it was nice."
Cheraag: "Definitely comfortable. I found I used to wear other brands beforehand but ASICS in general, Gel Resolution 8's, Solution Speed's all of them they're very, very comfortable shoes. This 9th version was the same, definitely felt comfortable when I put them on for the first time."
We asked Michelle, who is normally a UK 7, if she thought these were 'true to size'?
"I think this is exactly a size 7. They fit me perfectly."
When you first started moving in these Gel-Resolution 9's for your warm up, how did the shoe perform? 
Michelle: "It felt very natural, like it fitted around my foot immediately and it felt quite supportive, so I could move around very comfortably without being worried about my ankle or anything like that.
"I think these are a bit heavier than the Nike Vapors and they're a bit more firm. I think the Nike's are a bit softer, but I actually prefer the firmness because it makes me feel more comfortable running side to side you know."
On the support and comfort these shoes offered when hitting groundstrokes?
Cheraag: "When you're grinding away at the back these gave you a bit more durability. You felt like when you're wearing these shoes you could go on and on and on. I definitely felt that for sure."
Michelle: "It was good. I felt comfortable so the shoe felt really supportive and my ankle wasn't moving around at all."
The one-piece sole of the Gel-Resolution helps create a quality contact with the court to aid those players who want to slide. Did you experience this? 
Michelle: "I wish I could [slide on hard courts]. I can't but I would love to try!"
Cheraag: "Yes definitely. I felt that in general, with the rubber in these shoes, they are just a tiny bit more easier to slide which I like. They are a bit more squeaky as well. When you are trying to move especially into wide spaces these felt pretty stable and comfortable."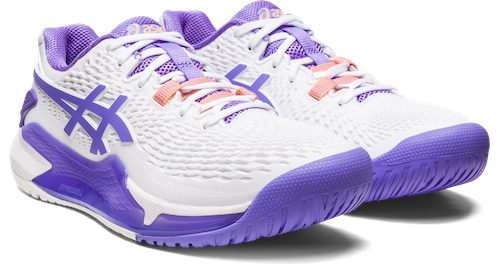 How about the stability and safety of these shoes when performing dynamic movements during a point?
Michelle: "I thought they were really good. I definitely would recommend them if you are someone that has a bit of a weak ankle, they will definitely support your feet very well."
We asked Michelle if the new Flytefoam in her Gel-Resolution 9 shoe made a difference?
Michelle: "Yes. That was the first thing I noticed straight away. When I put them on they're very cushioned and my foot felt very comfortable."
The Gel-Resolution 9's R.R.P. is £140/$150. We asked our players if they thought this was a fair price?
Cheraag: "They're obviously cheaper than some other ASICS models like the Court FF, but price is very personal and depends on the type of player that you are and what you are looking for in a shoe.
"I think that £140 is a fair price considering ASICS do last very well. Even at a level where you are playing hours a day, they do last longer than other shoes that I have worn. So yes I still recommend them."
"If you are playing at a club level you're trying to get things that will last you a long time. If you're looking for that durability from a shoe as a club player then these Gel-Resolution 9's are the right choice"
Michelle: "Yes, I actually think that's a pretty decent price. It's a bit higher than what I am used to paying, but I think it's worth it for the quality of the shoe."
What's our conclusion about the new ASICS Gel-Resolution 9?
ASICS haven't drastically changed this model. They continue to provide great support and stability for a baseline player of all standards. Yes ASICS make lighter shoes than the Gel-Resolution but the relative difference in weight didn't seem to effect our play testers with the benefits of the shoe's stability really standing out.
The new foam cushioning seemed to make a difference with both testers feeling a high level of comfort even in this brand new shoe they'd never worn before.
Baseline grinders will migrate to this shoe as they play a style of tennis that requires a good connection with the surface to enable them to feel safe moving from side to side. The full length 'one piece' sole of the Gel-Resolution 9 certainly seems to assist in that aspect of movement.
Buy the ASICS Gel-Resolution 9
Two options if you want to purchase this very popular shoe are:
Option 1 is to join the Tennishead CLUB and choose the Gel-Resolution from our list of membership benefits
Option 2 is to head over to our retail partner, All Things Tennis, and purchase the ASICS Gel-Resolution 9 from a trusted independent tennis specialist