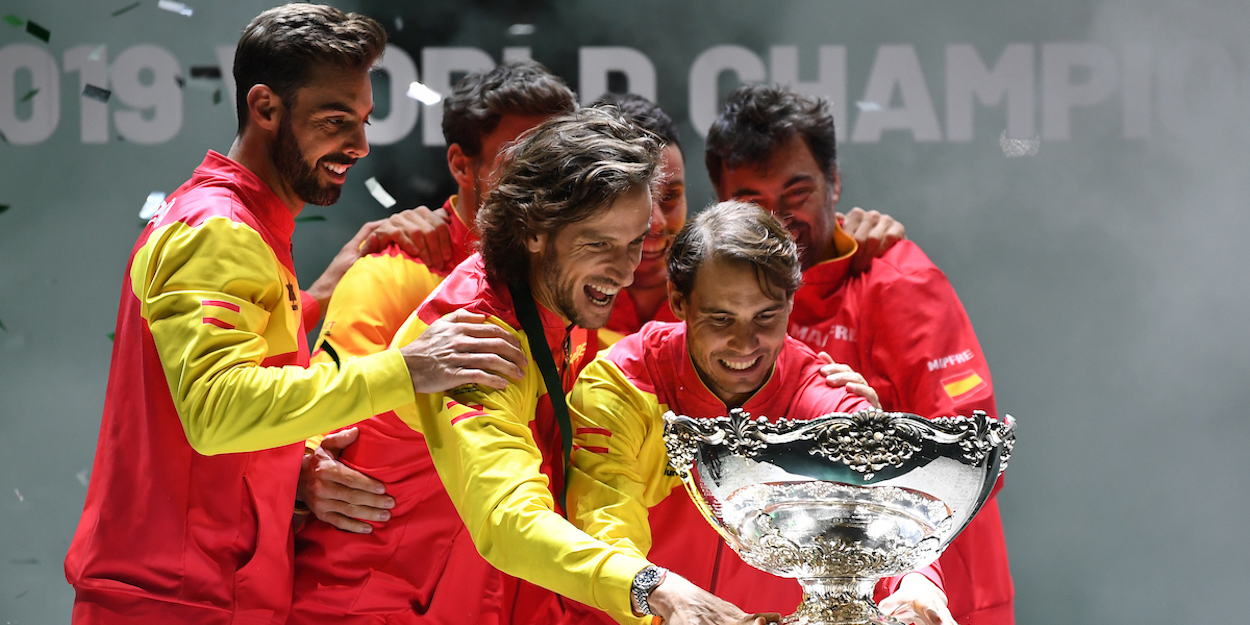 Argentina to meet Croatia in Davis Cup Final
Daniel Orsanic's team will face Croatia in the Davis Cup final after Marin Cilic sealed victory against France in the other semi-final.
Great Britain went into the final day trailing Argentina 2-1. Juan Martin del Potro and Guido Pella defeated Andy Murray and Kyle Edmund respectively in Friday's singles but Andy and Jamie Murray kept Great Britain in the tie with victory over Del Potro and Leonardo Mayer in Saturday's doubles.
Andy Murray's 6-3 6-2 6-3 victory over Guido Pella on Sunday was straightforward. The world No. 2 had spent more than eight hours on court during the previous two days, with his opening singles match on Friday lasting five hours and seven minutes.
Murray wrapped up the first set in half an hour with his third ace and then broke Pella in the first game of the opening set. The Argentinean and World No.49 saved six break points in the third game as Murray made some uncharacteristic errors on the crucial break points. But the effort of holding off Murray, who played a very focused match, was too much for the left-hander who was broken again in the fifth game. Murray took the second set 6-2 in 40 minutes as Pella put his return in the net.
At 1-2 in the third set, Murray called for the trainer with a problem to his right thigh. He went off the court for a medical time out and when he returned to court he held his serve and managed to break Pella in the next game, albeit with his movement impeded. It was a crucial game for Pella who had been 40-15 up, but Murray was making very few mistakes. The Argentinean saved three break points in the seventh game and after receiving more treatment on his thigh at the change of ends, Murray held serve and then broke his opponent to take his first match point after just over two hours.
Talking after the match Murray said, "I felt a lot of pain in my right quad, sharp pain," and spoke of how he felt at the end of a busy summer, "I need a break I have played so much tennis the last few months, my body needs to rest. I need it now."
"It's great to level the tie, we were in a lot of trouble a couple of days ago but this is the best we could have hoped for after Friday and now Dan has got a chance to go out there and get the job done."
So as the tie went to the deciding rubber, the captains' picks became clear. Dan Evans was chosen for the final rubber over Edmund. Evans had twice before won deciding rubbers for Great Britain.
Perhaps as surprising as playing Del Potro in Saturday's doubles was the choice of captain Daniel Orsanic to play Leonardo Mayer in the decisive rubber. Del Potro who was sitting on the bench, had said on Saturday night that he felt pain in his body and his wrist, so the possibility of him not playing had been a talking point overnight.
Coming into the match Mayer was on an 11 Davis Cup match winning streak in Davis Cup rubbers for Argentina. He had won his last nine Davis Cup singles rubbers and had a 10-3 singles win loss record in Davis Cup.  He had played some solid tennis in Saturday's doubles, but nothing to compare with the composure and big game that he found on Sunday.
Evans, playing solid tennis took the first set 6-4, with Mayer hitting three times as many unforced errors as Evans. But from the second set onwards the 29-year-old Argentine played some high quality tennis. He regularly served at 128 – 132 mph and he unleashed some enormous groundstrokes to level the match at 1-1.  Evans began to look frustrated as the Argentinean won the third set, and never looked back winning the match 4-6 6-3 6-2 6-4
Evans had nothing to neutralise the weight of shots and accuracy of the serve. Mayer won 83% of points on his first serve. He took his first match point and then broke down in tears as his teammates embraced their hero who had earned the Argentineans the opportunity to contest their fifth Davis Cup final.
"We trust in his player quality and his human quality, which is enormous," said Orsanic of Mayer.
They will travel to Croatia for the final, having beaten the defending champions this weekend on a hard court in their own back yard. They have never won the Davis Cup. Perhaps their time has finally come.
"I believe it is going to be an honour to play another final but today we are going to enjoy this semi final victory," said captain Orsanic
Davis Cup semi-final
Great Britain v Argentina
Emirates Arena, Glasgow
R1 A Murray lost to J Del Potro 4-6 7-5 7-6(5) 3-6 3-6
R2 K Edmund lost to G Pella 7-6(5) 4-6 3-6 2-6
R3 A Murray & J Murray beat J Del Potro & L Mayer 6-1 3-6 6-4 6-4
R4 A Murray beat G Pella 6-3 6-2 6-3
R5 D. Evans lost to L Mayer  4-6 6-3 6-2 6-4
Argentina win 3-2