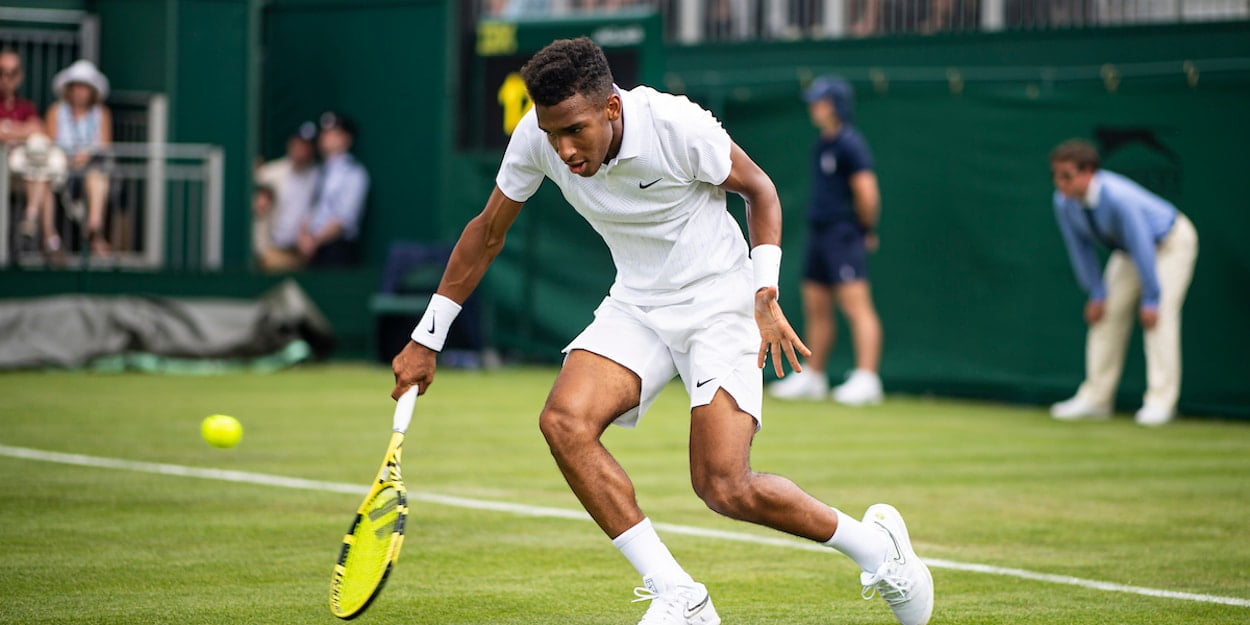 Analysis: Felix Auger-Aliassime seeks revenge over Ugo Humbert in Wimbledon rematch
Both Felix Auger-Aliassime and Ugo Humbert have a great opportunity to stamp their grass court credentials in the run up to the 2021 Wimbledon Championships today
"Ugo Humbert and Felix Auger Aliassime face off in an exciting semi-final of the 2021 Noventi Open. Both youngsters have been in great form this week. Auger Aliassime has overcome Hurkacz and Federer, while Humbert has gotten impressive wins over Zverev and Korda. This will be their third meeting, with both previous clashes also coming on grass. Auger Aliassime overcame Humbert in 2 tight sets just last week in Stuttgart. But it is their clash at Wimbledon in 2019, that is of particular interest. Humbert was able to win that match in straight sets, employing quite interesting tactics.
"As Humbert is left-handed, it is no surprise that he would use his forehand to target the backhand of the right-handed Auger Aliassime. That is why he hit 53% of his forehands crosscourt. But it is his backhand shot direction that is more intriguing. Humbert hit most backhands down the middle, going there 51% of the time. He went crosscourt into Auger Aliassime's forehand 34% of the time and only used the down-the-line backhand, to target Auger Aliassime's backhand, 7% of the time. Why would Humbert prefer to hit most backhands down the middle?
"While the crosscourt shot is the most natural, he would not want to target Auger Aliassime's forehand. The down-the-line backhand would therefore seem like a good idea to employ, as it targets the weaker backhand. But this is a more difficult shot to hit, as it goes over the highest part of the net. Humbert's backhand is powerful, but very flat. This makes the down-the-line shot even more challenging. There are also some benefits of using the backhand to go hard through the middle.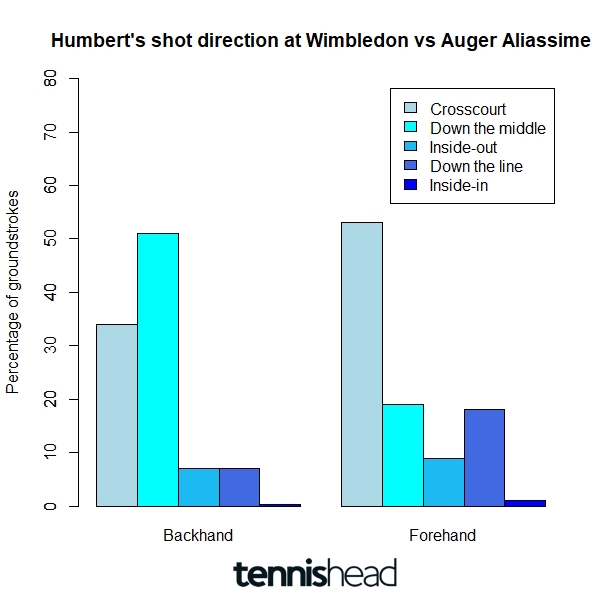 "Firstly, it makes it more difficult for the opponent to produce acute angles. But more importantly it takes advantage of the grass surface. Grass courts tend to be fast paced and low bouncing. For this reason if you hit a powerful shot through the middle, that lands at the feet of your opponent, you can make it very awkward for them. Even better is if you can make the shot land on the baseline, as hitting the chalk can produce uneven bounces.
"While fans will be hoping this meeting is just as exciting and competitive as their previous clash at Wimbledon, Ugo Humbert will be focused to get revenge on Auger Aliassime. It will be interesting to see if he uses similar tactics to what he did at Wimbledon."
The data used in this article was sourced from The Tennis Abstract Match Charting Project, which is based on the work of Jeff Sackmann. The project is licensed under a Creative Commons Attribution-NonCommercial-ShareAlike 4.0 International License. No changes were made to the original data.
Luka Elliott has a B Com in Economics & Statistics from the University of Cape Town where his thesis was titled "Engineering Features for Tennis Match Outcome Prediction in a Statistical Learning Framework". He now writes for Tennishead focussing on how statistics effect the outcome of ATP matches