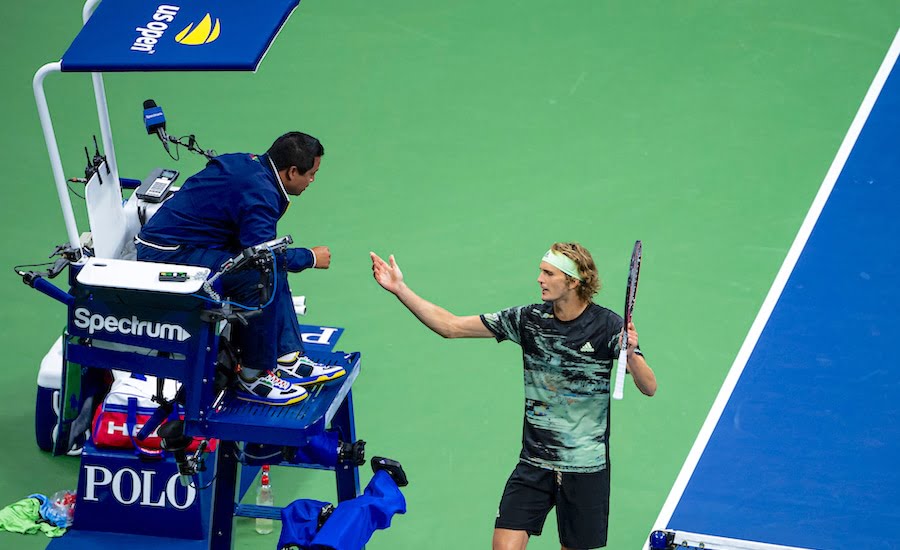 Alexander Zverev slams rivals Tsitsipas & Medvedev in emotional press conference, "I hope they learn from Federer and Nadal"
Alexander Zverev has voiced his concern that fellow young stars Stefanos Tsitsipas and Daniil Medvedev are giving the 'Next Gen' a bad reputation with their on court antics and wished they would behave more like Roger Federer and Rafa Nadal
Alexander Zverev had just lost a tough 4th round in the men's singles at the US Open when he was asked in his post match press conference what he thought of the behaviour at this tournament of Russian Daniil Medvedev. He immediately opened up on his concerns for the reputation of young players and his dislike for the behaviour of Tsitsipas and Medvedev who he thinks are using on court tactics, such as toilet breaks, to upset their opponents.
Now enjoy the World's best tennis magazine in a new digital format. Download in seconds and read the latest 164 page issue
Zverev said, "There's a lot of young guys that do things on the tennis court that maybe is not the best thing to do. I don't want the 'Next Generation' to be known for that. Tsitsipas gets over the line when changing his shoes 15 times in match or going to the bathroom in the middle of a set, let your tennis racket talk for you. You don't need to do things to distract your opponent and try to win that way. Medvedev is also going over the line a little bit now. I hope some of the 'Next Gen' will learn from the older guys like Roger and Rafa who've been unbelievable over their careers and have really let their racket talk and not try to distract their opponents"
German world no.6 Alexander Zverev lost in the 4th round of the US Open men's singles to Argentinean 20th seed Diego Schwartzman 6-3, 2-6, 4-6, 3-6. Zverev has struggled this year to recreate the form that saw him win the year end ATP World Tour Finals in 2018 but a plethora of off court issues could well have distracted the young star in the early part of the 2019 season including a protracted court battle with his agent.
Look ahead to the rest of 2019 with our guides to every tournament on the ATP Tour and the WTA Tour. If you can't visit the tournaments you love then do the next best thing and read our guide on how to watch all the ATP Tour matches on television in 2019. To read more amazing articles like this you can explore Tennishead digital magazine here or you can subscribe for free to our email newsletter here