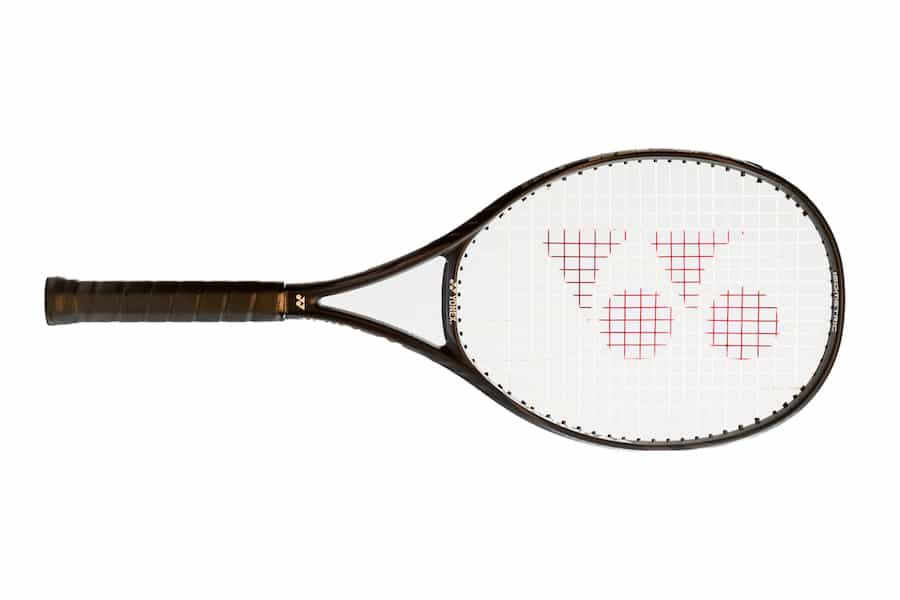 Advanced racket reviews & play test: Yonex VCORE 98 Black
Professional players become very attached to their rackets, it can come down to the look, the weight, how easy they feel they can swing through the air. In fact, many top players stay with the same manufacturer for the duration of their careers. We decided to test and review the latest advanced rackets on the market to see what the difference is between 8 of the top brands on the market including the Yonex VCORE 98
Now, that can trickle down to advanced level players – top club competitors, those in performance squads or juniors eager to break onto the pro circuit. At tennishead we understand this is a serious decision, so we have put together a series of play tests and reviews for the leading rackets on the market aimed at advanced players.
Here, tennishead reviews and play tests the Yonex VCORE 98 Black.
---
Receive an EXCLUSIVE TENNISHEAD 5% DISCOUNT in addition to the lowest online prices on all your tennis rackets, balls, clothes, strings & shoes PLUS a free string upgrade (worth £30) when shopping with tennishead's trusted partner, All Things Tennis
---
Background to the Yonex VCORE 98 Black
Combining timeless Japanese craftsmanship and cutting-edge technology, Yonex have been giving tennis players the tools they need to triumph on the court for over 60 years. The Yonex philosophy has always remained the same: to contribute to the world through innovative technology and the highest quality products. The process is everything.
They design their racquets to elevate a player's style, whether it's the power to smash a winning serve, unparalleled spin control, or ISOMETRIC™ frames engineered to give you the largest sweet spots possible. They put intensive research and development into multiple lines of strings, meticulously crafted to give customers the edge they need to take their game to the next level.
They offer unmatched product quality through their in-house production line at Yonex facilities in Japan. Working with players at every level, Yonex engineers are creating new designs with next-generation technologies like Namd (pronounced "en-amd"), a revolutionary dynamic graphite that lets you put the heaviest spin on the ball.
The highest-spin producing racquet in Yonex history, the new VCORE embraces the latest in Yonex technology, such as a drag-reducing Aero Trench and Liner Tech, meaning the strings enter the racquet at a straighter angle, to allow for easy access to incredible spin.
VCORE Technologies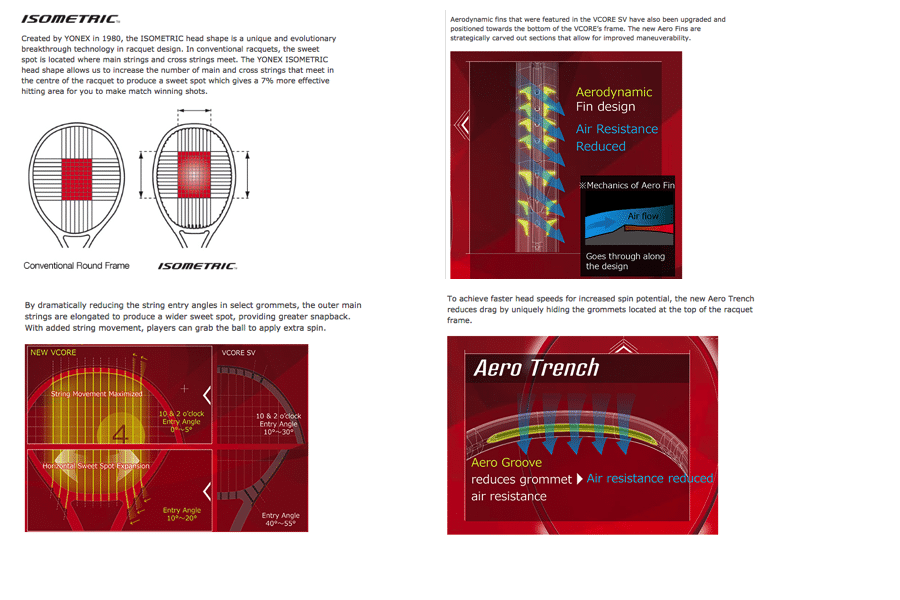 The play test
Wimbledon champion Angelique Kerber endorses this range and you can see why. The German has an all-court artillery, relentless retrieval and an abundance of power, which this stylish frame caters for.
"This was the first time that I've used a Yonex racket actually and I was impressed. The power was pretty effortless and I was able to strike at full tilt. I thought it was particularly effective off serve, I could really go for it," said Liam.
"It was pretty steady, out of position I still had confidence to go for my shots, but the highlight for this racket was on the offense, when you stepped into the ball and went for the winner."
"Similar to Will's thoughts on the Technifibre, it felt a little head heavy on touch shots, taking a little bit longer to get through the stroke, but when I connected well I was rewarded."
"A lot of players will find the power of this isn't compensated in control, but this would be a decent purchase for someone after effortless force, particularly off the groundstrokes."
Technical specifications
Even though you've been playing tennis for a while and have probably bought and used multiple different rackets, do oyu really know what all the different technical specifications mean and how they influence the racket you use? Make sure you have all the knowledge by reading our guide to tennis racket specifications here
Yonex VCORE 98 Black
RRP ⇒ £170
Head size ⇒ 98sq inches
Weight ⇒ 305g
String pattern ⇒16×19
Balance ⇒ 325mm
Beam ⇒ 22mm/22mm/21mm
Length ⇒ 27in
String tension ⇒ 45-60lbs
Buy the Yonex VCORE 98 Black from All Things Tennis with an exclusive 5% tennishead discount and free restring upgrade worth £30
For more advanced racket reviews and play tests of the all the best rackets on the market try our Gear section
Now watch what happened when the tennishead experts tested 8 of the best new advanced rackets on the market, including the Head Graphene 360 Radical MP, in our 2019 testing day (Big thanks to Jack from JackMansfieldVideography.com):
Click here to buy tennis rackets, balls, clothes, strings and shoes with a 5% DISCOUNT on the lowest internet price PLUS a free string upgrade (worth £30) from our trusted retail partner All Things Tennis