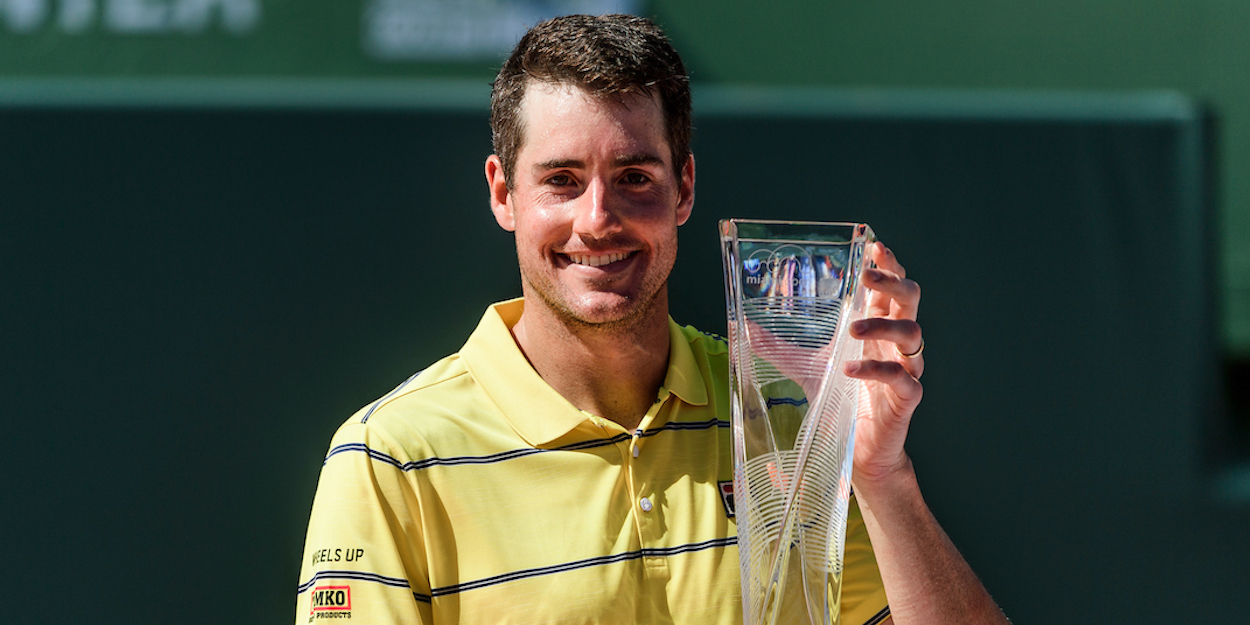 A new Masters 1000 champion awaits! Who else won their first elite title at the Miami Open?
With Daniil Medvedev out of the Miami Open in the quarter-finals, the men's draw is now guaranteed to have a first-time Masters 1000 champion.
With the Miami Open now set to gift us with a brand new Masters 1000 champion, Tennishead takes a look at past players on the ATP and WTA tours who secured their first top-level titles in the Magic City.
Gabriela Sabatini – 1989
The 18-year-old Argentine came into Miami 1989 as world No. 3 and already with nine WTA titles to her name.
Sabatini was top seed for the tournament, and showed it as she made short work of her route to the final, only dropping one set, against third seed Helena Sukova in the semi-finals.
The final was a showdown between Sabatini and American Chris Evert. The Argentine was the victor in three sets, 6-1 4-6 6-2, to win her first ever Tier I WTA title, in the process setting up a bit of a trend…
Monica Seles – 1990
Monica Seles was still only 16 coming into the Miami Open in 1990. Ranked at No. 5 in the world, the teenager had one tour title to her name from the Virginia Slims of Houston tournament in April 1989.
Seles cruised through the tournament seemingly without fuss, not dropping a single set en-route to the final. Meeting Judith Wiesner of Austria for the title, the young Yugoslavian won handily, dropping just 3 games for a 6-1 6-2 result.
Seles went on to win two more Tier I WTA tournaments that year, as well as becoming the youngest Roland Garros champion ever at 16 years old.
Miami 1990 seemed to be a year for the youngsters, as the men's champion also turned out to be a teenager…
Andre Agassi – 1990
Coming into the tournament, a young Andre Agassi was ranked No. 5 in the world, being seeded the same in Miami.
While his first two matches were straightforward two-setters, the fourth round onwards got tougher for the American. Agassi had to rally from a set down  in three consecutive matches against Ecuadorian Andres Gomez, then fellow Americans Jim Courier and Jay Berger in the quarter and semi-finals.
Agassi came up against third seed Stefan Edberg, at the time a 3-time Slam champion. The two had met just weeks prior in the Indian Wells final, where Edberg got the better of Agassi in four sets.
However, Miami turned out to be a flipped script, as Agassi secured his first Miami Open title in four sets, 6-1 6-4 0-6 6-2.
Andre Agassi went on to become the most successful men's champion in Miami, capturing six championships in 1990, 1995, 1996, 2001, 2002 and 2003.
At just 19 years and 10 months old, the American also became the youngest men's champion in Miami, until a certain Serbian came along…
Novak Djokovic – 2007
While it now seems impossible to imagine a time when Djokovic was playing without a Masters 1000 title to his name, that was the case coming into the 2007 Miami Open. Djokovic was world No. 10 and seeded 10th in the tournament, with Roger Federer and Rafael Nadal as the top-2 seeds and a young Andy Murray not far behind, seeded 12th.
Djokovic blitzed through the competition to reach the quarter-finals without dropping a set, before facing Rafael Nadal. Djokovic won 6-3 6-4, before going on to dismantle Andy Murray 6-1 6-0 in the semi-finals.
Djokovic sealed his triumph by defeating qualifier Guillermo Canas 6-3 6-2 6-4 in the final, securing his maiden Masters 1000 title in style, without dropping a single set. This was a feat he would achieve at 9 more Masters 1000 tournaments, along with winning 35 more total to sit with the record of 36 titles and counting.
Miami has gone on to be Djokovic's best Masters 1000 by number of titles won, equalling Andre Agassi to be the most successful men's champion with six titles (2007, 2011, 2012, 2014, 2015 and 2016).
Finally, at 19 years, 10 months and 10 days old, Djokovic pipped Agassi to become the youngest Miami Open men's champion by just 16 days.
From one of the youngest Masters 1000 champions to among the oldest…
John Isner – 2018
Since 2000, only two men have won their first Masters 1000 title in Miami. The first was Novak Djokovic in 2007, and the second was none other than John Isner in the 2018 tournament.
The American came into the tournament on an admittedly poor run of form, unable to secure back-to-back wins in the seven tournaments prior to Miami that year.
Isner was ranked 17 and seeded 14th entering Miami, before an impressive run on en route to the final. He faced three fellow big servers on the way, Jiri Vesely, Marin Cilic and Juan Martin Del Potro, dropping just one set in five matches, against Vesely in his first showing.
Isner met 20-year-old Alexander Zverev in the final, who already had two Masters 1000 titles under his belt in Rome and Canada the previous year.
Zverev claimed the first set 7-6, but Isner rallied back to win 6-7 6-4 6-4, closing the championship with an ace. At 32 years and 11 months old, the American was briefly the oldest men's champion in Miami, before a 37 year-old Roger Federer won the following year. However, Isner remains the fifth oldest Masters 1000 champion ever, behind Rafael Nadal, Novak Djokovic, Andre Agassi and Roger Federer.
To date, the Miami Open remains John Isner's only Masters 1000 level title, a stat shared with our final entry, at least equivalently…
Johanna Konta – 2017
The Brit came into the 2017 Miami Open as world No. 11 and as the 10th seed in the tournament. After a second round three-set win, Konta did not drop another set until facing third seed Simona Halep in the quarter-finals, coming from a set down to fell the Romanian, before overcoming Venus Williams in a straight-sets semi-final.
Konta faced 12th seed Caroline Wozniacki, defeating the Dane 6-4 6-3 to win her first and, to date, only Premier Mandatory (now WTA 1000) title.
Bonus champion! – Thomas Muster – 1997
Austria's Thomas Muster has a long list of accolades in his career, including achieving the world No. 1 ranking and becoming Roland Garros champion in 1995.
Muster won 44 career titles on the ATP tour, with the very last of these coming at the 1997 Miami Open, his first in the Magic City and 8th Masters 1000 level title overall (ATP Super 9 at the time).
The Austrain dropped just one set in the whole tournament, coming in his first match against South African Grant Stafford.
??? – 2021
So, which one of Roberto Bautista Agut, Hubert Hurkacz, Stefanos Tsitsipas, Andrey Rublev, Sebastian Korda and Jannik Sinner will secure their first ever Masters 1000 title.
As an aside, Jannik Sinner could make history by becoming the youngest men's champion ever in Miami, at 19 years and 7 months old, ousting Djokovic's 2007 record by 4 months.