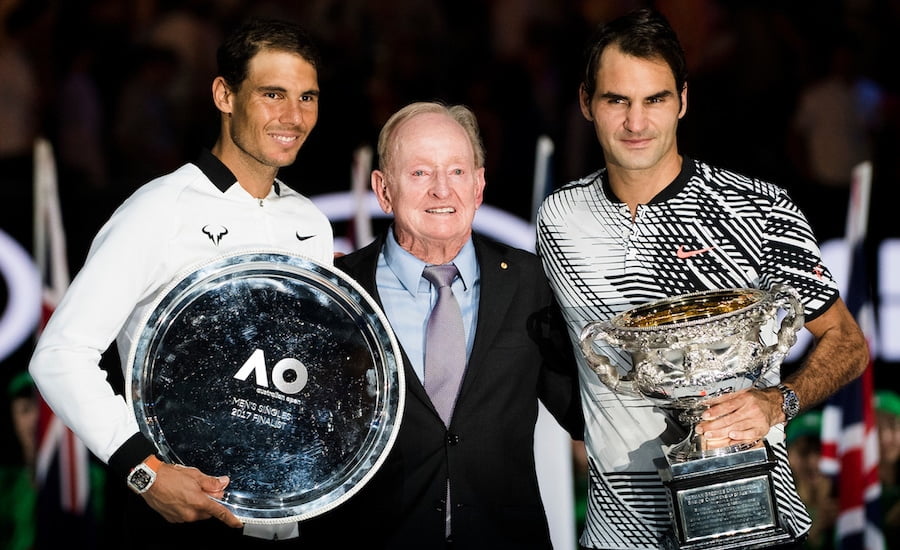 "A light shone down on me" The remarkable story of the 1969 Rod Laver Grand Slam
It is 50 years since Rod 'Rocket' Laver won his second calendar-year Grand Slam. Stephen Towers hears the Australian recall a feat which no man has subsequently been able to emulate
It was the year when Concorde and the jumbo jet made their maiden flights, but in tennis it was the relaunch of the Rocket that took the public's breath away. Rod "Rocket" Laver's remarkable Grand Slam triumph of 1969, seven years after he had performed the same feat as an amateur by winning the sport's four main trophies in the same calendar year, has yet to be matched by any other man in the Open era.
Perhaps it is the rarity of the achievement that has led to the dilution of the term "Grand Slam", which was first used in tennis in 1933 by John Kieran, a columnist for The New York Times. Today the four major tournaments are regularly referred to individually as "Grand Slams" or "Slams", while people talk of players achieving a "career Grand Slam" (winning all four trophies but in different years) or a "non-calendar year Grand Slam" (holding all four trophies at the same time but across two different years).
To the purist, however, there is only one Grand Slam: the winning of the sport's four greatest prizes in the same year. In singles Maureen Connolly (1953), Margaret Court (1970) and Steffi Graf (1988) are the only women to have achieved it, while Don Budge (1938) and Laver are the only men. Roger Federer twice came within one victory of emulating them but lost to Rafael Nadal in the French Open finals of 2006 and 2007, while Novak Djokovic also fell one win short, in 2015, when he was beaten by Stan Wawrinka in the final at Roland Garros.
Laver, who turned 81 this summer, grew up in rural Queensland and started playing tennis at the age of six. He was always small – as an adult he stood only 5ft 8in tall and weighed little more than 10 stone – but practised relentlessly. He would repeatedly squeeze a tennis ball in his left hand, which helped him to develop an extremely powerful forearm, which in turn enabled him to hit the ball with more top spin on both flanks. He was very quick, had a wonderful temperament and was a ferocious competitor.
In 1962 Laver was a 24-year-old amateur when he won all four titles, beating his fellow Australian, Roy Emerson, in three of the finals. With little sign of the sport giving up its amateur ethos – Laver said he received "a £15 voucher and a firm handshake" for winning Wimbledon that year – he signed a $100,000 contract to turn professional in 1963.
As a professional Laver had to miss the next 21 Grand Slam tournaments, but what he lost in glory he more than gained in tennis prowess. Nearly all the best players of that age had turned professional and Laver had to up his game when he took them on.
"My idols were Lew Hoad, Ken Rosewall and Pancho Gonzalez," Laver recalled. "They taught me a few lessons when I turned pro. I think I had played Hoad 13 times before then and couldn't win one match against him. The pros were so much better than the amateurs. I thought: 'Well, if I'm at this level just above the others, the amateurs, I have no chance against these top players.' They proved that as soon as Open tennis came around."
In 1968, nevertheless, tennis finally grasped the nettle and welcomed the professionals back into the sport. "It was a great feeling to be able to all compete again," Laver said. "Maybe a light shone down on me that said: 'You're in this game for a reason, so compete hard and play hard.' I think that showed up in 1969."
In 1968 Laver lost to Rosewall in the final of the first Open Grand Slam event, at Roland Garros, before beating Tony Roche, his fellow Australian left-hander, in the final of the first Open Wimbledon.
This was an era when few players travelled to all four Grand Slam tournaments, but Laver told his wife, Mary, that he wanted to do so the following year. "She said: 'Go ahead. It's your life with tennis.' At Brisbane [where the Australian Open was then held] she called me up and said she was pregnant. The due date was the exact date of the US Open final. Maybe everything was on my side to make this happen."
Laver's schedule in 1969, in an age when there were no tie-breaks, was gruelling. Like most players, he entered singles and doubles in tournaments as a matter of routine. He played in 32 tournaments that year, winning 18 of them. Compare his schedule with Federer's in the latter's most successful year of 2006: the Swiss won 12 of the 17 tournaments he entered, but played only six doubles matches in the whole year.
Roche was Laver's biggest rival in 1969. "I never really played left-handers too much," Laver said. "In fact, after I turned pro in 62-63 I never saw a left-hander for five years, until the sport went Open."
In the first week of 1969 Roche beat Laver in the final in Sydney. A fortnight later the two men had a titanic struggle in the semi-finals of the first Australian Open. In gruelling heat and humidity Laver won 7-5 22-20 9-11 1-6 6-3. In comparison, his 6-3 6-4 7-5 victory over Andres Gimeno in the final was like a stroll in the park.
Until 1975 the French Open was the only Grand Slam tournament not played on grass. "I had to learn how to play on the European clay," Laver recalled. "I said: 'Enter me in all the tournaments in Europe. I have to learn how to play on this stuff.' I played about six tournaments in a row each year and finally I understood: 'That's how they do it'."
Laver came back from two sets down to beat Dick Crealy in the second round at Roland Garros that year before playing what he considered his best ever match on clay in the final, beating Rosewall 6-4 6-3 6-4. At Wimbledon he again got into trouble second time out, dropping the first two sets against India's Premjit Lall, but went on to win his fourth Wimbledon title by beating John Newcombe 6-4 5-7 6-4 6-4 in the final.

Three down and one to go, yet there were no signs of nerves as Laver went into the US Open at Forest Hills having not lost a match since Newcombe had beaten him in the final at Queen's Club in the build-up to Wimbledon. "I didn't feel the pressure," Laver said. "I really didn't. If there was more pressure, I felt like I played my best tennis when the pressure was on.
"Pressure is certainly everywhere when you're playing matches. I think it's just about how you apply yourself. If you lose your serve early in a set, that's pressure. You've got to get yourself back into the match again. I think it's about the way you play, if you compete all the time, for every match, every ball, every point.
"That was the way I played and maybe that helped me get over some of the pressures. I didn't actually feel the pressure, because I didn't lose a lot of these matches. I wasn't going 15-40 down all the time. I was the one who was going 15-40 up. I think that takes some of the pressure away."
Laver beat Emerson in the quarter-finals in New York and Arthur Ashe in the semi-finals to earn another showdown with Roche, but the final was delayed by a day because of rain. A helicopter was brought in to hover over the court in an attempt to dry it out, but the surface was still soft and slippery.
"I had brought some shoes with running spikes because I knew the grass at Forest Hills was always slippery," Laver said. "I remember walking on to the court and saying to Billy Talbert, the referee: 'I can't stand up. I'm slipping all over. Can I put spikes on?' He said I could put on whatever I wanted because it was the last match of the tournament. When I look back at some of the photos, it looked like you could have been planting potatoes out there it was so torn up. It was so soft that I was actually skidding even in spikes."
Roche won the first set and Laver the second before rain held up play for another half an hour. When they resumed Laver quickly took charge and went on to win 7-9 6-1 6-2 6-2. He was usually never one for ostentatious celebrations, out of respect for his opponent, but on this occasion he jumped over the net in joy, though he later admitted to feeling "ashamed by my showboating".
At his post-final press conference Laver announced that he would be putting his family first in future and would be cutting down on his future appearances in lesser tournaments. That US Open victory was the last of his 11 triumphs in Grand Slam tournaments.
Looking back, how does Laver assess his two calendar-year Grand Slams? "I would have to say that the Slam in 1969 was tougher," he says. "The calibre of players that I competed against made it much more meaningful to pull that off."
Fifty years on, his feat remains unmatched, despite the fact that we are living through an era dominated by the three greatest players of all time, at least in terms of the numbers of Grand Slam titles won. Laver himself believes that another man will do it again, but we are still waiting.
Laver's 1969 Grand Slam
Australian Open
1R Bye
2R Massimo di Domenico 6-2 6-3 6-3
3R Roy Emerson 6-2 6-4 3-6 9-7
QF Fred Stolle 6-4 18-16 6-4
SF Tony Roche 7-5 22-20 9-11 1-6 6-3
F Andres Gimeno 6-3 6-4 7-5
French Open
1R Koji Watanabe 6-1 6-1 6-1
2R Dick Crealy 3-6 7-9 6-2 6-2 6-4
3R Pietro Marzano 6-1 6-0 8-6
4R Stan Smith 6-4 6-2 6-4
QF Andres Gimeno 3-6 6-3 6-4 6-3
SF Tom Okker 4-6 6-0 6-2 6-4
F Ken Rosewall 6-4 6-3 6-4
Wimbledon
1R Nicola Pietrangeli 6-1 6-2 6-2
2R Premjit Lall 3-6 4-6 6-3 6-0 6-0
3R Jan Leschly 6-3 6-3 6-3
4R Stan Smith 6-4 6-2 7-9 3-6 6-3
QF Cliff Drysdale 6-4 6-2 6-3
SF Arthur Ashe 2-6 6-2 9-7 6-0
F John Newcombe 6-4 5-7 6-4 6-4
US Open
1R Luis Garcia 6-2 6-4 6-2
2R Jaime Pinto-Bravo 6-4 7-5 6-2
3R Jaime Fillol Snr 8-6 6-1 6-2
4R Dennis Ralston 6-4 4-6 4-6 6-2 6-3
QF Roy Emerson 4-6 8-6 13-11 6-4
SF Arthur Ashe 8-6 6-3 14-12
F Tony Roche 7-9 6-1 6-2 6-2
Look ahead to the rest of the tennis year with our guides to every tournament on the ATP Tour and WTA Tour. Can't visit the tournaments you love? Read our guide on how to watch all the ATP Tour matches on TV. For more news, explore Tennishead magazine here or subscribe to our free email newsletter here.