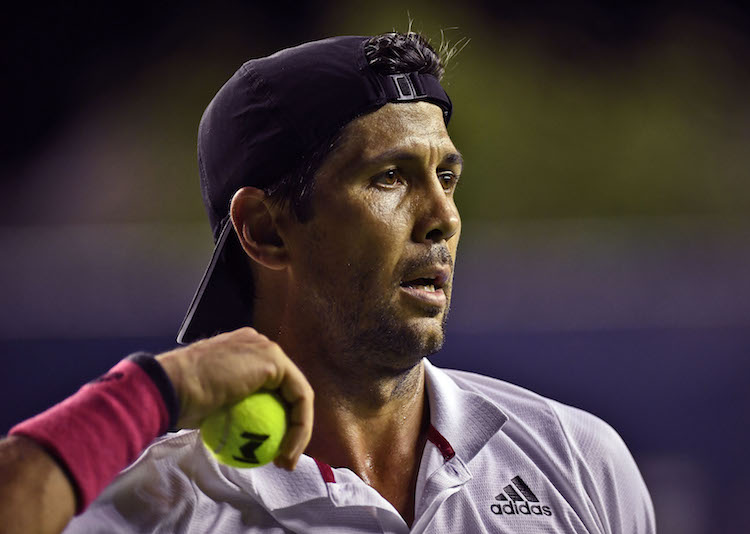 Verdasco and Lopez battle to doubles victory
Spains Fernando Verdasco and Feliciano Lopez have put the visiting nation a win away from securing the Davis Cup following a 5-7 7-5 7-6(5) 6-3 victory over Argentinas Agustin Calleri and David Nalbandian.
In front of a raucous Mar del Plata crowd, Argentina drew first blood late in a tetchy first set. Both Calleri and Nalbandian produced stunning returns on Verdascos serve to bring up three break points, and although he Spaniards clawed two back at the net, a double fault gifted the Argentines a 6-5 lead.
Serving for the set, Nalbandian also found himself 0-40 down as Verdasco tried to atone for the break. But an ace, a superb low volley and service winner from Nalbandian dragged them back to deuce. He then nailed Lopez with his first volley to bring up set point, and the Spaniard netted his return to seal it for the hosts.
"The boys are under a lot of pressure and it's not easy to deal with" – Mancini
However, Spain drew level in the match, taking advantage of two unforced errors from Calleri with Argentina serving at 5-6, 30-30 in the second set, and turned the rubber on its head by racing out to a 5-1 lead in the third, silencing a bewildered home crowd.
Argentina fought back to take a dramatic set into a tie-break, and looked to have swung the momentum back in their favour when they went 5-1 up. But Spain hit back to level at 5-5. Verdasco produced a picture-perfect lob to finally bring up set point, which Spain duly converted as Calleri netted a forehand.
Spain once again raced out to a 5-2 lead in the fourth set, much to the dispproval of most of the 11,000-strong Mar del Plata crowd. Argentina offered up some final resistance – saving two match points as it earned one of the breaks back – but a blistering backhand cross-court pass from Verdasco brought up two more match points for Spain at 5-3, and Lopez converted on the fourth with a forehand return past Calleri.
Argentina captain Alberto Mancini later admitted that their status as favourites ahead of the final hasnt helped. "The boys are under a lot of pressure and it's not easy to deal with," he said. "All the matches have been very even. I think we had a little bit of bad luck."
Nalbandian left the stadium after the doubles defeat without attending the scheduled press conference, which will lead to a fine of up to $10,000.
"It was virtually a miracle how we won that tie-break" – Lopez
Lopez and Verdasco both agreed that the third set was pivotal, and could have gone either way. "It was tough to go 5-1 up and then go to a tie-break, it was tough mentally, but that was the key," said Verdasco. "After that we played better and much looser."
"It was virtually a miracle how we won that tie-break, added Lopez. It was unforgettable to play with the crowd singing like this. Even though they were supporting Argentina, it was very enjoyable to play in."
However, while Lopez revelled in the atmosphere, Verdasco and Spains captain Emilio Sanchez were less than impressed by some offensive chanting.
"I didn't do anything to the crowd, it was them who turned against me," said Verdasco. "It gave me more motivation, it increased my desire to win and helped me find more strength. I played better after they started insulting me."
"It was a little disappointing, this is a sporting event and the winner is decided by what happens on the court, said Sanchez. "When they express themselves in a manner which lacks respect, they lose all the credibility they had gained until now.
"When you see so many people using words which I won't repeat here – it's something you don't expect from an educated public which understands tennis."