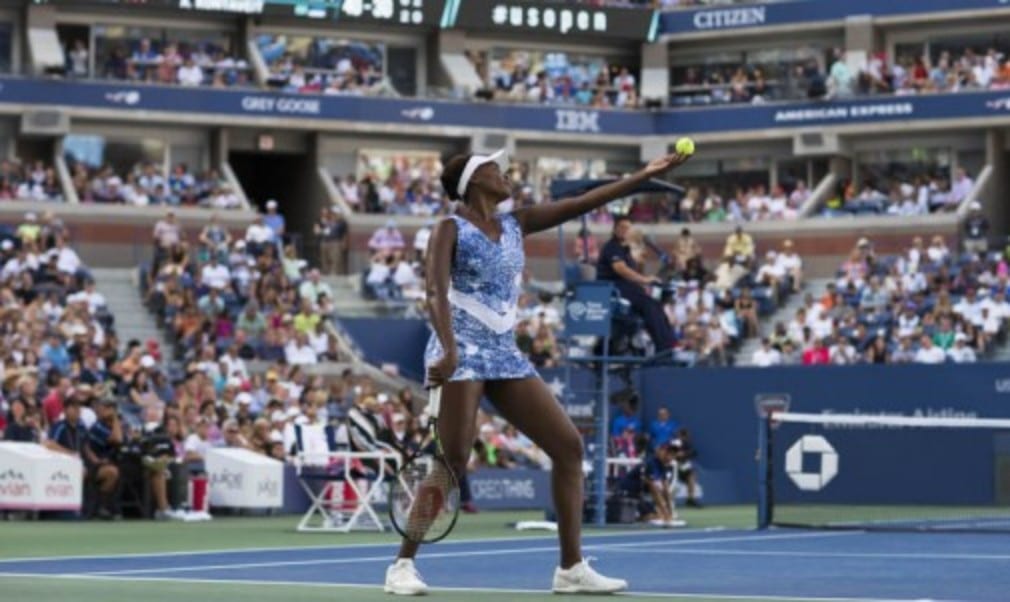 Venus rising: big sis stands between Serena and semis
Originally published on 07/09/15
"We have already discussed what will happen if we play each other in singles. It will be each woman for herself. I will pretend not to know her. Who is she?"
Yes, that was Venus on Serena – on September 4 1997, a little over 18 years ago this week. Back then her 15-year-old sister was simply Venus's prodigious doubles partner to the rest of us. The pair had never met on the WTA tour. On Tuesday, the leading ladies of American tennis will meet for the 27th time – a US Open quarter-final showdown for the ages.
Williams, then 17 years old, had booked her place in her first Grand Slam final when the subject of her talented little sister came up. "Serena and I will be fighting for the No. 1 ranking someday," Venus said.
Look at them now.
Williams lost that 1997 US Open final to a 16-year-old Martina Hingis; with a combined aged of 33 it was the youngest Grand Slam final of the Open era. On Friday Hingis was in the stands as her charge, Swiss teen Belinda Bencic, was dealt a lesson in measured aggression from the elder stateswoman of the WTA. "I think if she wanted to, she could still play singles," Venus said of Hingis. Whether she would be contesting her second Grand Slam quarter-final of the season is another question.
Much has been made – understandably so – of the Serena Williams story in New York. Her bid to win a 22nd major title and complete her calendar slam, both feats which would emulate Steffi Graf, have dominated the landscape of this US Open like the Freedom Tower on the Manhattan skyline.
Just as much could be written about Venus, who now stands between her sister and the semi-finals after outclassing Estonian qualifier Anett Kontaveit 6-2 6-1 on Sunday. A career spanning 21 years come this October has featured seven Grand Slam triumphs, the No.1 ranking, battles with injuries and later the diagnosis of Sjogren's syndrome, the energy-sapping autoimmune disease that forced a complete overhaul of her diet and training.
And yet, she remains one of the most accomplished athletes in tennis both on and off the court. Last month Venus collected her business administration degree from Indiana University East, her second higher education diploma, pursued to support her V Starr Interiors business and EleVen fashion line. She is the first graduate among the 15 WTA players currently enrolled in the collaborative program between the tour and the college, and hopes to one day study for her MBA.
Posting a picture on social media of her sister in graduation robes, Serena wrote: 'Reason number 10,000 why u continue to inspire me'.
"I think she helped create me, for sure," Serena said of Venus after beating Madison Keys 6-3 6-3 with her most assured performance of this US Open. For the world No.1, Venus is "the only player in the draw I don't want to play – not only because she's my sister, but for me she's the best player."
There is more than sisterly deference to her statement. Serena lead their career head-to-head 15-11, a 58% success rate against Venus. Only four former world No.1s have enjoyed greater success: Justine Henin (8-6), Hingis (7-6), Graf (1-1) and Arantxa Sanchez Vicario (3-4). Take that record to the hard courts, and the sisters are 8-8, with Venus winning their last showdown in Montreal last year; at the US Open, the record stands at 2-2.
Since losing to Venus at the 2014 Rogers Cup, Serena hasn't lost a Grand Slam match, including their Wimbledon showdown this summer. But the 33-year-old remains wary. "She's a player that knows how to win, knows how to beat me, and knows my weaknesses better than anyone," Serena said. "She's fast, I'm fast. She hits hard, I hit hard. She serves big, I serve big. We have a very similar game. We had the same coach for a long time. It's like playing a mirror."
Their encounters, almost without exception, have been tense affairs – Serena tries to remain "internally excited", as she put it – but with 10 of the previous 26 matches going three sets, accusations of non-competitive matches have faded markedly in recent years. With so much on the line for her sister in New York, however, seven-time Grand Slam champion Venus admits the narrative adds an inescapable element to Tuesday's showdown.
"I don't think anyone wants to be a spoiler," she said. "I think people love to see history being made. No one is out to be a spoiler, but at the same time, you're focused on winning your match even though the circumstances are really much different [for] you."
Richard Williams, the architect of one of the greatest sports stories in history, will not be in Arthur Ashe Stadium to watch his daughters play for a place in the semi-finals. Since suffering a health scare during the Sony Open in Miami in the spring, he has cut back on travel. He never watched them play one another anyway. But he is far from forgotten.
Shortly after he was admitted to hospital, Serena won a record eighth Sony Open title. "I would like to dedicate this to my dad," she said during the trophy ceremony. "He's not here. I miss him. Dad, I hope you're watching. I love you daddy. This one's for you."
Thoughts of her father are never far from Venus's mind either.
"I hate going down memory lane, but if you insist," Williams said on Friday. "I think my first big tournament final in Miami I actually remember my dad saying something. You're on the court, and it just kind of echoes in your head. It's bananas.
"Raise the ball. That's all I remember. It was an interesting match, and I just raised the ball."
Richard would settle for that on Tuesday. Regardless of the result, Williams wins.